Some Minnesota Dems using Akin abortion remarks in congressional races
Lead in text:
Missouri Congressman Todd Akin's remarks on abortion and 'legitimate rape' are being used by politicians not only on the national stage, but also in congressional races outside the Show-Me state. Catharine Richert of Minnesota Public Radio explains via the link.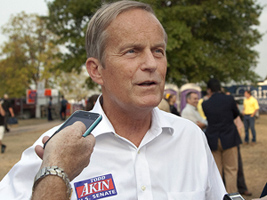 After saying last week that women "rarely" get pregnant if they are victims of "legitimate rape," GOP Senate candidate Rep. Todd Akin provided Democrats a chance to reignite their campaign theme and to make it local, including in several of Minnesota's congressional races.