New charter school in Hyde Park neighborhood showing success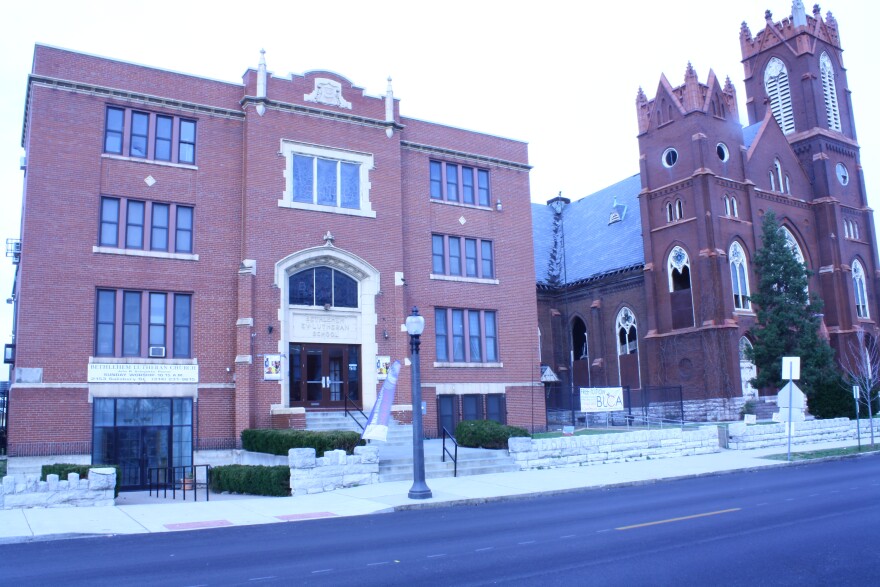 http://stream.publicbroadcasting.net/production/mp3/national/local-national-997827.mp3
In August, four new charter schools opened in the city of St. Louis. One of the four is Better Learning Communities Academy, a small school for kindergarten through 2nd grade students.
Since the St. Louis Public School District lost its accreditation in 2007, charter schools have been popping up around the city to offer alternate choices for education.
Charter schools are not required to follow a state curriculum and many are reporting scores at drastically low levels.
Better Learning Communities Academy, however, might be one of the new charter schools turning that statistic around.
St. Louis Public Radio's Alex Taylor takes a look at BLCA after its first semester and reports a brighter side of St. Louis charter schools.
The need for a charter school
Better Learning Communities Academy is one of the newest charter schools with a distinctive focus on literacy.
Doug Thaman, executive director of Missouri Charter Public School Association says BLCA grew out of interest from residents in the Hyde Park neighborhood.
"It started with a board, a group of community citizens there, closely affiliated with the Better Learning housing project there," Thaman said. "The board established a non-profit and that non-profit worked toward developing an application."
A unique education approach
A significant piece of the application is the chosen education approach. Charter schools aren't required to follow a specific curriculum, so BLCA was able to work with its sponsor, the University of Missouri- Columbia, to choose an approach best suited to their needs. In their case, this was the balanced literacy approach.
"For Better Learning Communities with their literacy based approach- that was investigated, due diligence was done both by the group and also by the sponsor to make sure that it was a curriculum being developed that would be aligned with Missouri state standards and also would meet the needs of students who very often are coming in significantly below grade level," Thaman said.
In the first four months, faculty have already marked progress in their students. Principal Coralyn Vandermay points to BLCA's literacy program.
"The balanced literacy approach," Vandermay said. "We're just seeing the success in that and we know that if you can get kids to be good readers, half the battle is won for the future in education."
The balanced literacy approach places the emphasis in phonetics and reading comprehension for studying any subject including math and science.
"The reading program we use is actually not put out by a curriculum, but it's [called] 'leveled readers' put out by Pioneer Valley Books," Vandermay said. "They go from level 1 to level 24. Each child was tested with the developmental reading assessment, the DRA, and they are at their own individual level."
Marked improvement for students
When BLCA opened, most students were down in levels 1 to 5. In this first semester, students have raised their reading scores about 4-6 levels, according to Vandermay. On average, if a student began at reading level 2 they are now at reading level 6 or 8.
Rather than using the same level of textbook for all students, BLCA uses an individualized approach. Each student learns at their own intellectual level and success is based on self-improvement.
Faculty members are not the only ones excited about the students' progress in the literacy program. Aundray Williams is parent to twin boys at BLCA.
"I just see a lot in my children from the first day of school to now- one is his social skills, his socialization skill, and his language now, how he's talking now, how he's been just more excited about learning things," Williams said. "[Such as] 'A' and lower-case 'a', 'apple' and 'B', 'banana', and all this stuff- it really excites me."
Future plans for BLCA
BLCA plans on adding 3rd grade next year for the current 2nd grade class. They will accept new students for kindergarten but they hesitate to add second and third graders from outside schools because of BLCA's unique curriculum.
Although it is too early for a full evaluation, Doug Thaman of the Missouri Charter Public School Association has noticed the efforts and results at BLCA.
"Better learning communities did recognize very early on that there were significant challenges that the students were facing around their reading levels," Thaman said. "And they've really made some good adjustments by bringing in some professional development and looking at ways to increase the amount of time they spend with students on those basic reading skills to help them move forward quickly."
BLCA's business manager, Cathy Rodgers-Edmonds has the opportunity to observe and work with the students alongside Vandermay, the principal, when not at her desk.
"There's little day to day things and paperwork, but when we walk down the halls and hear what's going on in the classroom and see the kids we're like (in unison with Rodgers-Edmonds) 'yes,'" Vandermay said.
"This is absolutely perfect," Rodgers-Edmonds said.