Forest Park Forever Unveils New Park Signs And Additional Renovations
Forest Park will be getting a face lift over the next few months as the park adds new signs, improved water fountains and more bike racks. That's according to an announcement made by Forest Park Forever on Tuesday.
The group also said the park will be heating three of its bathrooms to accommodate park goers year round. Paths and trails will be improved to make these bathrooms more accessible as well.
Lesley Hoffarth, president and executive director of Forest Park Forever, says the upgrades were prompted by complaints and recommendations made by visitors.
"We interviewed more than 500 park visitors," said Hoffarth. "From many helpful comments we received, a few common patterns emerged, such as you need more signage, winter time restrooms and drinking fountains are scarce."
Starting next week, the park will be adding more than 200 new signs to improve navigation. Richard Bradley, president of the Board of Public Service, said the signs will provide more than just directions.
"These are maps and kiosks and information about the recreational path," Bradley said. "And even some interpretive signage about the incredible history of this wonderful park."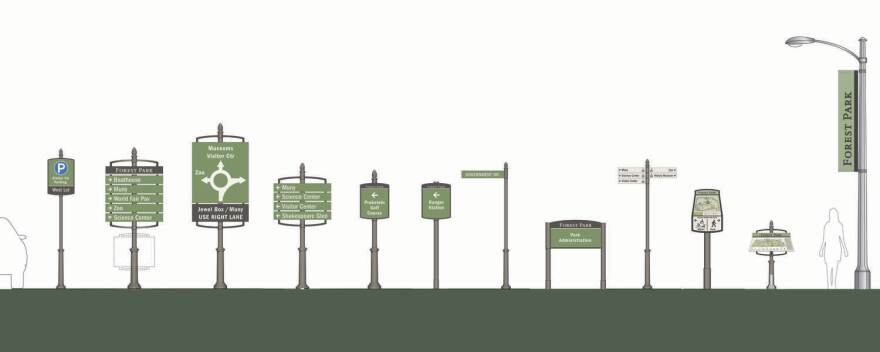 The new water fountains are designed to operate throughout the year and will offer both water bottle fillers and pet bowl fountains.
Nicole Williams is a regular park goer. She says she's looking forward to the upgrades.
"When I first moved up here to St. Louis, I did have issues with finding my way around the park, I got confused a little bit," Williams said. "The new signs look very nice. I think they are very clear and to the point."
The upgrades are expected to be completed by December and should cost around $1.5 million. Forest Park Forever communications director Stephen Schenkenberg says this is only the first phase of park renovations.
"The next phase of this project is to take these comfort stations and transform them to full gathering plazas," said Schenkenberg.
Schenkenberg said the gathering plazas will be places for visitors to convene where they can have access to bathrooms, water fountains, bike racks and seating.
Funding for both phases will come from donations, including a $1 million donation from the William T. Kemper Foundation and a $750,000 donation from the Brown Shoe Co.
A date has not been set for the completion of phase two.