Take Five: Life, death and rebirth of the U. City Loop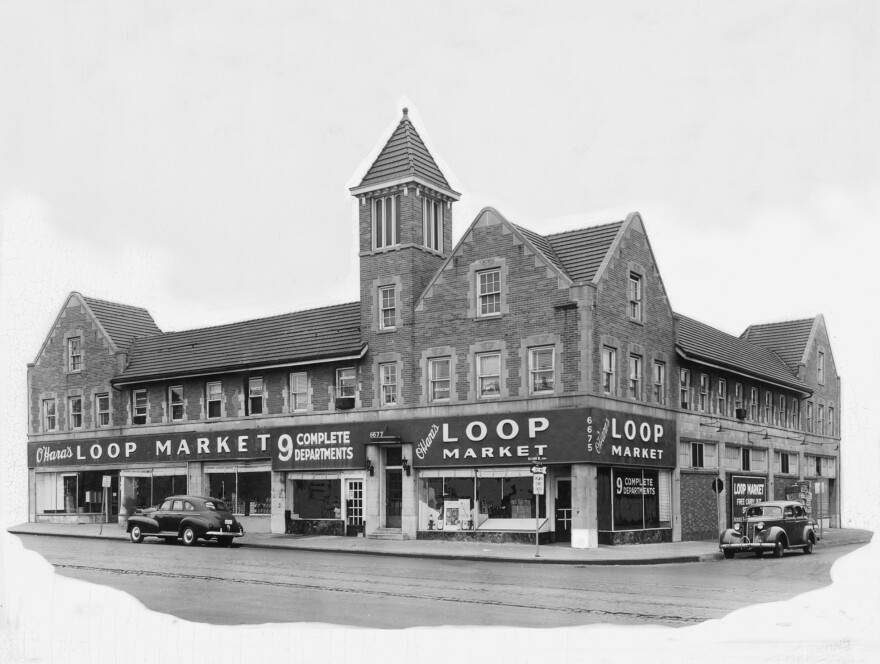 This article first appeared in the St. Louis Beacon: If names like Lasky, Rinaldi's, Shanghai Café, the Varsity theater and Toddle House conjure up immediate memories of the University City Loop, M.M. Costantin has a book for you.
Costantin, who has lived in the area near the Loop for more than 40 years, has seen the area at its worst and its best, from the days when she really didn't feel it was safe to take a walk down Delmar to today, when long lines mark the success of venues like the Pageant theater and restaurants like Pi.
Packed with images from the Historical Society of University City, the University City Public Library and the Missouri Historical Society, "St. Louis's Delmar Loop" – part of Arcadia Publishing's "Images of America" series – traces the history of the area, from the days of entrepreneur E.G. Lewis and his lions atop the gates to the rebirth spearheaded by Joe Edwards.
In a foreword, Edwards traces the area's rebirth and its spread east across Skinker into the city to the early 1970s, when he opened Blueberry Hill. A push to increase foot traffic on Delmar included establishment of the Walk of Fame in 1988, which has enshrined scores of famous St. Louisans from Maya Angelou to Harriett Woods.
He also notes the upcoming Loop Trolley, designed to bring back thoughts of the old days when streetcars reached the end of their line, then looped around to head back in the opposite direction, giving the area its name.
Costantin, the author of two novels and a book of essays, says she got involved in the book after sending her son, who lives in Silicon Valley in California, similar volumes of local history from the area where he lives and elsewhere. Recalling her stories of the Loop, he suggested she give Delmar similar treatment.
She remembers moving to St. Louis from the New York City area back in the '70s and enjoying Delmar's special feel. When St. Louis Magazine asked her to write a column a few years later, her neighborhood because the obvious choice of a subject.
"I just drove around and enjoyed living in a city that was digestible," she told the Beacon.
She shared her thoughts about two U. City visionaries, the influence Washington University is likely to have on the area with its ambitious construction and other Loopy issues. The interviewed is edited and condensed for length and clarity.
What do you remember about the Loop from when you first moved to St. Louis?
Costantin: I've known the Loop in its bad days and its good days. When we came, I remember a lot of things being boarded up. It was really sad. You really didn't want to go for a stroll. You could see that at one time, just based on the storefronts that were there, it had been a busy place, so it was very nice to see it coming back.
Moving from the New York City area to here was like moving back 30 years in time. We wanted a place that had a diverse population. You could do a lot of stuff here that you couldn't do in a crowded metropolitan area. Our kids were happy they could walk to a penny candy store. They thought that was fabulous. They could never have done that in Teaneck, N.J.
E.G. Lewis, the man who was instrumental in the founding of U. City in the early 1900s, with its distinctive octagonal City Hall topped with a searchlight, and Joe Edwards, who led its resurgence, act as kind of bookends in the history of the Loop. How were they alike, and how were they different?
Costantin: Lewis was a very flamboyant figure. He wanted to be, and he managed to attract money. He organized a bank, a publishing company, a real estate company that started University Heights. I don't like to say he stole money, but he misused money. He was careless with money.
The first time I saw City Hall, I couldn't believe it. It just didn't look like the usual round buildings that were built after the second world war. And then he built a subdivision behind it, with rich houses up on the hill, and as you go down the hill to the River Des Peres, they get less grand, and finally they're cottages. That was his plan from the beginning.
He had to get out of town because he really had messed around with money. He wanted to build a colony in California, Atascadero. He built a town that was meant to be used by automobiles. He built a hotel. He built a huge printing plant. He also built an enclosed shopping mall, one of the first, shortly after he got there in 1913. But he also had colossal failure there.
Joe doesn't misuse money. He isn't flamboyant. But boy, does he get stuff done. As late as seven or eight years ago, I would walk eastward on Delmar and even though I wanted to take Metro, there were hardly any people, and the people who were wandering around were nervous-making. Joe is modest in demeanor. He never uses a computer. He's just like the man across the street who wants to let you know your dog is running loose and you need to mow your lawn. He's helpful in every way. He gets a kick out of this stuff. I think Joe would be happy to see the Loop go all the way downtown.
The chapter in the book about what's going on east of Skinker, I called it "If You Build It, They Will Come." He built the Pageant. I don't think anybody in the world thought it was the smart thing to do. He got the Regional Arts Commission to come into the Loop, so there was another building there with people going in and out. The whole idea was a lot of traffic, seeing people enjoying themselves, to see a line outside of Pageant stretching around the corner. That's nice. That's city living.
That's the sort of thing that people forget they can do, that it's possible to have some place where you can actually walk around and look in the windows. You can do that in a shopping mall, but it's not quite the same thing. This is people-oriented as opposed to shopping-oriented. And Joe has an instinct for what will make people happy.
Washington U. is involved in a major construction project in the Loop that will bring new buildings and new opportunities. How do you think the area may change?
Costantin: For a long time, the university thought of Delmar as that awful place where our students get mugged. About 10 years ago it became clear that now the university was interested in Delmar and the area around it, where the students lived. They bought about 70 buildings, not all at once. Their $80 million project going up is going to be a combination of retail and residences. It's going to be for students to live in. It's not going to be little chi-chi shops and that sort of thing. It's going to be where students and real people will shop.
With a lot of new retail coming in, do you think national chain stores have their place in the area, or would you prefer to see everything locally owned?
Costantin: From the beginning of the revitalization of the Loop, the idea was to have owners on the premises, local businesses run by people who owned them. There was a huge brouhaha when the Melting Pot moved in, because that's a national chain, and a lot of people were unhappy about that. The mantra is that they should be locally owned stores.
While those chains have come in, most of the stores are still owned and run by local people. If you go across Skinker, I don't think there are any chains there. That is pure owner-on-the-premises. That's the idea, not to have the same shops you have everywhere else. It's not good for the soul. The very fact that Washington U. has courted Global Foods Market shows that's the kind of thing it is interested in.
Finding pictures for the book must have been an interesting, entertaining challenge.
Costantin: Most of those pictures are online for anybody to see, from the University City Public Library. The library has the copyright, and they received a grant several years ago that allowed them to digitize a selection of photos. One reason I pitched the book to Arcadia is that I knew those pictures were there and they were fun to look at. I did it because those pictures were available.
In the book, I talk about taking an imaginary trip on the trolley down Delmar and along DeBaliviere, which was a bustling business street. There was a Parkmoor, and I included a very funny picture that was obviously posed. That is part of the plan that Joe has. I honestly don't know who he works with, how he gets the money he gets. There were people who hated the idea of a trolley, and I think they probably still do. But eventually the public was won over.