Barbecue joins the blues at this year's festival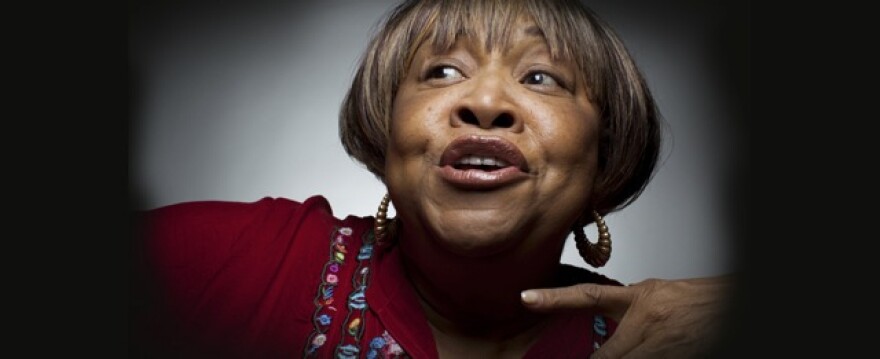 This article first appeared in the St. Louis Beacon - It's Memorial Day weekend, and time for a new musical tradition here in St. Louis: the Bluesweek Festival.
Now in its 4th year, the Bluesweek Fest began in late August 2010 with performances in front of Peabody Opera House and a musical lineup that focused solely on St. Louis-based bands.
The following year, Bluesweek moved to Washington Avenue and 6th Street – next to the future home of the National Blues Museum in the Merchant's Exchange Building, a project that gained significant momentum from the first Bluesweek Festival and is expected to become a reality in late 2014.
This year, the Bluesweek Fest will take place at Soldiers Memorial, the same location it moved to in May 2012, when the event took the place of RibAmerica, a BBQ and retro-rock fest that had been a Memorial Day staple in downtown St. Louis for quite a few years.
And like last year's Bluesweek Fest, the musical lineup will add nationally known names to the mix of St. Louis musicians who appear on the schedule. According to Mike Kociela, event director of Bluesweek, it's a natural progression to showcase more national acts at Bluesweek – and also a way to gain increased attention for St. Louis musicians on the schedule as well.
"Last year, we brought in Shamekia Copeland and Bobby Rush as headliners," Kociela says during a recent phone interview squeezed in between planning sessions for the festival. "This year, we're definitely excited to have Trombone Shorty close out the Main Stage on Friday night and also have a musical great like Mavis Staples as our headliner on Saturday. Shorty was the headliner at this year's New Orleans Jazz & Heritage Festival, and Mavis has established her own successful career as a solo artist after being with the legendary Staple Singers.
"But we're also really pleased to have St. Louis' own Big George Brock as our Sunday night Main Stage headliner – and other great local bands like Marsha Evans and the Coalition, Rich McDonough & Rough Grooves, Marquise Knox, Kim Massie, the Jeremiah Johnson Band and others sharing the same stage with the likes of Rod Piazza, Li'l Ed & the Blues Imperials and our other headliners. It's a way to spotlight why the National Blues Museum belongs here in St. Louis – by bringing national blues musicians in to share the festival with our own talent."
But there are some major changes to Bluesweek in 2013, even though the festival will take place in the same four block area bounded by Tucker Boulevard on the east, 14th Street on the west, Market Street on the south and Pine Street on the north.
Instead of the multiple performance stages that were at Bluesweek in 2012, only be one Main Stage will exist this year – located near Tucker and Chestnut St.
"We've gone back and forth from having one Main Stage the first two years to multiple ones last year," says Kociela. "This time we want to have the primary musical focus at one Main Stage. But we will be having a smaller tented stage area near Chestnut and 14th St. that will be home this year to all the Bluesweek workshop events."
That's another change from previous Bluesweek festivals – which in addition to the two to three-day festival itself included workshops and a blues history seminar throughout the week at venues from BB's Jazz, Blues & Soups to the History Museum.
"This year, we're having all the workshops at the festival itself on Saturday and Sunday," Kociela says. "We'll still be having workshops for harmonica and guitar and percussion, and even one for swing dancing. We'll also have Fruteland Jackson, who is a noted blues musician and historian talk about the history of the blues. Then we'll have a music industry workshop covering promotion and copyrighting, as well as some showcase performances by acoustic performers like Fruteland and Eric McSpadden and the Rum Drum Ramblers."
The food presence at 2013 Bluesweek will have a pronounced BBQ flavor this time around – recalling the former RibAmerica event that was held before Bluesweek took over last year.
"St. Louisians love their barbecue," says Kociela. "And barbecue definitely fits with blues. So we decided to put a real emphasis on barbecue food vendors this time. We've got Hiway 61 Roadhouse, Iron Barley, PM BBQ, Ed's BBQ and Q In the Lou all lined up to sell barbecue at food booths at Bluesweek. And we also have a great competition called the BBQ Battle Royale as well. We'll have a lot of St. Louis barbecue teams competing over the weekend – and we'll even have a whole hog cooking contest. We're building a big pit out of 162 cinderblocks for that!"
Another element missing this year that was part of past Bluesweek celebrations is the Blues Cruise, which featured a reduced admission price for bands playing at venues throughout Soulard and downtown. Kociela says it just didn't fit into this year's plans.
But the annual St. Louis Blues Awards – which have been part of Bluesweek since it began – will return this year. The format will be new, as the St. Louis Blues Society rather than Bluesweek itself will produce the awards ceremony.
The St. Louis Blues Society will now oversees the annual event, and according to its president, John May, the fourth annual St. Louis Blues Awards will serve as a prelude to the Bluesweek Festival.
"We'll be holding the Awards at BB's Jazz, Blues & Soups on May 23," says May. "We'll be honoring another great blues musician with a Lifetime Achievement Award – and we'll also be honoring the Blues Musician of the Year. Bernie Hayes, who won the blues Advocate Award in 2011, is returning as our emcee. We'll have an opening set by Eric McSpadden and friends from 8 to 8:45 pm. Then we'll have the Awards Ceremony before Li'l Ed & the Blues Imperials play at 9:30 p.m. Admission is $10, and $5 for Blues Society members."
CRITIC'S PICKS
With a total of 18 Main Stage acts at Bluesweek, there's certainly plenty to choose from for any blues fan. But if you can't make it down to Soldiers Memorial for all of the fest, here's a quick guide to one critic's "Can't Miss" agenda.
In terms of out-of-town artists, I'll definitely be parked at the Main Stage Saturday to catch Mavis Staples' concluding set. She's been one of my favorite soul and gospel singers for decades – with a career that began at the age of 11 in 1950 when she began singing in church with her father and three sisters as the Staple Singers. Mavis has a new recording due out in June, "One True Vine," produced by Jeff Tweedy of Wilco (and a native of Belleville). Just a wild crazy hunch: But I'm wondering if Mr. Tweedy just might make a surprise guest appearance?
Unlikely? Sure. But as Joaquin Andujar once said… "You never know."
Troy Andrews, aka Trombone Shorty, headlines Friday. If you're a New Orleans music fan – especially one who likes some funk in the mix, don't miss this one. Andrews has a killer band, and the 27-year-old has been playing in NOLA brass bands since the age of six.
Chicago' Lil' Ed & the Blues Imperials always kick it, so their Saturday afternoon set should be fun. You can always catch them Thursday at BB's, by the way.
And the aggregation of lap steel player Victor Wainwright, guitarist J.P. Soars and keyboard wiz Damon Fowler, who have formed a new group called Southern Hospitality, should be a true sleeper set. The group just formed in 2011, and its debut, "Easy Living," is one very strong debut.
There are certainly plenty of talented St. Louis bands and performers on the schedule, but if time constraints make it difficult for you to get downtown Friday at 5:30 to hear Kim Massie, for example – or to catch the Marquise Knox Band on Saturday at 6:15 or Rich McDonough's Rough Grooves Sunday at 2:30, at least you know you can catch them in the intimate settings of clubs such as Beale on Broadway or BB's on a regular basis.
But hearing them on a big stage certainly will bring out their best … so make sure you make it by if you can.
There are some special combinations of St. Louis musicians that will only happen at Bluesweek, so keep that in mind. If you're into jazz, don't miss guitarists Dave Black, Tom Byrne and Eric Slaughter Saturday at noon. Marsha Evans' Tribute to Fontella Bass on Saturday at 5 promises to be truly memorable. And if you've never heard Silvercloud (Rudy Coleman) play piano, catch him Sunday at 4 p.m.
Please take these recommendations as just one opinion … and catch as much blues as you can this weekend.