In Wake Of Flooding, Bosnians Have Another Chance To Cheer National Team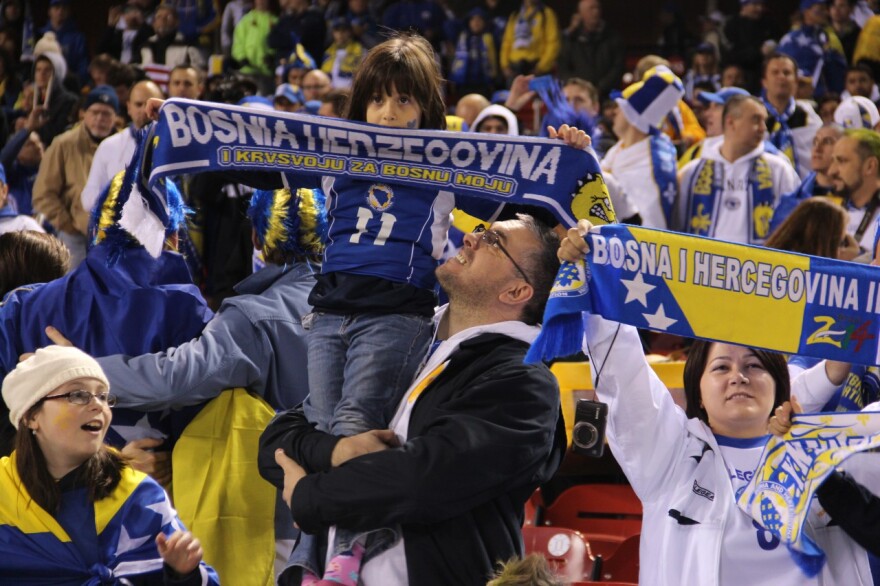 Updated Sat., May 31
Bosnia won the match against Ivory Coast 2-1.
Our previous story:
The Bosnian National Soccer Team squares off in a friendly match against Ivory Coast this evening at the Edward Jones Dome. It's a safe bet it will feel a bit like a home game for Bosnian players.
Over the decades, the ties between St. Louis and Bosnia have grown deeper and deeper. As refugees from the Bosnian war found new homes in St. Louis, the region became home to what is estimated to be the largest Bosnian population outside of eastern Europe.
Vedad Ibisevic, a soccer star at Roosevelt High School and later Saint Louis University, scored the only goal in Bosnia's World Cup qualifying win over Lithuania last year.
For many Bosnians in St. Louis and the rest of the world, the soccer team is a living example of how the nation can heal after once peaceful multiethnic country devolved into violence during the early to mid-1990s.
The timing of the game is significant, too. Widespread destruction after recent flooding in Bosnia has rekindled memories of the war two decades ago. It's dug up old wounds, too. The floodwaters have revealed the bodies of people believed to have gone missing during the Bosnian war.
"Emotions are very, very high," said Akif Cogo, who runs the website STL-Bosnians. "Everyone's looking forward to them winning a game in St. Louis."
Bosnians from across the country packed Busch Stadium to see the national team this past November, but Cogo doesn't expect that same kind of turnout for tonight's game. He said many Bosnians in other parts of the country are busy trying to get resources back to relatives in their home country.
"We do not expect for the crowd to be as large as last time, but we'll enjoy the game," he said.
So far, said Cogo, the local Bosnian community has collected roughly 100,000 pounds of food and supplies to ship back to relatives struggling in the wake of historic spring floods.
"In a sense the event is reaffirming our connection with Bosnia," Cogo said.
Tonight's game will be one of the final matches for both Bosnia and Ivory Coast as both teams ready themselves for the World Cup that starts in Brazil on June 12.
"We even have instances in some of the villages where people are concerned more with getting electricity before the World Cup so they can watch the games than they were concerned about food," Cogo said. "That tells you how important the national team is to everyone over there."