This is where you can find information from our newsroom and reliable community sources on reaction to the police-involved fatal shooting of Michael Brown.
Plywood-Covered Businesses In Ferguson, Dellwood Become Colorful Messages Of Hope
More than 30 businesses in Ferguson and Dellwood now have artwork covering their windows instead of ordinary plywood.
Inspired by the artistic efforts of friends on South Grand, Tom Halaska organized the "Paint for Peace" project to coordinate volunteers, donated supplies and businesses in north St. Louis County that wanted to participate.
Halaska, who owns the Art Bar on Cherokee Street, said he wanted to bring people together in a positive way.
"I'm trying to show St. Louis and the nation and the world that St. Louis is resilient and that we do have a strong community and we are working together to start the healing process," he said.
Halaska grew up in north St. Louis County and asked his friend Mike Lonero if his restaurant, Vincenzo's, could be the project's headquarters.
Lonero also owns the Cork Wine Bar across the street, both on South Florissant. He said his businesses have had a few windows broken here and there, and that right now he is just trying to get by day by day.
Lonero said the art project gives him hope.
"It shows that people care," Lonero said, "And not just people from Ferguson, but outside."
Between last weekend and this Saturday, more than 150 people volunteered to paint the plywood covering the windows of area businesses.
Halaska said so many people showed up Saturday that all of the businesses who wanted to participate have been painted. He said they worked with businesses to keep the artwork in line with what they had in mind.
Many of the paintings convey messages of peace and unity, and Halaska said he has had a few people say they weren't ready for such a pretty sentiment.
"I understand that viewpoint," he said, "And at the same time, people need the release, and they need to show other people that they are peaceful and happy and things are going to be okay if we get together and get to know each other."
Part of the reason Halaska planned the art project was so that people could build that sense of community by meeting new people. He said people from throughout the region came out to paint, from professional artists to those who said they have no artistic talent but wanted to help.
A good cross-section proving Halaska's point showed up within 20 minutes of each other to pick up supplies at Vincenzo's .
Cousins Cheynne Harris and Quron Harris, both 17, picked carefully through all the colors of paint available. They are visual art students at Grand Center Arts Academy and said they wanted to paint something that makes people think.
"It's easy to make a person look at something and just have one thought about it. But it's hard to make people look at it multiple times and think 'what does that mean? What could it mean? What could it be?" Cheynne Harris said.
"I want to make them think about some of the struggles that's been happening for people that don't know and just might be driving past, and about the positivity that can come out of just doing stuff like this," Quron Harris said, adding that he was thinking about painting boxing gloves.
Professional artist Lisa Sanditz came to paint with her grade school friend Tammy Maclean, a teacher from Olivette.
"It doesn't matter where you're from or what you look like, painting is very therapeutic. And I think right now we all need a little healing therapy for what's going on in our city," Maclean said.
The two friends painted a colorful and healthy tree on the side of an auto parts store in Dellwood to symbolize new growth. They were joined by Adrienne Hawkins, who painted a neon-hued butterfly, and Dixie Herrington, who painted Snoopy.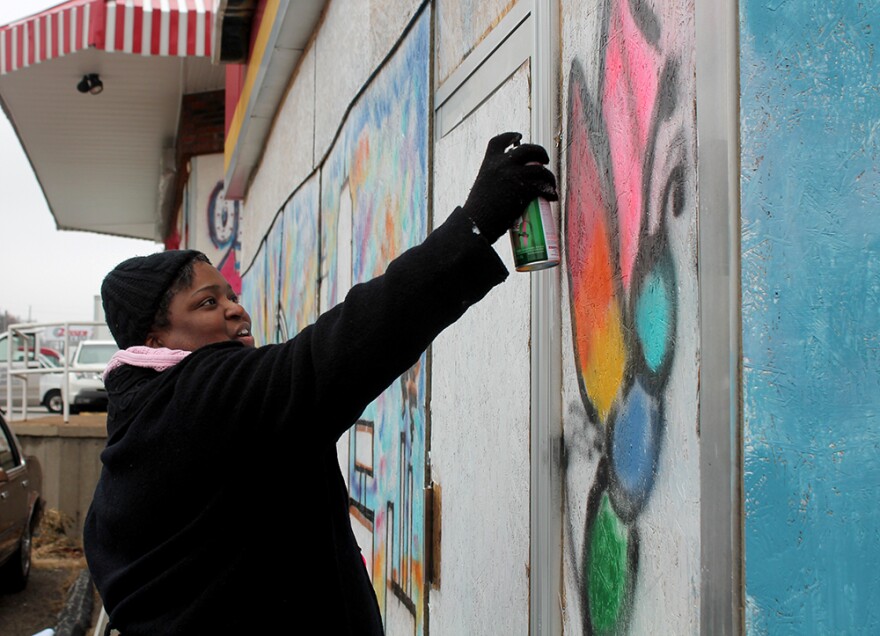 Hawkins is a Ferguson resident and a member of One Ferguson. She said that while her organization is focused on long-range change, it was nice to come out and help with something that has immediate impact.
Aaron Dickerson of Richmond Heights also joined the group, painting a large mural of the St. Louis skyline with a dove and the words "Believe there is good in the world." He said he also came out and painted in the Shaw neighborhood and in Ferguson.
With the first boards painted in Ferguson just last week, and plans under way to take them down beginning next week, the art won't be in place for long.
But Halaska said some of the plywood murals will have a second life –either as part of a display at the Missouri History Museum or at an art gallery.
Follow Camille Phillips on Twitter: @cmpcamille.