WWII, Korea Veterans Treated To Special Screening Of 'Unbroken'
The Greater St. Louis Honor Flight closed out its year of veteran visits to the war memorials in Washington, D.C., by taking them on one more special trip – to a Chesterfield movie theater.
Nearly 150 St. Louis area veterans of World War II and the Korean War who had participated in honor flights earlier this year, were treated Tuesday afternoon to a private screening of the new film "Unbroken" at the Chesterfield Galaxy 14 Theater. The movie tells the true story of WWII veteran Louis "Louie" Zamperini and his survival at a Japanese POW camp.
The veterans were greeted by a large American flag hanging from the top of a fire truck's ladder and rows of flags lining the pathways into the theater. Complimentary snacks were provided by seventh-graders at Chaminade School. The free event was sponsored by Charles Schwab and Wehrenberg Theaters.
After the film finished, many veterans gave it good reviews, although some said it was brutal to watch.
Maryland Heights resident and World War II veteran Harold Sterothkemp was a Navy pilot who flew in the Pacific.
"It's unbelievable what happened to those American boys, the way they were treated by the Japanese," he said. "I don't know whether I want to see (the film) again. I'd like to read the book. Just unbelievable."
As a 22-year-old, Pero Dennis served in the Korean War, where he was wounded and received a Purple Heart.
"I just hate to see the prisoner getting treated like that, but other than that it's a good movie," the Jennings resident said. "You see that movie, it brings you back to when you were in. I wasn't no prisoner, but I understand what they went through. Actually I don't like to watch war movies because it brings back when I was in the Army. When you in war, it's no fun. I tell anybody that."
Greater St. Louis Honor Flight takes veterans on all-expense paid, one-day trips to Washington, D.C. to see the war monuments honoring their service. Volunteer Bill Sei said the movie event was yet another way to pay tribute to the veterans and culminate the year.
"A lot of them got a chance to know each other on the flights, so this was like a reunion for them," Sei said. "They embraced each other. It's hard to describe. It was just beautiful."
Brenda Welker of Warrenton took her father Otis Collins to the movie event, where she said he reconnected with other veterans.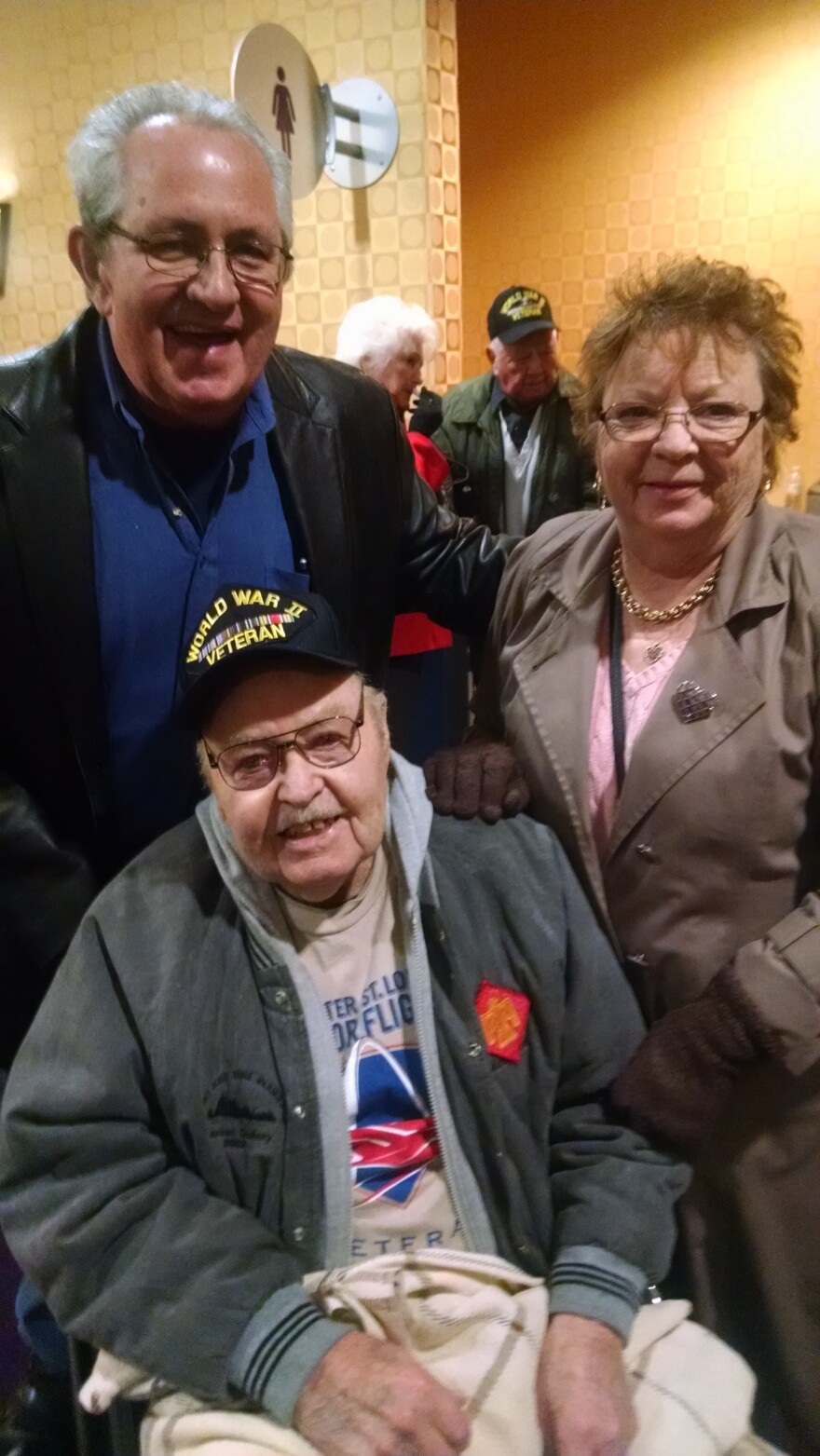 "All of the fellowship that the vets have with each other, they act like they're long-lost friends," Welker said.
Collins recalled his service with the 45th Infantry, 157 Regiment, First Battalion, Company C. He said he carried his daughter's picture with him throughout his time in serving in Europe during WWII.
"I carried it all the way overseas and back with me," he said.
His son-in-law Leroy Welker said it was a great experience as a family to see the film depict the "resilience of the human spirit."
"(Collins) didn't go through anything quite that bad. He went through enough tough stuff. I'm amazed at him -- the resilience of him, too," Welker said.
Other veterans also reflected on memories of their service after seeing the film. WWII vet Jack Sydnor of Chesterfield recalled proudly serving on the aircraft carrier that was positioned next to the USS Missouri, where the surrender of Japan was signed which ended the war.
"It's a good experience for me. I haven't been close to it for a long time; now it's kind of bringing back memories all the time. Nothing like this film, I didn't go through any of that," he said. "Life on a ship was pretty darn nice."
World War II veteran Paul Tell of St. Louis got a chance to show off a book of photos he took as a young soldier in Europe after the film. He had tried to enlist after the bombing of Pearl Harbor when he was 21 years old, but was rejected for having flat feet. He joked that he can now "still probably out-walk many of those guys who turned me down."
Finally, he was able to enlist at 22. Wherever he went throughout England and France, he had his trusty camera with a "tiny little viewfinder" slung over him.
"It was to me, it was amazing I was able to get all those photos," he said.
He said he doesn't feel like he did anything special by serving his country, but he did say the Honor Flight does a wonderful job shining a light on veterans.
"It makes me feel so important, but I'm not, I realize," he said. "We were over there to do a job. We did it and we don't regret any part of it."
But the organization's chairman emeritus Harry Hope said it's important to show veterans how appreciative people are for their service.
"The veteran was ignored until the Iraq war, and when we fought in Iraq and Afghanistan, the American people started recognizing the veteran," said Hope, a Korean War and Marine Corps veteran himself. "There's no greater experience than helping a veteran. They do more for vets now than they have done in a long time."
Many veterans at the movie event expressed appreciation for Honor Flight's efforts.
"They've treated us so nicely. You just get overwhelmed over how nice they treat you," said Navy World War II veteran Dan Nickel of Chesterfield, who took a "once in a lifetime" honor flight in July.
Nickel's wife of almost 65 years, Dot, said, "The group is just tremendous. They do more than you can expect anybody to do. Everything they do is class one."