Guess Who Else Is Coming To 'Dinner' With The Repertory Theatre Of St. Louis?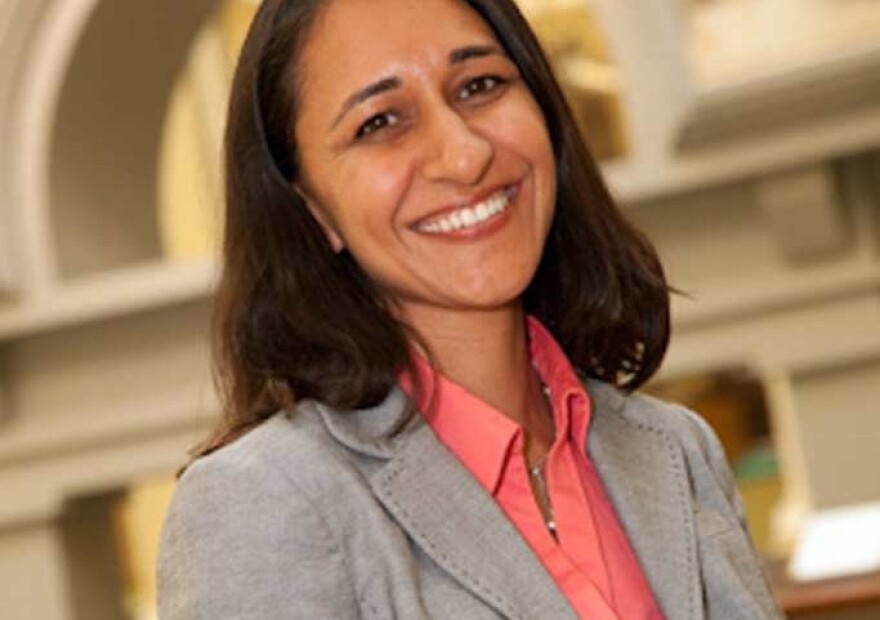 Many older Americans were introduced to their first interracial couple in 1967 by the Sidney Poitier classic featuring what was then a shocking pairing, on-screen or off. 
But today, especially when even same-sex interracial couples can marry in St. Louis, we don't care who's coming to dinner — right?
Wrong, according to Reena Hajat Carroll of St. Louis' Diversity Awareness Partnership. Interracial relationships are still a source of confusion and skepticism, which is why DAP is pairing with The Rep as it presents a theatrical "Guess Who's Coming to Dinner," Jan. 7-Feb. 1.
"I think that people still need some more exposure and more education in terms of interracial marriages (being) OK," Carroll said.
Bringing 'The Other' into Your World
In 2005, Ashton Kutcher played the boyfriend in a remake of the movie, that focused more on the black family and Kutcher's whiteness. It wasn't until 2012 that playwright Todd Kreidler adapted the tale for the stage, in a script that more closely follows the 1967 movie.
The Rep's production marks the first time "Guess Who's Coming to Dinner" will be staged in St. Louis. During the run, the lobby will feature a photographic exhibit of mixed-race couples and families, including a portrait of St. Louis board of aldermen president Lewis Reed and his wife Mary Entrup.
The DAP collaboration also includes a Jan. 14 happy hour. For $15 — less than the cheapest tickets on any other night — you get snacks and drinks as well as the show. In addition, a panel discussion will take place at the Regional Arts Commission on Jan. 26.
The play is an effective jumping-off point for conversation, according to The Rep's artistic director Steve Woolf. It presents the conflict not in a hostile manner, but a thoughtful family atmosphere.
"It's a sweet romantic story and yet it brings up the complications of bringing 'the other' into your world," Woolf said.
Theater has a unique ability to facilitate discussion, Woolf noted. "The world of a play takes on a life and an atmosphere and a rhythm and a pulse," he said.
Sharing the heightened emotions onstage with 700 audience members "has a very particular power to it," he said.
"It can make you think, make you delve into your own mind and your own attitudes and make you have a discussion with yourself, your friends, your neighbors, the people you're sitting with in the theater, the people at work," Woolf said. "It's a moving way to engage people in lots of feelings."
In conjunction with the play, the St. Louis Art Museum will offer free tours of what it calls "edgy art" that challenges the status quo.
'How Do We Blend?'
The 2010 census shows that one out of every 10 opposite-sex marriages involves people of different races. DAP's Reena Hajat Carroll said that's expected to triple by 2050. "But I think it's going to be much, much higher than that," she said.
Carroll, 34, also has a personal connection to the issue of interracial marriage. She's Indian-American and her husband David Carroll is African-American, a relationship profiled by the St. Louis Beacon in 2009. Now, they have a 4-year-old daughter, Meera. In her overall experience, it seems that older people have more questions about whether such marriages should take place. Among her friends and peers, the questions focus on specific issues arising from differences.
"How do we blend these two cultures?" she said.
ReenaHajatCarroll.mp3
DAP executive director Reena Hajat Carroll talks about navigating the issues around interracial marriage.
Concerns about interracial couples are part of a broader picture, she said. Recent events in the St. Louis area have highlighted the need to explore these issues on a deeper level.
"I think we have a lot of work to do around race relations in general, whether that is related to Ferguson or to interracial marriage," Carroll said.
In this clip from the 1967 movie of "Guess Who's Coming to Dinner?" white dad played by Spencer Tracy assesses the situation.
THE BASICS
'Guess Who's Coming to Dinner?' Play
Where: Loretto-Hilton Center, 130 Edgar Road, 63119
When: Wednesday-Sunday, Jan. 7-Feb. 1, 2015
How much: $17.50-$79.50
Tickets: The Rep website show tickets page
Information: The Rep website show information page
SPECIAL EVENTS
'Guess Who's Talking about Race?' Happy Hour and Show
Where: Loretto-Hilton Center, 130 Edgar Road, 63119
When: 5:30-7:30 p.m., Wednesday, Jan. 14, 2015
How much: $15; includes play tickets
Tickets/Information: Diversity Awareness Partnership website
Interracial Families: Panel Discussion
Where: Regional Arts Commission, 6128 Delmar Blvd., 63112
When: 6-8 p.m., Monday, Jan. 26, 2015
How much: Free; registration requested
Registration/Information: Eventbrite website
Follow Nancy Fowler on Twitter: @NancyFowlerSTL