St. Louis Boat Show provides glimpse of life after the Rams
Tim Woodson developed a pretty unique skill: He creates pirate ships.
The St. Louis native has spent the last six years entertaining children at the Progressive Insurance St. Louis Boat and Sportshow. He's even been able to sell some of his creations to a few of the tens of thousands of people who venture to event at the America's Center and Edward Jones Dome.
"I like pirates because they do what they want when they want. And there arrrr no rules," said Woodson, who pronounced 'are' similarly to 'arrrrrrgh.'
Thanks to the Rams' exodus to Inglewood, Calif., Woodson and other boat enthusiasts will get to entertain the masses a little bit earlier next year. That's because the boat show will take place in January, a move that was particularly difficult to do with the Rams' schedule.
"If nothing else, with the exodus of the Rams, certainly the month of January is opened up," said show manager Mark Adams. "For example, next year this show will be moving into January and we're thrilled about that. But this is a very busy building for both consumer shows like this and also out-of-town trade shows."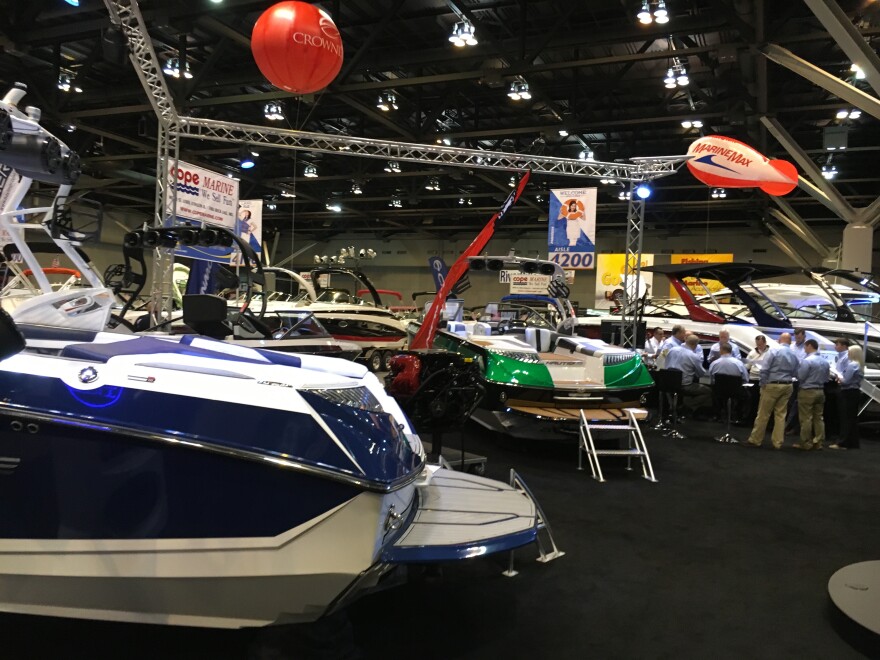 Noting that January is a very busy month for consumer shows, he said, "No offense, I enjoyed the Rams. But out with the old and in with the new."
Indeed, business leaders and politicians are hoping that conventions will fill the Rams' void. But the operators of the convention center and Dome say they will need a lot of money to renovate the Downtown St. Louis facility – funding that may have to come from St. Louis and St. Louis County taxpayers.
St. Louis County Executive Steve Stenger said earlier this year he's been in preliminary talks about the county pitching into such an effort, but emphasized that there's been no commitments. The St. Louis Post-Dispatch reported that some members of the Convention and Visitors Commission have discussed possibly demolishing the Dome.
But for this weekend, the focus is on putting on a stellar boat show. Adams said he's expecting about 40,000 people to visit before the show shuts down on Sunday. Many of these boat enthusiasts, he said, are from out of town – and are likely spending their money at surrounding restaurants and hotels.
Why? Well, according to Adams, visitors' senses "will be pleasantly stunned with the reaction of spring, summer and fall all on display in two-thirds of the convention center and the Edward Jones Dome."
"There are some regional components to this show that are beyond just selling boats in St. Louis," Adams said. "We'll draw heavily from outstate Missouri, Rolla and Columbia for example. Also from Illinois: Springfield, Carbondale, Marion. All those wonderful areas where there's literally about a million and half people living there with great jobs and love the outdoors.
"Let's face it, it's a whole lot easier time to come to St. Louis than it is to go to Chicago," he added, alluding to how bitterly cold the Windy City gets this time a year. "So they gladly choose to come to our show here in St. Louis."
Even though the Rams' departure sparked a wave of anger and sadness throughout the region, Woodson isn't exactly distraught that the team is gone. After all, he said, conventions probably bring in more money for the region than the NFL.
"Now that the team is gone, I think if they have more events like this it's great for everyone. It brings a lot of revenue into the city," Woodson said. "Mainly I'm captain and boater and a boat builder. My sport is getting out there on a boat and sea trailing it. I never was a big Rams fan anyway."