Great Rivers Biennial asks 'What's it like to live and work in the Midwest?'
Each artist in this year's Great Rivers Biennial addresses individual aspects of living in the Midwest and the influence of various economic factors on those experiences.
Jeffery Uslip, the Contemporary Art Museum's deputy director for exhibitions and programs, said the artists stake claims to individual and complex portraits of living in the broader Midwest.
"When you're in this region the challenges one faces and the issues that come to the fore are so raw and real, they're not mediated, they're very local and very specific and very immediate," Uslip said.
Nanette Boileau's video work documents ranches and buffalo management in the greater American West. Lyndon Barrois Jr.'s work addresses the objectification of the body that occurs in professional sports and fashion. Tate Foley repurposes language gleaned from media, advertisements and overheard conversation.
CAM's curators decided to switch things up for the 7th Great Rivers Biennial. The panel of jurors, chosen by Uslip, selected 10 artists from 80 submissions and conducted studio visits with each of these artists. The winners were selected based on the work and the conversations jurors had with artists during those visits. The jurors wanted to know whether each artist had a signature point of view; did they use materials in an innovative way; and did they focus on the experience of living in St. Louis and the region.
Last June the panel awarded each artist $20,000 to develop their proposals for the show. The artists all said their projects evolved during the year between the awards and the exhibition. The projects' individual changes also marked developments in each artist's style.
"I would hope that viewers understand that the realities that are facing these artists and the realities and challenges that these artists are mining and exploring are very real to them. They picture the Midwest in a very specific and important way," Uslip said.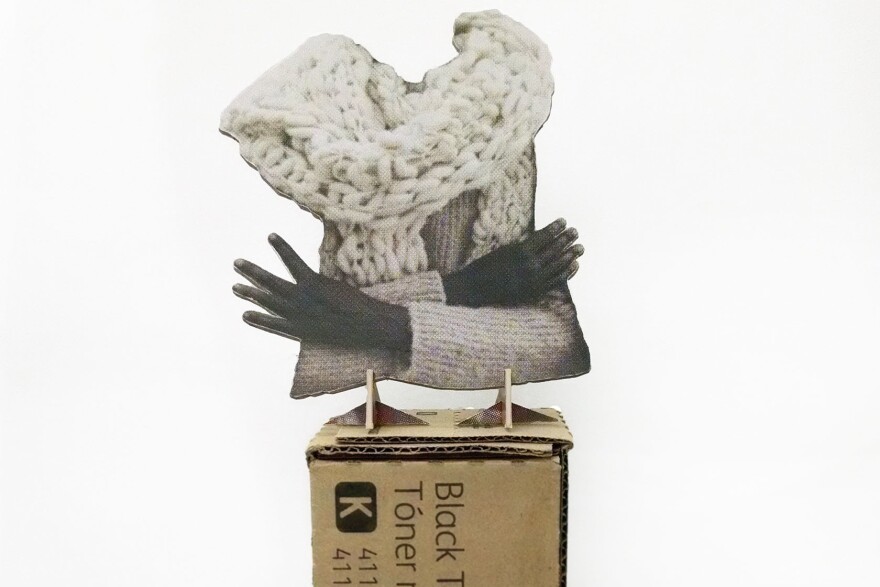 Identities in sports and fashion: Lyndon Barrois Jr.
To complete his installation, the artist laid down a half-court of asphalt; installed a goose-neck style basketball hoop; and populated the court with eight sculptures. These sculptures were arranged and stylized to represent players in a four-on-four match, although the objects more closely resemble buildings than literal bodies. Barrois constructed each sculpture by appropriating images from magazines or digital media giving them a cardboard backing and placing the images upon pedestals of printing toner boxes.
Out of the urban, into the landscape: Nanette Boileau
Nanette Boileau's "Dakota Territory" is a three-channel video installation that will be projected against three walls in the museum's rear gallery. The piece documents the work of fifth-generation ranchers in Wyoming and the industry that's grown up around buffalo in South Dakota. The 3½-hour-long film includes scenic shots of animals in their natural habitat, as well ranching's production side: the herding, weighing, checking pregnancies and slaughter of animals for market. Boileau produced the piece from footage gathered during four separate trips to Wyoming and South Dakota.
nanette_digital.mp3
Boileau discusses her approach to getting ranchers' permission to film.
The language of protest and the sculpture of descent: Tate Foley
The Webster University print professor gathered multi-syllable words from advertisements and overheard conversation to use as raw material for the sculptural and video work he's displaying. He broke down the words into three syllables that reframe and highlight possible interpretation of each syllable as additional words in an attempt to highlight language's connective tissue. These arrangements were printed on boards to resemble advertisements and assembled into a series of monoliths. These sculptures are accompanied by a 12-screen video piece documenting his hand writing out those words.
tate_digital.mp3
Foley discusses breaking down and reconstructing language as a healing action.