Arts administrators and advocates say defunding NEA will hurt local arts organizations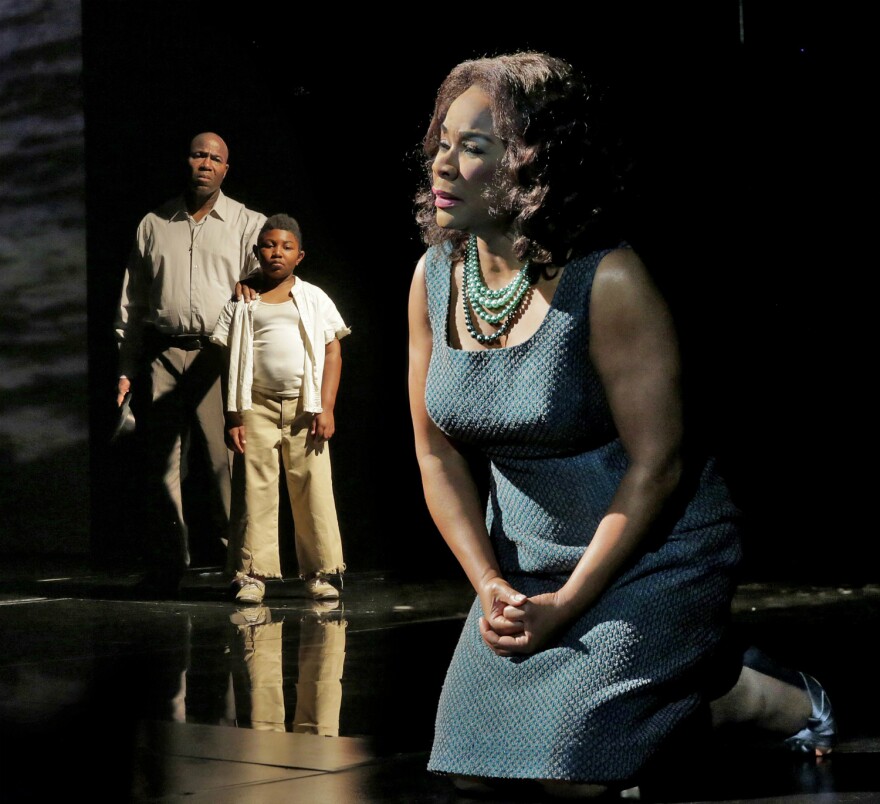 Update 4:17 PM: this piece was updated to better reflect the use of NEA/NEH funding at the Missouri History Museum.
When acclaimed trumpeter Terence Blanchard's jazz opera opened at the Washington National Opera last month, it was heralded as new hybrid in contemporary opera that fused musical traditions and audiences.
Funded by the National Endowment for the Arts, Opera Theatre of St. Louis commissioned and debuted the piece four years ago as part of its Contemporary Composers program. Without that funding, the program may have never made it to the national stage.
That's the type of story that local administrators, artists and advocates use to highlight the importance of the National Endowment for the Arts as they decry the potential elimination of the national organization.
President Donald Trump's administration has a proposed 2018 budget that would eliminate the NEA as well as the National Endowment for the Humanities. That has sparked some concern among local arts administrators.
Here's how it might affect arts institutions in St. Louis.
The Luminary Center for the Arts
The Luminary might be forced to close. The National Endowment for the Arts is the organization's single largest funder and provides it with $25,000 – about 15 percent of its annual budget. The Luminary's residency program brings artists from around the country to work and exhibit in St. Louis, and helps launch leading local artists onto platforms outside of St. Louis.
"[With] the loss of the NEA Funding ... we have to understand how we stay open. It's really that concrete for us. We have to replace those funds in order to keep the lights on." — James McAnally, founder and co-director.
mcannally_role_of_nea_digital.mp3
James McAnally explains his experience working with the NEA on grant evaluations and the breadth of the organizations funding throughout Missouri.
Opera Theatre of St. Louis
Opera Theatre could lose funding for their contemporary composers series. Given Opera Theatre's $10 million operating budget, its five-year annual average of $83,000 in funding from the NEA might seem negligible. But a lot rests on that money. The NEA has regularly supported the organization's Contemporary Composer Series, which spawned recent works "Shalimar the Clown," "47" and "Champion." Without that original funding, these works might not exist.
"When we create new operatic works, we get a chance to engage with the issues that are most meaningful to our own times — these issues of identity, and prejudice, and our common humanity across religious or racial or ethnic differences." — Timothy O'Leary, general director.
The Missouri History Museum
The Missouri History Museum has historically relied on the National Endowment for the Arts and the National Endowment for the Humanities to fund new programs, innovative exhibitions and education experiences. The organization has received approximately $200,000 over the past five years. Some of that money has gone to helping preserve articles from the museum's Katherine Dunham collection, funding the Teens Make History Program, and providing for a project researching the American Revolution on the frontier.
"We'll have to think different ways to find that type of funding, and we hope the community is looking for those types of innovative projects. We are recognized at the Missouri History Museum as being a national leader for the type of work that we do and part of that is because this funding has helped us become that type of innovator." — Nick Hoffman, managing director of education and visitor experience.
Saint Louis Art Museum
Funding from The National Endowment for the Arts helps facilitate bringing important traveling art from around the country and abroad to St. Louis. The NEA is often responsible for backing the indemnity needed to obtain insurance for moving artworks. Without this security, it may be more difficult to bring traveling exhibits and arts from outside the city to SLAM.
"The St. Louis Art Museum, of course, is an international caliber organization. Its primary responsibility is to bring works of art from all time periods and all cultures to the people of St. Louis." — Brent Benjamin, Barbara B. Taylor director.
Fall 2016 Grantees in Missouri
National Endowment for the Arts: $540,000
Alarm Will Sound Inc. (aka Alarm Will Sound)
Bar-Nadav, Hadara
Black Archives of Mid-America Inc.
Center of Creative Arts (aka COCA)
Cinema St. Louis
Coterie Inc. (aka The Coterie)
Curators of the University of Missouri at Columbia (On behalf of Missouri Review)
Dance Saint Louis (aka Dance St. Louis)
Eminence Area Arts Council
Historic Kansas City Foundation
Kansas City Ballet Association (aka Kansas City Ballet)
Kansas City Repertory Theatre Inc. (aka KC Rep)
Kansas City Symphony
Kauffman Center for the Performing Arts
Kemper Museum Operating Foundation (aka Kemper Museum of Contemporary Art)
Luminary Inc (aka The Luminary)
Mathys, Ted
Metro Theater Company
Nuernberger, Kathryn
Opojaz Inc. (aka Boulevard)
Ragtag Film Society (aka Ragtag Cinema and True/False Film Fest)
ReStart Inc.
Saint Louis Symphony Orchestra (aka St. Louis Symphony; STL Symphony)
Spire Chamber Ensemble
St. Louis Art Museum
St. Louis Children's Choirs (aka SLCC)
St. Louis Classical Guitar Society (aka Guitarstlouis)
Webster University
National Endowment for the Humanities: $263,110
Black Archives of Mid-America Inc.
Fontbonne University
Southeast Missouri State University
St. Louis University
University of Missouri, Columbia
Washington University
Follow Willis on Twitter: @WillisRArnold