Marijuana sales generate thousands in tax dollars. Here's how some Illinois cities are using it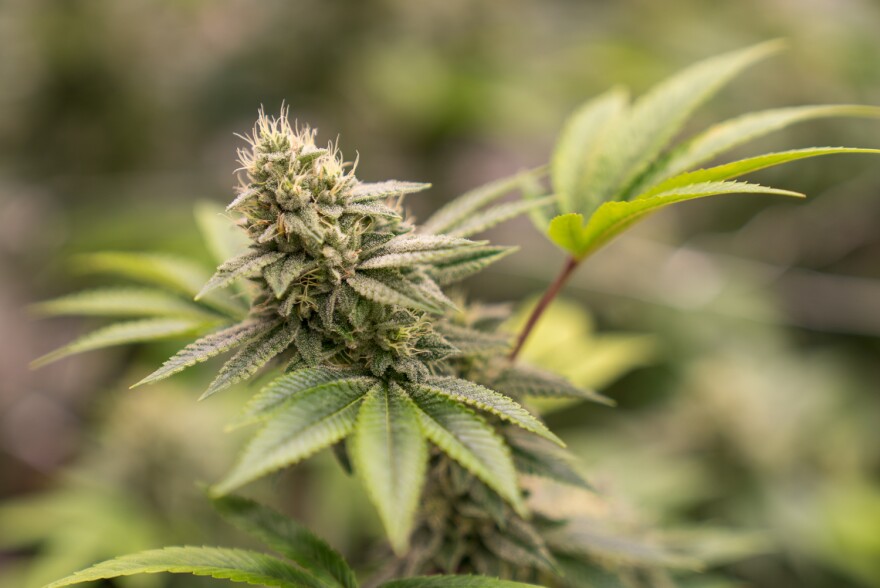 Editor's note: This story was originally published by the Belleville News-Democrat, a news partner of St. Louis Public Radio.
Recreational pot sales in Illinois have already shattered last year's records, generating millions in sales tax revenue for municipalities.
So how much are they getting and what are they using it for?
State law allows municipalities to levy up to 3% on recreational pot sales, on top of existing sales taxes. Each town uses the money differently, but the consensus is that leaders don't want to rely on it.
Marijuana sales tax revenue won't remain consistent enough to use for essential services such as police. The state plans to eventually award more dispensary licenses, making the sales competition steeper.
They do help with the extras, said Richard Sauget Jr., mayor of Sauget, a village named after his great-grandfather.
The village received $187,765 in 2020 from its cannabis sales tax, Sauget said, and so far this year it has collected $758,746. It makes a difference in the town whose population hovers around 150 people and where there are two cannabis dispensaries.
All of the local tax revenue pot generates goes toward public safety. The village has used the money to buy two new police cars and to boost officer salaries, helping them attract candidates to fill three positions.
But Sauget said the village won't rely on the money.
"Our individual piece of the pie will get much smaller just because there's going to be more dispensaries out there," Sauget said. "We're taking that into consideration because (sales tax revenue) will go down for us as the competition in the area comes."
Pot revenue amounts to a nice perk in Quincy, a western Illinois town of roughly 39,400 on the Mississippi River with three dispensaries, one of which only sells medical marijuana. Mayor Mike Troup said all of the money from their 3% tax goes toward the city's $100 million in unfunded fire and police pension obligations. They need to be caught up by 2030 unless the state gives them an extension, the mayor said.Pot tax revenue doesn't generate nearly enough to cover the bill.
"A hundred million is over two times what we get from property tax," Troup said. "But what are you going to do? Shut the government down just to pay your pensions? That's not going to happen."
Troup declined to share how much tax revenue the city has received, citing a state law that allows companies to keep their sales information private. The money helps with pensions, he said, but the city will have to look elsewhere to pay for the remainder of its pension debt.
"It's by far not the solution, but it is helpful in adding dollars to those unfunded liabilities," Troup said.
Collinsville was the first metro-east city to begin selling recreational marijuana after it became legal in 2020. Revenue from the 3% tax on sales at the city's single dispensary has exceeded projections, said Deputy City Manager Derek Jackson.
The city sees more than $100,000 on average every month in sales taxes, Jackson said. Revenue amounted to more than $700,000 from July through December 2020, and just over $900,000 so far this year. The city expects that number to hit $1.2 million by the end of the year.
The money goes straight into the city's capital projects fund, which is used for maintaining or building city infrastructure. They've used the money to build new sidewalks, repave roads, improve parks and extend sewers, among other projects.
"There's some projects we'd be on a trajectory to do in a few years that we were able to do now," Jackson said. "It's been a win-win across the board."
But like other city leaders, Jackson said they expect sales to dip as competition grows. After a dispensary opened in nearby Fairview Heights in March, sales tax revenue in Collinsville dipped by 5%.
Edwardsville, Belleville and East St. Louis could become competitors when more dispensary licenses become available. It's not clear when that will happen. Between court challenges and the COVID-19 pandemic, the state's recreational marijuana rollout has been delayed.
Meantime, the money is nice, but city leaders know it won't always be consistent.
"We know this won't be here forever," Jackson said.
Kelsey Landis is a reporter with the Belleville News-Democrat, a news partner of St. Louis Public Radio.