Missouri School Board Limits Normandy Transfers, Appoints Some Members To New Governing Panel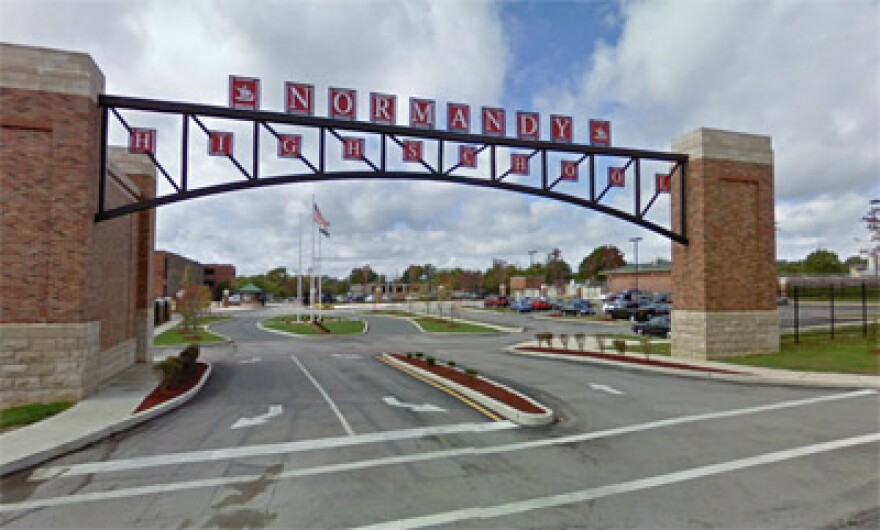 JEFFERSON CITY — More than 130 students whose families moved into the Normandy School District last summer to be able take advantage of the school transfer program will be shut out of the program this coming school year under a policy adopted by the state board of education Monday.
With two weeks to go before the current Normandy district is replaced by the state-controlled Normandy Schools Collaborative, the state board voted on a range of questions, from who will be on the appointed board that runs Normandy to how many days students will attend class to who will be in charge of the district's daily operations.
But the biggest change, approved by a vote of 4-2 after lengthy discussion, would make the transfers available only to students who attended Normandy schools for at least one semester in the 2012-13 school year, the year that ended right before the Missouri Supreme Court unanimously upheld the transfer law last June.
The decision to limit the transfers to students who had previously attended Normandy schools was primarily a financial one. The Department of Elementary and Secondary Education presented the state board with a range of options, along with the monetary result of each one. The option that won approval projects 769 students transferring from Normandy to accredited districts, with their transportation to Francis Howell paid as it was last year.
If students who had not attended Normandy for at least one semester in the 2012-13 school year had been allowed to transfer as well, the number of students would have risen to 900, with what the department estimated would be an additional $1 million in costs.
As previously announced, the new collaborative will begin with no accreditation status at all. The state plans to mandate that receiving districts receive tuition of about $7,200 a student, instead of the tuition charged by districts this past school year that ranged to as much as $20,000. Chris Nicastro, commissioner of elementary and secondary education, said she planned to have that lower tuition apply to transfers out of Riverview Gardens as well.
Asked whether the state has the power to compel districts to accept the lower tuition rate, a spokeswoman for DESE said Tuesday:
"The Department does not have the power to compel districts to accept transfer students or the tuition rate. If they refuse the tuition rate, the students cannot transfer." Because students will only be allowed to transfer to the schools they transferred to last year, if a district does not accept the lower tuition rate, students who transferred to that district last year would have to return to Normandy schools for the coming year.
But for Riverview Gardens students, because that district remains unaccredited — as opposed to the no-accreditation status of the new Normandy — receiving districts may continue to charge a higher tuition rate, the DESE spokeswoman said.
Members of the state board clearly accepted the option they approved with some reluctance, recognizing the financial realities of the situation. After paying for tuition and transportation for about 1,000 transfer students, Normandy made it to the end of the just-completed school year only with an emergency appropriation from the legislature. The state board took over its finances as a condition of its receiving the supplemental funds.
Without limiting the tuition, board members said, the district's financial situation would become precarious once again.
"To do nothing, to take no action, is to close the district," said board President Peter Herschend of Branson. He said Normandy would go out of business some time before the end of 2014.
"At that point," he added, "the state board of education would have no option but to disperse students of Normandy to surrounding districts… . The district as we know it today would cease to exist. There would be no Normandy school district, new or old.
"For the 4,000 students who live in the Normandy school district, I don't believe there would be a worse educational move that this board could make. We would disperse kids into new environments they didn't know. They would be pulled back from transferring, because the receiving districts would receive no more tuition payments, and you would have 4,000 kids radically change their educational environment."
But Mike Jones of St. Louis, who was one of two votes against the plan that was adopted, said the board has to be realistic about what it was approving.
"We just ought to call it what it is," he said. "What we are doing is redefining this situation to give us an option that the Normandy school board didn't have. We didn't want to saddle the board with a financial situation that would not allow it to perform educationally. We just ought to say that and let the chips fall where they may."
Jones also said the state board members need to realize that they are dealing with children, not just numbers.
"We need to put faces on this," he said about the 131 students who would be barred from transferring, "even if we can't put names….
"It's obvious to anybody who can count that there is no way to sustain the Normandy school district and still maintain those options for all of those children. So those are casualties. There is going to be somebody who planned on doing something this year that will not be able to do it as a result of some decisions we make today… . We need to be aware that this is more than a financial consideration."
Three board members, same superintendent
Among other actions taken during a three-hour session devoted entirely to Normandy, the state board approved three members to the new Normandy Executive Governing Board that will take over running the district July 1. They are:
Reginald Dickson, a Normandy resident who serves on the board of Beyond Housing.
Charles Pearson, a retired school administrator who was part of the Normandy transition task force that came up with recommendations earlier this year.
Richard Ryffel, a past president of Beyond Housing and an executive of JPMorgan Bank.
Nicastro said after the meeting that she isn't sure how many more members will be named to the board. The task force had recommended a board of five or seven members, with one or two of them from the elected Normandy school board that will cease to have power when the state takes over the district.
The board has filed suit seeking to stop the takeover and to have the state transfer law declared unconstitutional. A hearing on the request for a restraining order blocking the demise of the district on June 30 is scheduled for this Friday morning in the court of St. Louis County Circuit Judge Steven Goldman.
The state board also approved a series of contracts with outside vendors and contracts with some teachers, with more to come. Superintendent Ty McNichols will continue to serve in his job as an at-will employee. He said after the meeting he hopes a reformation plan his administration put together to help Normandy improve academically is put into place by the new board.
Also adopted by the state board is a school calendar that will have Normandy teachers report to work on Aug. 4 and students report two weeks later for a school year that will have 183 days in class. The following school year, for 2015-16, plans call for year-round school in Normandy and a total of 195 days of instruction.
Teachers and others working the longer school year will be paid the same salary as they earned before, but the board is expected to look into improved fringe benefits.
A historical opportunity
One thread running through much of the discussion by the state board was the opportunity that Missouri has to develop a model plan for improvement of education in underperforming school districts.
In an interview after the meeting, Nicastro said that the old ways of dealing with poorly performing districts has been shown not to work, so the state needs to try a new approach.
"I think this is a new path for us, for the department, for the state board, and for the school district" she said. "It's clear to all of us that something different has to happen. We can't afford to allow our urban school districts to fail, and we can't just continue to combine one with another and think the problem is going to go away.
"Moving the children is not an answer. What we have to do is figure out how to improve the schools where they live. Children have a right and a need to have quality schools in their neighborhood, and that's what we're intending to create."
During the meeting, Jones sounded a similar theme.
"This is an opportunity for the public education infrastructure to actually create a national model about how you fix urban schools," he said. "So we shouldn't be planning just to get Normandy accredited. That's a worthy ambition, but we ought to be trying to figure out what can you do when you take over a school district dealing with low-income children of color, and achieve extraordinary results within the public system of education….
"If you want to make history, come to Normandy. That's what we're going to try to do, make history."
But, he cautioned in an interview after the meeting, that kind of transformation will take time, if it happens at all.
"The real results that we're going to get a chance to show are probably really in the second year," Jones said, "as much as I hate to say that. It's unrealistic to think that you can go through this much transition after this much turmoil and walk away with extraordinary results.
"I think we can make progress, but it's going to take a lot of work, and it's going to take a little more time than 12 months."
Typical of the difficulty involved was this exchange between Jones and Ron Lankford, deputy education commissioner, when he was asked what kind of revenue Normandy needs to function effectively.
"That's a tough question," Lankford said.
Replied Jones:
 "That's the only kind I have, unfortunately."