Despite Nearby Unrest, New Normandy Opens School Year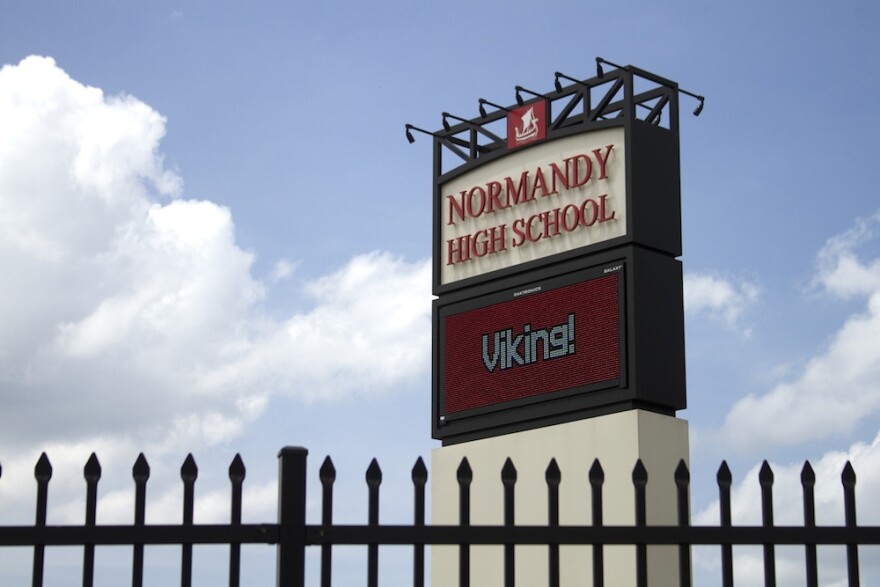 (Updated at 9:19 p.m. Monday with latest cancellation in Ferguson-Florissant)
With adults cheering them on and the aftermath of violent protest just a few miles away, students began classes Monday in the new Normandy Schools Collaborative, hoping to put drama behind them and keep their sights on success.
"It's nice to have a welcome back party for Normandy," senior Breonia Gregory said as she walked through the parking lot toward the high school. "We've been through a lot. It's nice to have something like this positive feedback from the community."
Neighboring north St. Louis County school districts – Jennings, Ferguson-Florissant and Riverview Gardens -- canceled classes Monday because of the continuing unrest in Ferguson. The protests over the fatal shooting of Michael Brown, who graduated from Normandy High School this summer, continued into their second week in nearby Ferguson. Monday night, Ferguson-Florissant announced that classes were canceled for the rest of the week, with the opening day of school now set for next Monday, Aug. 25.
But Superintendent Ty McNichols, who sported a bright red Normandy baseball cap as he greeted students at the high school, said he saw no reason to postpone the beginning of the school year for all Normandy students under the new state-run district. He was joined by Missouri education Commissioner Chris Nicastro, who said she planned to travel to a number of Normandy schools to wish students well.
"Our footprint hasn't been impacted as significantly as those districts have," McNichols said, referring to the neighboring districts that were closed, "so now we can focus on the first day of school. Our families and our staff are excited about the first day of school. There was no consideration at this point in time about closing."
Will students be able to focus on their studies with all of the turmoil around them?
"I think our children are resilient," McNichols said. "I think they will be focused. They are excited. I'm watching the ones walk up. They're ready for school."
To help generate excitement for the district's new beginning, a line of adult boosters cheered the students on. Signs had slogans like "We are your village!" and "We believe in you!!," and periodically the adults burst into cheers and dances, with a call-and-response chant of "we are the Vikings, the mighty, mighty Vikings."
Valerie Patton, who called herself a proud 1975 graduate of Normandy High School, says that she hopes the students can discuss and learn from what has been happening in Ferguson.
"Absolutely," she said. "This is very much a teachable moment, as we need to be teaching peace, justice, truth, but above all to get a good education so you can make good decisions and become good leaders."
Regina Lowe, who said she wanted to come to Normandy to wish the returning students a good year, had a similar sentiment.
"I'm hoping they will have some good discussions with teachers at some point today," she said, "where they can have a little bit of understanding about what's going on in the community and why, on both sides, both those who are peaceful protesters and those who are violent protesters.
"I hope they can come to an understanding that while this is a sad time in our community, they still need to be focused and they still need to know that they can have a great and successful life."
John Phillips, who graduated from Normandy high school in 1988, added that the extra attention on the district should have a positive effect.
"There's been so much here over the last year, year and a half, I just think a lot more people are engaged," he said. "There's a lot more accountability, because there's a lot more people watching. So I definitely think that will help a whole lot."
Nicastro comments on school's opening
Monday afternoon, Nicastro said in an interview that the opening day for the Normandy Schools Collaborative went "great." She said it was too early to release attendance figures because "kids were continuing to come in throughout the day, and we're still getting lots of phone calls with parents calling."
But, she added, "it appeared to me that many, many, many of the kids got there. The community did a wonderful job of getting the kids back to school."
On the effects in Normandy and elsewhere of the continuing strife in Ferguson, Nicastro said:
"There's bound to be some effect on kids and on staff. I talked with a security person at one of the schools in Normandy this morning, and her child goes to Ferguson-Florissant. She was very worried. She's afraid for the children and wants them in school, but she understands why school was canceled. These are really tough time."
And, Nicastro added, there is likely to be "fallout down the road. With this kind of trauma, we may not see the effects for some time. I think it's going to be very important for some time that all of us remain vigilant about our children and how they are behaving."
Asked for reaction to a judge's ruling on Friday that cleared the way for more students to transfer out of Normandy to nearby accredited districts, Nicastro said the attorney general's office was meeting Monday to discuss the issue. Then, she said, the state board of education will discuss the next steps, with a decision possible by midweek.
Asked to respond to a call by the lawyer for the plaintiffs in the case to stop legal challenges and work to heop children attend an accredited school, she responded:
"The emphasis on legal battles and on judicial response is ultimately not going to solve the problem. The problem is that each and everyone of our children must have a quality education, a quality school. We've got to do whatever we can to make that happen."
'We're going to grow stronger'
Normandy students interviewed Monday morning as they made their way through the phalanx of adults and reporters generally appeared to bolster McNichols' assessment of a group ready to learn.
Even those who said they had a passing acquaintance with Michael Brown – none said they knew him well – acknowledged they needed to distance themselves from his killing and concentrate on the business at hand.
"We're going to still go on with what we're doing and learn the best way we can," said senior Kelsie Macon. She said she had not wanted to transfer out of Normandy, despite the state law that gives her that opportunity.
"Even though we go through what we go through," she said, "I still like what I'm getting."
Macon said she remembered Brown as someone who was a good student and "always joyful and laughing."
Like many others, senior Kayla Johnson recalled Brown as "a real quiet kid," and she wasn't sure how the events in Ferguson after his death will affect the upcoming school year.
"I think people just want to come together and have peace for him," she said.
Senior Lexie Boyd echoed that view.
Saying that she did not know Brown personally but recalls seeing him as an average kid, kind of quiet, she said:
"I think we're going to grow stronger. Normandy is a family, and I believe the family that prays together stays together."
Breonia Gregory, the senior who welcomed the adult cheering section at the high school, hopes the new Normandy district means less drama.
"I know I'm going to do my best," she said. "Pretty much everybody in my class has that kind of mentality, just to do your best, to graduate, to get accepted to college. That's really the goal for everybody here at Normandy."
She had a class with Brown, she said, and remembered him as really nice but quiet.
"I think some students are going to be sad about it," Gregory said about his death, "but not react in any sort of violent way. I think we're going to be OK."