Academics Top Priorities In Normandy Superintendent Search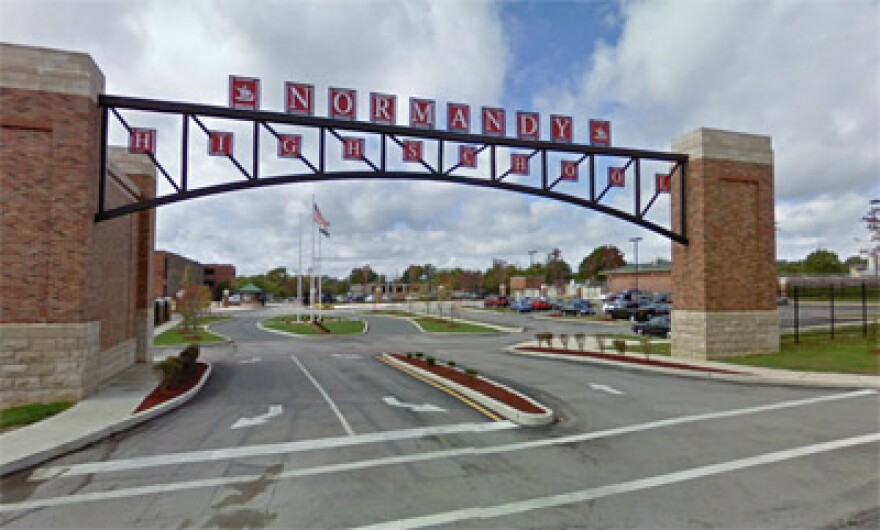 The new head of the appointed board in charge of Normandy schools says the board's plan to search for a new superintendent is designed to find someone who can improve the district's academic performance.
Andrea Terhune took over as chair of the Normandy Schools Collaborative's Joint Executive Governing Board last month, when Superintendent Ty McNichols unexpectedly resigned and Charles Pearson stepped down as chair to become interim superintendent.
Terhune, an information technology executive, said in an interview Wednesday that the board wants to learn from the Normandy staff and community what qualities they want in the next superintendent.
After gathering that information through focus groups and an online survey, the board will turn its findings over to a professional search firm to look nationwide for McNichols' successor, Terhune said.
The board planned the search even before McNichols resigned. While Terhune would not say that the plan led to the superintendent's departure, she did acknowledge that McNichols knew that Normandy would be looking for someone new.
"We obviously were going to conduct a search," she said. "That was explained to Dr. McNichols, and the decision to resign was his decision. From there, we continued with the process to kick off the search."
She said she didn't want to talk about McNichols' job performance or where he might have fallen short of expectations. She said, as Pearson has said in earlier interviews, that the appointed board took over on July 1 of last year, after the state had dissolved the earlier Normandy school district, and it was time for the new board to look for its own leader.
"It's just to understand who would be available and what other level of experience they may bring," Terhune said, "to really make some significant gains in what we were trying to get done in the district….
"It's a new board, as you're aware of, and so we weren't a part of the original search. We just wanted to make sure that we explored the opportunities that were available."
Asked about her own priorities for a new superintendent, Terhune said:
"We want someone who shares our laser focus on creating quality educational opportunities for all of the students in the district. That is our focus, and to do that annually as quickly as possible….
"We're looking for individuals who have considered creative ways of achieving that."
Like all administrators in the newly reconstituted district, McNichols was working without a contract. On the advice of Normandy's attorneys, Terhune said, the board is negotiating a severance payment, but the amount has still not been determined, and there is no timeline by which the process has to be concluded.
"We will absolutely release it as soon as we're done," she said.
McNichols has not responded to requests to discuss his departure or the settlement terms.
At a meeting next Thursday, the board is expected to discuss details of the upcoming search, including focus groups and a public forum. The process will be led by Peter Kachris, who serves as liaison between Normandy and the Department of Elementary and Secondary Education.
Information released by the district said that McNichols' resignation was accepted by three of the remaining four members of the board, with the remaining member, Sheila Williams, abstaining. She is the only member of the appointed board who also served on the elected board that hired McNichols in 2013.
Between the time McNichols was hired and the time that he began his job in Normandy, the Missouri Supreme Court upheld a state law that said students living in unaccredited districts could transfer to nearby accredited schools, with their home district footing the bill. About 1,000 Normandy students took advantage of the law in the 2013-14 school year, prompting a budget drain that led to the state taking over the district's finances, then disbanding the district altogether.
Although the new Normandy is technically classified as accredited, as a state oversight district, about 420 students have still been allowed to transfer elsewhere this school year. The smaller number has placed less strain on the district's budget, but its finances are still under close scrutiny.
Normandy's academic performance -- the worst in the state last year -- is also under a microscope. District officials have said they are working in a six-semester framework to show improvement, and with state tests approaching, Terhune said test scores will show how much work is yet to be done.
"The year is still going," she said. "There are things that have gone very, very well this year so far, and I think there are things that are in progress of making some good changes."
She also said strides have been made in improving school safety, which has been a concern voiced by parents and others.
As far as academic progress, Terhune said that when test scores come back, those numbers will tell the story.
"We'll be looking at the data," she said, "and the data will tell us."
Follow Dale Singer on Twitter: @Dalesinger