Normandy residents to state board: You're setting our school district up to fail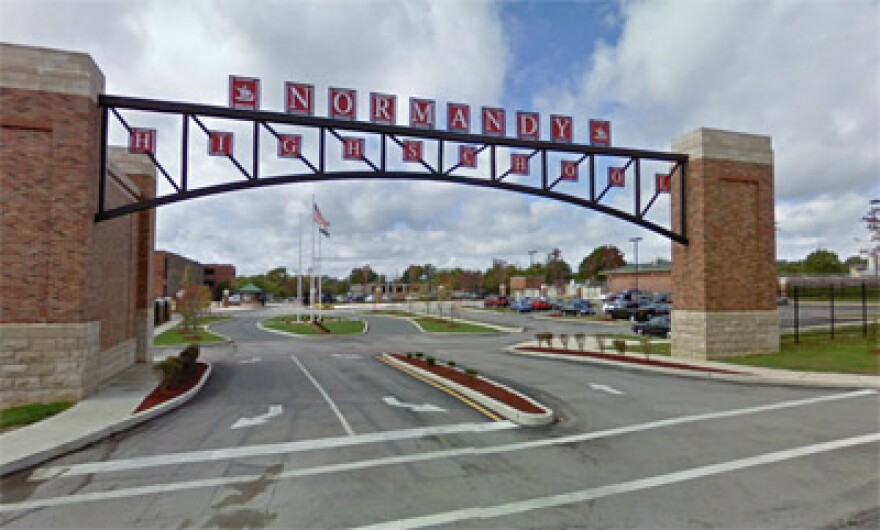 Missouri state school officials called a public hearing Thursday night to hear opinions on how the Normandy school district could improve.
Instead, for more than an hour they heard 18 speakers criticize how the state has failed to support the district since appointing a board to run it last year and predict that the schools are doomed to close.
With Commissioner Margie Vandeven and other officials from the Department of Elementary and Secondary Education seated in the front row, one speaker after another talked about how student transfers from the unaccredited district have ruined Normandy, and how the state has done little to prevent that from happening.
"DESE, I think, is setting Normandy up to fail," said Gwendolyn Bugg, a former member of the elected school board that was disbanded last July when the appointed Joint Executive Governing Board took over what is now the Normandy Schools Collaborative.
State law requires DESE hold hearings when districts are unaccredited. The state board gave that classification to Normandy in line with a ruling from a St. Louis County circuit judge earlier this year.
Interim Superintendent Charles Pearson began the session at Lucas Crossing elementary school with a mostly upbeat report about improvements in Normandy over the past several months since he replaced Ty McNichols. He talked as if the district is going to be around for a long time.
"We are not talking about where we are going to be two years from now," Pearson said. "We have to talk about where we are going to be 10 years from now."
He said discipline issues have eased, attendance is improving and an emphasis is being placed on reading at every grade level.
On problems at Normandy Middle School, he said, "It is no secret that our middle school has had some challenges. I'll tell you something. Middle schools all over the nation have had challenges."
He concluded by saying that changes for better must continue.
"We cannot do anything the way we used and get to where we need to go," Pearson said.
'Normandy is done'
But when the portion of the evening set aside for public comment began, Pearson's pep talk was quickly replaced by a litany of disillusionment.
"I'm disgusted with DESE because I don't feel like they've got our back," said Sharon Owens.
Noting that the hearing was being held in the same school where Normandy residents found out several years ago that they were absorbing the Wellston schools, Henry Watts, also a former member of the elected board, said: "No matter what I say to DESE, I feel like they're going to do what they want to do anyway."
And David Jackson, a former member of the elected school board for the St. Louis Public Schools, said flatly, "Normandy is done. This is just a formality that DESE is here. Normandy is done."
At one point, an African-American woman in the crowd shouted at Vandeven and other DESE personnel in the front row, "Turn around! We want to see your faces!" But the DESE officials remained seated, facing forward.
Not all of the criticism was leveled at state school personnel. Several speakers also criticized how few parents were among the crowd of about 100 people. "I keep hearing DESE DESE DESE," said Rhonda Roberts. "But I want to say parents parents parents. We can't just say DESE all the time."
But most speakers aimed their comments at the state transfer law that allows students to leave unaccredited districts like Normandy, with their home district paying the tuition. That financial drain threatens the district's survival, and some speakers said the transfers also weaken the community.
"Some kids will end up getting an education," said John Phillips, "but they're destroying your community. They're taking your tax dollars and sending them out to Clayton."
Nancy Hartman, another former member of the elected Normandy board, distributed a chart that showed similarities between the scores of Normandy students and black students in other districts who are accredited.
"When is DESE going to start requiring so-called high-performing districts to educate their African-American children to the level that they expect their other children?" she asked. "And why, since African-American children in those high-performing districts aren't performing well, why are you picking on Normandy?"
She added: "You have done more harm than you may ever know."
Passion and conviction
In an interview after the session, Vandeven said she understood the depth of feeling coming from the residents who spoke.
"What it really tells us is how deeply people care about their communities and how deeply people care about their children and about education," she said. "We certainly did hear that passion, that conviction this evening."
Part of the difficulty, she added, is the fact that the legislature is still working on possible changes to the state transfer law, so there are no firm answers to a big question about Normandy's future.
"Sometimes it's not one simple answer," Vandeven said, "and so when they hear the lack of certainty on the one simple answer, that creates a bit of uncertainty and a disconnect."
She said she hopes that in the final three weeks of the legislative session, lawmakers can ease some of the financial burden of student transfers from unaccredited districts. Because, she added, Normandy has to remain solvent to stay in operations, and she would not want to see it begin a school year that it is not likely to finish.
"We certainly did hear that passion, that conviction this evening." -- Education Commissioner Margie Vandeven
"You would never want to see a district have that situation happen in the middle of a year," she said. "By the time we're faced with the year starting, we should have a very good sense of what that legislation looks like."
The ideal bill, Vandeven said, would balance the needs of students who want to transfer, students who want to stay in their own district and districts that receive transfer students.
Victor Lenz of south St. Louis County, a member of the state school board, also attended the hearing and said he was disappointed with the public reaction, but he understood it because of the uncertainty involved.
"People don't know what's going to happen," he said. "The state board doesn't know what's going to happen. When you don't understand something, you get angry. You're afraid."
He said he disagrees with statements that Normandy's future is doomed.
"I certainly hope not," Lenz said, "because it's my goal to have schools and students in the schools in this footprint for a long, long time. The best way to educate kids is in their own school at home."
Our earlier story:
For the first time since the Normandy Schools Collaborative was reclassified as unaccredited, Missouri school officials are holding a public hearing Thursday night on ways the district can improve.
The hearing will be held from 6:30 to 8 p.m. at Normandy's Lucas Crossing elementary school at 7837 Natural Bridge Rd. After district officials make a presentation, members of the public will be allowed to speak, with a limit of three minute each.
Several officials from DESE are expected to attend. A brief meeting of the district's Joint Executive Governing Board will follow.
State law requires the Department of Elementary and Secondary Education to hold at least two such hearings in unaccredited districts "to convene community resources that may be useful or necessary in supporting the school district as it attempts to return to accredited status, continues under revised governance, or plans for continuity of educational services and resources upon its attachment to a neighboring district."
The state board of education voted last month to reinstate Normandy's unaccredited status, in line with a decision by St. Louis County Circuit Judge Michael Burton. He ruled that the state board had acted improperly in earlier classifying the newly formed collaborative as accredited as a state oversight district.
Burton said that based on Normandy's actual academic record, "The NSC is not merely 'unaccredited'; it is abysmally unaccredited."
The state board vote that reclassified the district came despite praise from board members who said Normandy is making progress toward regaining at least provisional accreditation. Its score on last year's annual school evaluation was the lowest in the state.
The department and the state of Missouri have filed notice that they will be appealing Burton's ruling.
The costs of transfers
A major issue in determining Normandy's accreditation status is whether students who live in the district have the right to transfer to nearby accredited schools with Normandy paying tuition and, in some cases, transportation as well. Such costs have brought the district to the brink bankruptcy, prompting the state last spring to first take over its finances, then dissolve the old district altogether in favor of the new collaborative run by an appointed board.
With less than four weeks to go in the current legislative session, members of the House and Senate will meet in a conference committee to work out a compromise bill that could change the transfer law and ease the financial burden on Normandy and on Riverview Gardens, the only other unaccredited district in the state.
Bills passed by the two chambers differ in several respects. The main sticking point appears to be about limits on tuition charged by districts that receive transfer students.
A bill approved last year was vetoed by Gov. Jay Nixon because it included a provision to use tax money to pay for students to transfer to non-sectarian private schools. That option is not include in this year's efforts.
Normandy says the costs of the transfers could reach $8 million; its preliminary budget allocates $7.5 million for tuition and transportation.
At this point, 637 students living in Normandy have filed to transfer in the coming school year, though that number could change depending on the outcome of residency checks and other requirements.
Normandy officials say that a large influx of applications was submitted in the final days of the transfer window, which was extended until April 1 after Burton's ruling.
Based on an average tuition of $12,850, if all 637 students actually transfer, Normandy could have to pay $8.2 million. If lawmakers cap tuition at a recommended rate of $7,236, that cost would drop to $4.6 million. Transportation costs could add $600,000 to the expense.
Even if 10 percent of the students who apply are deemed ineligible, Normandy says the costs of the transfers could reach $8 million; its preliminary budget allocates $7.5 million for tuition and transportation.
If the district is unable to meet its financial obligations, the state could dissolve it and assign its students elsewhere; break it up and attach pieces of it to adjacent districts; or attach the entire district to another one.
If any of those scenarios come to pass, and Normandy ceases to exist, students who are now allowed to transfer might not be able to do so, since they would no longer live in an unaccredited district.
Study of accreditation planned
The uncertainty created by such contingencies has prompted the creation of a task force of Missouri superintendents to study how the state accredits school districts.
A preliminary look by EducationPlus, the cooperative that includes public school districts in the St. Louis area, found that of the eight states that border Missouri, plus top 10 education states that Missouri aims to join by the year 2020, 11 of them do not accredit schools at all. Of the top 10, only two accredit schools.
EducationPlus said no other state tries to solve the problem of underachievement by allowing students to transfer to other districts and drain money from the budgets of districts that are already struggling.
Roger Kurtz, executive director of the Missouri Association of School Administrators, will help convene the task force, which is scheduled to have its first meeting in Jefferson City next week. That meeting will be private, but Kurtz said future sessions may be open to the public.
He acknowledged that the group has no power to make changes, but he hopes it can come up with ideas to improve the current accreditation system, particularly its reliance on test scores.
"What we want to do," Kurtz said, "is to bring some leaders together, a broad-based group, and recommend to the new commissioner a plan that looks and emphasizes such things as local control, continuous improvement, individual student growth and make sure that we're giving the right tests at the right time.
"We hope that we can put together a plan that truly represents a true picture of how school districts are performing, not just how they're performing on one test on one day."