Uncertainty again looms for Normandy schools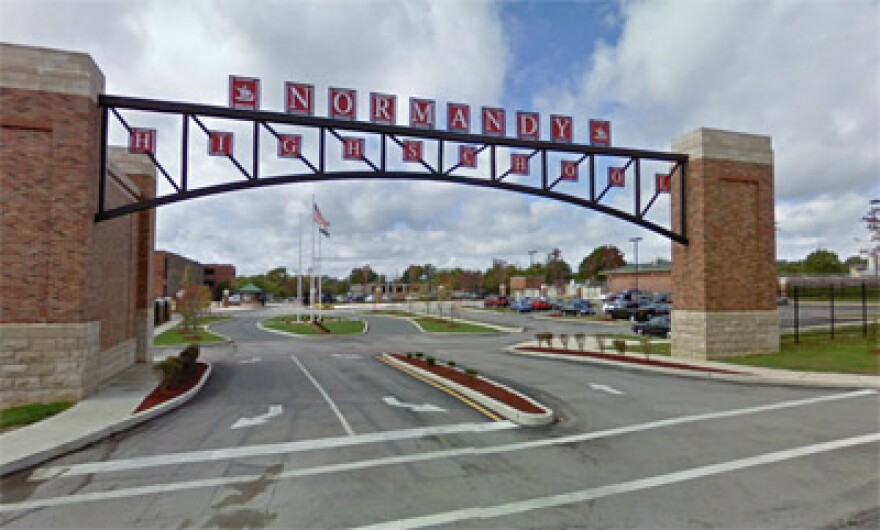 From Jefferson City to Normandy, educators are ready to tackle a math problem that is far from theoretical.
If you multiply the number of students who want to transfer out of Normandy in the coming school year by the average tuition that the district will have to pay, will the costs be so big that the district cannot survive?
At this point, the answer is far from clear, because the actual numbers aren't available. Normandy is still trying to determine how many of the 637 students who filed their intent to transfer will meet residential and other requirements. And lawmakers in Jefferson City are awaiting the results of a conference committee report that is trying to reconcile House and Senate versions of changes to Missouri's transfer law.
If both houses can agree on legislation, then they'll have to see whether Gov. Jay Nixon will sign the bill or veto it. That's what he did with last year's attempt to amend the law that has prompted as many as 2,000 students to leave their home schools in Normandy and Riverview Gardens. Those districts' budgets have been hit hard by the tuition and transportation bills that the student transfers bring.
In any case, Margie Vandeven, Missouri's commissioner of elementary and secondary education, wants to make sure that Normandy students have the opportunity to get a good education and that the district and its residents can have a calmer time after the roller coaster they have been on for the past two years.
"One of the best things that could be given to Normandy right now is stability — some level of certainty of what's going to happen in the near future. And they need that," Vandeven said in an interview.
The main players in the drama are the Department of Elementary and Secondary Education (DESE), the state board of education and the Joint Executive Governing Board (JEGB), which was appointed by the state board last year to run the newly created Normandy Schools Collaborative.
Vandeven acknowledges that the final numbers in terms of costs of student transfers and the effect on Normandy's budget won't be clear until the legislature adjourns and Nixon decides what to do with whatever lawmakers send him on transfers. But, she adds, even while DESE is working with lawmakers for the best possible bill, that doesn't mean no one is working on the problem now.
"To say that no one's thinking about it would not be correct," she said. "Firm planning is not correct either. Certainly, everybody wants to know what the consequences are, what the options are, what could potentially happen.
"That's kind of where we are right now, but again, our energy is focused on ensuring we're doing what we can to improve opportunities for kids in the collaborative and working to promote high-quality schools in that community."
Vandeven has said her department's top priority in the bill now in conference committee in the General Assembly is a limit on the tuition that unaccredited districts have to pay for transfer students. She would also like to see elimination of a provision that would let districts that accept reduced tuition exclude the test scores of transfer students in their state evaluations for a period of time.
That deal was part of the bill last year, and Nixon called it a "cynical bargain." Vandeven and others have said it sends a message to transfer students that their education doesn't really count. So far, the conference committee has reported progress on what students may transfer and on expansion of charter schools beyond their current limits in St. Louis and Kansas City.
But a tuition cap has so far proved to be unpopular with lawmakers and its inclusion in any final legislation is in doubt. Having such a cap may be the key to Normandy's financial survival. The district's calculations show that if the 637 students currently signed up to transfer do so, then Normandy would pay an average tuition of $12,850 to receiving districts. The total cost to Normandy — including transportation money – would be around $8 million. The district has budgeted about $7.5 million for transfers.
After a hearing last week on Normandy's future called by DESE, Vandeven said she would not want the district to begin the school year if it could not finish it financially. She said once all the variables are set, officials should be able to see what the district's financial outlook is. "I think they can project it at the start," she said. "That's why it's really important that everybody is working together on this. That's the very, very firm point I'd like to make. We know, and the district knows, that what's best for kids is to allow them to fulfill their school year."
She said state law calls for a district to notify the state when it feels it will not be able to fulfill its financial obligations for an entire school year. What happens if Normandy's estimates and estimates by state officials disagree?
"We would cross that bridge when we got there," Vandeven said.
If a district cannot continue financially, Vandeven said, the state's options include attaching it to another district, breaking it up and attaching the pieces to several other districts or breaking it up and creating several new, smaller districts.
"One of the best things that could be given to Normandy right now is stability." -- Education commissioner Margie Vandeven
Meanwhile, Vandeven said she has talked with Jennings Superintendent Tiffany Anderson about how programs that have prompted progress in her district could be replicated in Normandy. But, she said, no firm discussions have taken place about a definite role that Anderson could play in Normandy.
Instead, she said, more general discussions about the problems in districts like Normandy and Jennings have taken place.
"Tiffany Anderson has definitely demonstrated some great leadership in the Jennings School District," Vandeven said. "I think a number of community members are very impressed with the work she has done. There have been people who have raised the question or the thought about the role that she could play that might be a little bit broader than where she is right now. But there has certainly not been any kind of specific plans around that."
The state board has given the JEGB authority over personnel in Normandy, Vandeven pointed out. So the collaborative, which is currently searching for a superintendent, would have final say on who is in charge. She noted that state law allows a person to be superintendent in more than one Missouri school district.
Andrea Terhune, who heads the JEGB, said in an email that "the JEGB has not contacted Ms. Anderson about taking a leadership role in Normandy. Ms. Anderson has made a positive impact in Jennings. We have encouraged collaboration between our district administration teams and welcome Ms. Anderson's input as well as the input of all of our neighboring district Superintendents."
Terhune told the state board earlier this year that Charles Pearson, who used to head the JEGB but resigned to take over as interim superintendent in Normandy, has said he would take the job on a permanent basis. But a nationwide search for the job continues, and the deadline for submitting applications is Friday.
Earlier this month, a district spokeswoman said more than 40 people had expressed interest in the job.
For education news, follow Dale Singer on Twitter: @dalesinger