University of Missouri officials feel the legislative heat during committee hearing
After nationally watched protests over race relations and the departure of key officials, the leaders of the University of Missouri system promised lawmakers that change is on the way.
But legislators on the Joint Committee on Education questioned whether the four-campus system's direction was truly righted – especially since a controversial professor is still employed at Mizzou.
Lawmakers spent Wednesday evening hearing testimony from interim University of Missouri system President Mike Middleton, interim University of Missouri-Columbia Chancellor Hank Foley and University of Missouri Board of Curators President Pam Hendrickson.
"I fully understand the importance of partnering with the state of Missouri, as indeed it is our most important benefactor," Middleton said. "And I'm committed to attempting to regain the confidence and trust in the UM system among all of you and the people of the state of Missouri."
The hearing came after a string of high-profile controversies befell the state's flagship higher education institution. Many lawmakers were upset with how administrators handled protests over race relations at Mizzou last fall, which led to the departures of UM System President Tim Wolfe and MU Chancellor Bowen Loftin. Others have been perturbed with how MU handled its link with Planned Parenthood's Columbia clinic.
And more than 100 legislators are demanding that MU communications professor Melissa Click be fired after a widely viewed video showed her calling for "muscle" to remove a student journalist from a public commons area during the protests.
Foley said that MU's fundraising is relatively stable amid the turmoil. But he did warn that enrollment numbers weren't looking positive for the Columbia campus -- and that could result in a big financial hit for the university.
"Some of it is just turmoil and fear of turmoil," Foley said. "They're wanting to be sure they're going to a place that's stable. I've tried to do everything I can since Nov. 11 to communicate regularly and frequently with parents and students and with faculty. I've made a real effort to step that up."
Fire from all sides
During the hearing, lawmakers such as Rep. David Wood, R-Versailles, expressed frustration that leaders from the UM system and MU fought with each other instead of dealing directly with the protests.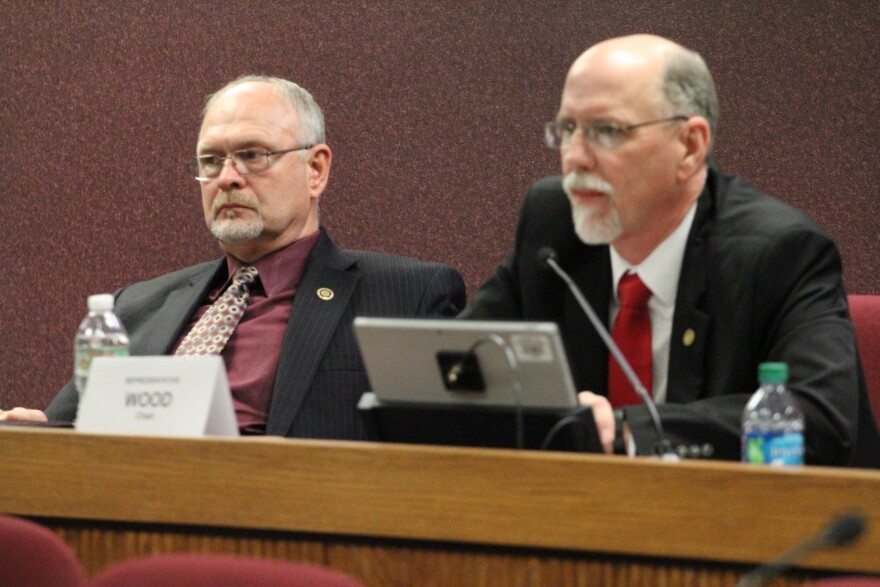 "We have an instance where it at least appears that the tail wags the dog, because the leadership can't cooperate and make united decisions in terms of the University of Missouri to have a backbone to certain things," Wood said. "Whether it be a professor making statements on YouTube or a football coach who decides to boycott a football game or whatever else has happened ..., it seems that the administration was throwing each other under the bus and not taking control of the situation."
Rep. Mike Lair, R-Chillicothe, was especially critical of the idea that administrators should meet a list of demands from student protesters, including increasing the percentage black faculty and staff to 10 percent. That sparked this exchange between Lair and Middleton:
"And it sounded like the assumption was that they all were going to be met. Is that true?" Lair said. " A group of people who are not in charge of a university say 'we want this many instructors. We want this and this and this.' And we jump through the hoops to do that?"
"No sir, if anything I said gave the impression that anyone expected all of the demands to be met, I apologize for that misimpression," Middleton replied.
"You don't have to apologize to me," Lair shot back. "It's the people of Missouri that are wondering what's going on."
"I apologize to the people of Missouri. Let me tell you my thinking on it," Middleton said. "We had a significant group of our students who, in my view, were making what I call requests. The requests that would satisfy their feelings of marginalization and discomfort on our campuses. And my response to those request is to try my best to meet all of those request to the extent possible – financially, physically, politically – to satisfy this group of students who matriculate at all of our campuses. There's not a promise that all of those demands will be met."
Other lawmakers such as state Rep. Courtney Curtis, D-Ferguson, noted there were racial problems when he was a student at the University of Missouri – and not much has changed.
"This was something that was simmering for years – at least from the minority perspective," Curtis said. "So what are we doing to change the culture and climate on campus to ensure we don't end up in this place again?"
Middleton replied that the four campuses now have chief diversity officers. And Foley said Mizzou is expanding its diversity programming – including putting on a series of lectures about African-American life in Missouri.
"We are doing our best," Middleton said. "We're certainly interested in involving all of our student groups in those processes. But as you know, these things do take time. And I beg of you give us the time. We're serious about this."
Click conflict
Some of the sharpest questions of the evening came from Sen. Kurt Schaefer, a Columbia Republican who has become one of the loudest critics of how the university has handled Click's employment status.
"If there's one thing that I see in both of those videos from October and from November, it is more cause than I have ever seen in an employment situation in my life and in 20 years as lawyer," Schaefer said. "Why has this taken so long. And if your answer is there's a process, why does the process take so long?"
Foley replied that someone needs to make an official complaint against Click. After that occurs, a faculty committee is formed to make a recommendation that goes to Foley. Foley then decides how to proceed.
As the committee hearing went on, Sen. Paul Wieland, R-Imperial, delivered a formal complaint regarding Click's conduct to Foley. He later indicated he may file a similar grievance against former Missouri football coach Gary Pinkel, who recently received a three-year contract to help fundraise for the university.
The Board of Curators suspended Click pending an investigation, which Hendrickson said is almost finished.
"Once the investigation is complete, a decision will be made," she said.
Hendrickson told the committee that they're narrowing down search firms to look for a permanent leader of the University of Missouri system. She said the goal is for the Board of Curators to make a selection sometime in the fall.
Rep. Steve Cookson, R-Poplar Bluff, warned Middleton, Foley and Hendrickson that the university needed to be take accountability more seriously.
"Probably the greatest leader that this state has produced, the one that had the most power, had a plaque on the front of his desk that said 'the buck stops here,'" said Cookson, referring to former President Harry S Truman. "You know folks? The buck stops right there at your desk. So we're going to expect nothing less."