Investigation: Missouri's Execution Drug Source Raises Legal, Ethical Questions
In an investigation spanning the past few months, St. Louis Public Radio and the Beacon has discovered the state of Missouri may be ignoring its own laws in carrying out the death penalty by buying execution drugs from a pharmacy not licensed to do business in Missouri.
As we've reported in previous months, a shortage of willing drug suppliers led Missouri Gov. Jay Nixon to direct the state to adopt a controversial new execution method.
Now the state is using a sedative, pentobarbital, a drug that's also commonly used by veterinarians to euthanize animals. That was the drug used to execute two inmates in November and December.
The drug isn't made by a drug manufacturer, but instead by a compounding pharmacy, which mixes the drug based on a specific request.
Compounding pharmacies, like Missouri's execution drug supplier, aren't regulated by the Food and Drug Administration. These types of pharmacies are supposed to be regulated by the states. The drugs they make have a significantly higher failure rate than FDA-approved drugs (1).
The execution drug's potency is critical. If the drug is too weak, or even not what it's supposed to be, it could result in a painful or slow death, a violation of the U.S. Constitution's ban on cruel and unusual punishment.
The state has fought hard to keep the identity of the supplier a secret, restricting public oversight, and making it difficult to know if the execution method is both legal and ethical.
The situation led a federal judge to declare that the state was getting its execution drug using a "shadow pharmacy hidden by the hangman's hood." (2)
But by piecing together documents from dozens of public records requests, St. Louis Public Radio and the Beacon has figured out that this "shadow pharmacy" is located in Oklahoma.
And it isn't licensed in Missouri (3).
Under normal circumstances, selling a drug without a license could be a felony punishable by up to seven years in prison (4).
"When you violate Missouri law to carry out Missouri law, that seems contradictory," said Tony Rothert of the American Civil Liberties Union of Missouri, which has challenged Missouri executions.
George Lombardi, the director of the Department of Corrections, is responsible for selecting the pharmacy as well as making its identity a secret. Calls to his office were not returned. But in an email, a spokesperson said, "The Department of Corrections complies with all laws relating to the acquisition of drugs used in executions."
The spokesperson declined to answer further questions.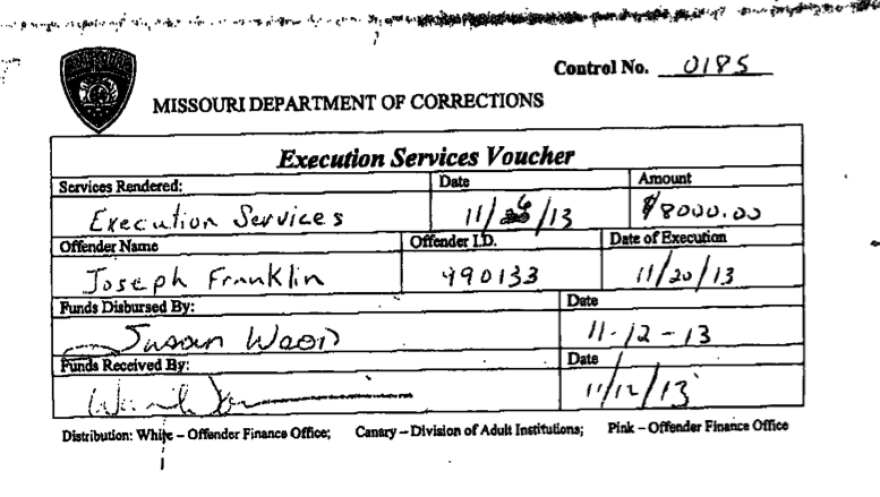 The ACLU has sued the state for keeping the supplier a secret.
'When you violate Missouri law to carry out Missouri law, that seems contradictory.' -- Tony Rothert of the ACLU
"It's not surprising," Rothert said when we told him that the pharmacy isn't licensed. "The state has gone to great lengths to hide what it's doing and to be secretive about what it's doing. So it's not surprising that there's something there that the state was trying to cover up."
This pharmacy is licensed to do business in Oklahoma (3). But getting licensed in Missouri isn't just an administrative issue, it's the way the state maintains quality.
Ned Milenkovich, a pharmacist and attorney who serves on the Illinois Board of Pharmacy, said the whole point of boards of pharmacy is to make sure that drugs are safe and effective.
"The purpose of the board is not to protect the pharmacy and the pharmacist but to protect the public of the state and the citizens of Missouri in this case," Milenkovich said.
He said out-of-state pharmacies are legally required to be registered in the state to which they are shipping drugs. Another expert -- a former member of the Missouri Board of Pharmacy -- agreed (5).
A Gray Area
But when we got into specifics on the legality of the Department of Corrections buying the drug for an execution, both the experts said they were unsure and that it was a gray area. Under these circumstances, the state might get to play by different rules.
We've asked the current members of the Missouri Board of Pharmacy to comment on whether they will be investigating the pharmacy for possibly breaking the law. They did not respond to our request for comment.
The legality of this specific situation is murky. But using a supplier not licensed by the Missouri Board of Pharmacy removes yet another layer of scrutiny in an already secretive process.
As noted above, the FDA does not oversee the execution drug this Oklahoma pharmacy makes. And if the Missouri Board of Pharmacy isn't making sure the drug is what it claims to be, who is providing oversight?
Missouri is relying on another state to regulate the pharmacy and make sure its practices meet standards.
So why would the Department of Corrections use a pharmacy that's not regulated in Missouri to supply drugs for executions?
"It could be the case that they can't find a pharmacy in Missouri to participate in this type of activity," Milenkovich said. "Because when you take your oath of pharmacist practice or your oath of medicine, a lot of people are, for whatever reason, put off by the fact that they are preparing a medication that is not going to be helpful for a person, is not going to treat them, but is rather going to put them to death."
A Game Of Chess
Inmates are supposed to have the right to challenge the constitutionality of the state's method of execution, and the courts are supposed to serve as a check on the state's power.
But in practice, Missouri has executed inmates before the courts have ruled on whether doing so violated their rights (6).
A federal judge has criticized the state for treating executions "like a game of chess": making changes to their methods and moving to carry out lethal injections while the lawyers and the courts try to keep up (7).
In court, Missouri Attorney General Chris Koster's office has repeatedly defended the state's execution process. His office asserts that the supplier should be kept secret, although it declined to comment for this story.
The governor's office declined to comment as well. But Nixon has previously defended the department's new secrecy.
"I feel like the Department of Corrections has come up with an appropriate protocol," Nixon said in November. "I think we'll stick with the protocol as designed."
The ACLU's Rothert said the state is basically saying, "trust us."
"Even though everything that they've done with respect to the procuring of drugs and carrying out the death penalty in recent months has shown that we can't trust them," Rothert said. "Instead what they've shown is that they will go to great lengths breaking Missouri law, disobeying court orders, in order to make sure executions are carried out."
Missouri is scheduled to carry out its next execution in late January. That could be before the courts have time to decide if the state's new execution method is constitutional.
Follow Chris McDaniel on Twitter: @csmcdaniel 
Follow Veronique LaCapra on Twitter: @KWMUScience
Sources And Additional Information
1. It's worth pointing out that a recently passed law improves oversight of compounding pharmacies. It allows compounding pharmacies that mass-produce drugs to register with the FDA, if they choose.
As we've reported before, in inspections spanning the last decade, the Missouri Board of Pharmacy found that about one out of every five drugs made by compounding pharmacies failed to meet standards. Compare that to a failure rate of fewer than one in 50 for commercially manufactured products.
2. From Judge Kermit Bye, who serves on the 8th Circuit Court of Appeals:
"Its current practice of using shadow pharmacies hidden behind the hangman's hood, copycat pharmaceuticals, numerous last-minute changes to its execution protocol, and finally, its act of proceeding with an execution before the federal courts had completed their review of an active request for a stay, has committed this judge to subjecting the state's future implementation of the penalty of death to intense judicial scrutiny, for the sake of the death row inmates involved as well as adversaries and advocates of capital punishment alike."
3. This page contains registration with three different agencies.
The bottom third is a federal Drug Enforcement Agency license with all identifying information redacted.
The middle third is a registration with a state narcotics department. What tipped us off that it was Oklahoma was the name of the state department. It says "registered with the (redacted) State Bureau of Narcotics and Dangerous Drugs Control." That's the name of Oklahoma's narcotics department.
The top third is a registration with a state board of pharmacy. We compared the heavily redacted document to what a blank Oklahoma Board of Pharmacy license looks like, and it was a match. The nomenclature of the permits also matches, as well as the amount charged. We asked the Oklahoma Board of Pharmacy for all of its receipts for the date on the license (which we have redacted), and came up with three possible pharmacies – none of which are licensed in Missouri. An official with the Oklahoma Board of Pharmacy confirmed that the redacted license was for one of those three pharmacies.
4. According to Mo. Revised Statute 338.195: "Any person, who is not licensed under this chapter, who violates any provision of sections 338.010 to 338.315 shall, upon conviction, be adjudged guilty of a class C felony."
5. We also spoke to George Oestreich, who served on the Missouri Board of Pharmacy for five years.
6. Nicklasson was executed while his lawyers were asking for the full 8th Circuit Court of Appeals to decide whether his execution would be constitutional. Since the full court didn't have time to decide until after Nicklasson was dead, the petition was dismissed as moot. In his dissent, Judge Kermit Bye wrote:
"Missouri executed Allen Nicklasson before this court had completed its review of Nicklasson's request for a stay of his execution, a request he brought in a pending action challenging the constitutionality of Missouri's execution protocol. That bears repeating. Missouri put Nicklasson to death before the federal courts had a final say on whether doing so violated the federal constitution…I am alarmed that Missouri proceeded with its execution of Allen Nicklasson before this court had even finished voting on Nicklasson's request for a stay. In my near fourteen years on the bench, this is the first time I can recall this happening."
Note: Emphasis added by us.
But that's not the only time federal judges have voiced their displeasure with how the state has conducted itself in carrying out executions.
Judge Nanette Laughrey ordered the state to reveal the identity of the compounding pharmacist to two members of the inmates' legal team by Dec. 16. The state's legal team, led by Attorney General Chris Koster, did not comply with the order.
A day after the judge's deadline, the state instead delivered a sealed envelope with the identities to the court, but not the members of the inmates' legal team.
7. Judge Laughrey has repeatedly criticized the state for changing its protocol numerous times, calling it a "frustratingly moving target."
"Finally, litigation is not a game of chess…It would be a substantial departure from the way in which law suits are generally handled by this Court, to allow Defendants to succeed with this strategy. Rather, the pending dispute between the parties should be resolved on the merits after a reasonable opportunity for both sides to be heard, followed by a prompt, final order resolving the dispute. That is how it is normally done in America and it is a system that has worked quite well."