Race Looms As Potential Factor In St. Louis County Executive Contest
In a county where the population is about 70 percent white, but the top official is African American, there's always the chance that race can emerge as a factor in the contest for St. Louis county executive.
That's particularly true, say some demographic experts, because St. Louis County's housing patterns continue to be somewhat segregated — with most African Americans living in north county while south county is overwhelmingly white.
But so far, the two Democrats battling in the combative Aug. 5 primary — incumbent Charlie Dooley and Councilman Steve Stenger — say they're trying to keep racial politics out of their fight.
"My message has been a message that I think is universal," said Stenger. "It really transcends issues related to race. I'm looking to create a St. Louis County where there's opportunity for everyone. And I mean everyone."
"I don't see this as a situation where race really enters into this mix," Stenger concluded. "I think our message is universal and applies to everyone equally."
Dooley said he was being realistic. "Race plays a part in all of our lives. Let's be clear about that," he said. "It's not so much that it's a factor, it's what we do with that factor."
Dooley also observed that no one can ignore the obvious about voting behavior. "Charlie Dooley would not be county executive of St. Louis County if race was an issue,'' he said. "I wouldn't be here. Apparently, (race) is not what people are looking at. And that's a great point about this county."
Dooley, who is African American, is in his fourth contest for the post that he has held almost 11 years.
Tensions over Normandy, minority contracts
Some racial tensions have arisen in recent weeks over the problems facing the unaccredited Normandy and Riverview Gardens school districts — both with predominantly African-American enrollment — and Dooley's effort to set minority participation goals for county contracts.
A couple weeks ago, Dooley signed an executive order setting the goals after the County Council rejected bills dealing with the issue. Most council members — including Stenger, who is white — support the general idea of increasing minority participation in contracts, but differed over some of the specifics.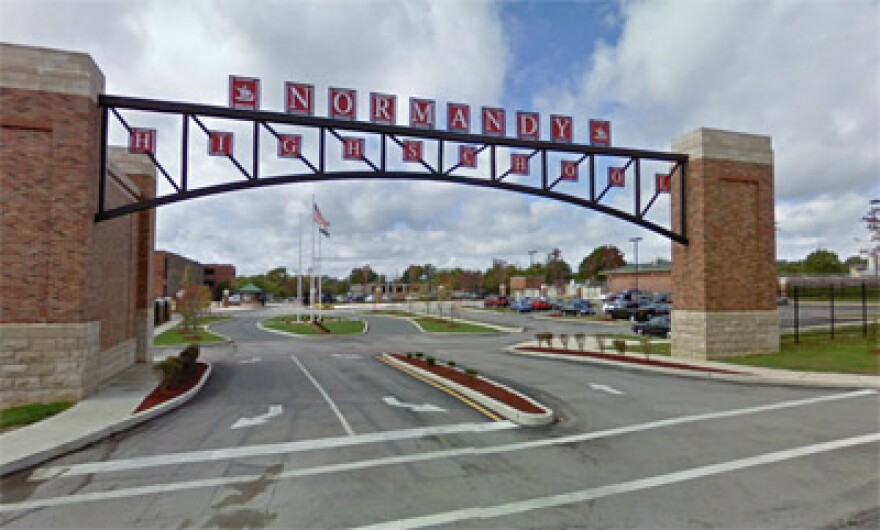 Dooley said that his focus on diversity centered on his belief that a diverse population and workforce is good for the county as it seeks to move forward.
Stenger contended that it was "very peculiar'' that Dooley was bringing up the issue now, right before the primary contest, when an executive order could have been signed years earlier.
As for Normandy and Riverview, both men have said their concern centers on what's best for the affected students. But Stenger came under fire when top Dooley adviser Mike Jones — who sits on the Missouri Board of Education — took issue with Stenger's call for Normandy to allow students in the district to continue to transfer to other school districts. Jones backs a different approach.
Jones contended during the council's public-comment session that Stenger was a "political zero" who "was using black children to benefit their personal political agenda."
Stenger campaign spokesman Ed Rhode said that the councilman "is going to let Mike's comments speak for themselves."
Turnout of black voters likely to be key
Terry Jones, a veteran political science professor at the University of Missouri-St. Louis, took note of the lack of "overt race-based appeals'' by either candidate.
As a result, he observed that "although race is a very important fissure in the politics of Missouri and the region, it's really not appeared in any previous race for county executive."
That said, Jones observed that there's little doubt that race may influence both candidates' "ground game'' as each seeks to get his base of supporters to show up at the polls.
Key backers of both candidates could play a significant role in wooing particular blocs of voters.
St. Louis County Prosecutor Bob McCulloch, who backs Stenger, is deemed to be particularly popular among the county's more conservative voters, many of whom are white. U.S. Rep. William Lacy Clay, D-St. Louis, is backing Dooley and is expected to make a late-campaign pitch for African-American voters to turn out.
But some veteran Democrats note that Stenger is spending a lot of time campaigning in north St. Louis County, and that Dooley's operation is paying attention to the swing territory in the county's central corridor.
Ken Warren, a political science professor at Saint Louis University who specializes in demographics, said that Dooley heads into the final stretch of the campaign in strong shape simply because of the county's demographics.
Although African Americans make up slightly less than a quarter of the county's population, Warren said their solid Democratic votes give them more political clout. In a primary, the county's black voters could cast close to a third of the ballots if they turn out, Warren added.
Based on votes in previous elections, Warren projects that Dooley can count on snagging at least 90 percent of the county's African American votes — even if their enthusiasm for him is lackluster. That edge will be hard for Stenger to overcome, Warren said.
Some Democrats say privately that Dooley also could benefit from the Republican primary between state Rep. Rick Stream of Kirkwood and Green Park Alderman Tony Pousosa. South county Republicans who might be tempted to participate in the Democratic primary, which is allowed under Missouri law, are expected to generally vote in the GOP primary instead. Such voters might have been likely to otherwise back Stenger, some politicians say.
Warren chose not to get involved in such speculation. His point, he emphasized, is that "I'm a numbers guy. Race will play a great role in this primary."
Even if the candidates avoid talking about it.