Next St. Louis County Executive Faces Big Challenge Turning North County Around
With sleek, white furniture and an array of flat screen televisions, Express Scripts' research lab has all the trappings of modernity and success. But for his part, Express Scripts CEO George Paz saw something else when he broke ground on his company's headquarters a few years ago.
When he stepped on the north St. Louis County field that would later become Express Scripts' campus, Paz saw dilapidated houses and sewer runoff. It wasn't a sure-fire economic development opportunity.
"I said, 'I'm an accountant. This isn't my niche to be a visionary,'" Paz said in a speech to capacity audience in late July at an event celebrating the company's new research lab. "I was really struggling. And everybody's telling me it's going to be fine; it's going to be fine. Stick the shovel in the dirt. It's going to turn out great. And I stuck the shovel in the dirt and thought this was my grave.
"But instead it really did turn out to be an incredible opportunity as we built our headquarters across the highway," he added. "And now we've expanded into this area."
Whether he meant to or not, Paz may have touched on the uneasy paradox of north St. Louis County's economy, one that showcases the daunting challenges the next St. Louis County executive faces.
On the one hand, north St. Louis County is home to some of the state's biggest companies, such as Express Scripts, Boeing and Emerson. It's also a place where St. Louis' working class – black and white – settled down and bought homes, creating desirable and diverse communities.
But north county also contains high concentrations of poverty and visible signs of economic decline. It's ground zero for struggling schools and deceased malls. And it's where Michael Brown's shooting death touched off weeks of protests and acrimony.
The intense national focus on Ferguson may be why the two major competitors for county executive – Democrat Steve Stenger and Republican Rick Stream – have made rejuvenating north St. Louis County's economy a priority.
Whether they can actually succeed, of course, is another story.
'Moral imperative': Steve Stenger's plan to move forward
In interviews and during a debate sponsored by St. Louis Public Radio, Stenger has said he will marshal county personnel and resources into an "Office of Community Empowerment."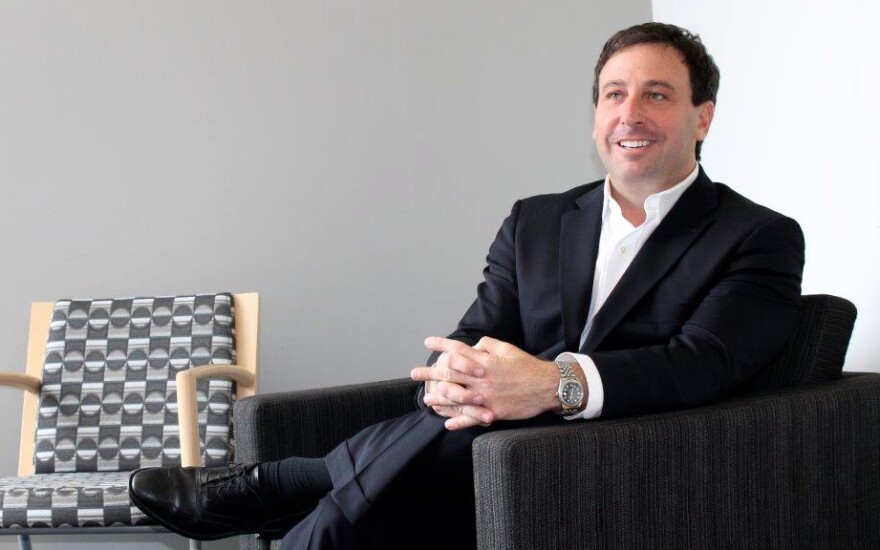 He said the office would address issues "related to transportation, to health, to our Children's Services Fund and to our economic development department." He emphasized an "economic" and "moral imperative" to help north county communities that suffer from extensive poverty, such as Wellston and Spanish Lake.
"Those areas are areas where 40 percent of the population or more live below the poverty level," Stenger said. "And the Office of Community Empowerment would focus on those areas."
Stenger also promised to reconstitute the Children Services Fund board. He would then recommend that the board allocate money to areas that are languishing economically.
"There are seven appointments that will be open for the next county executive in January," Stenger said. "And those appointments have to made thoughtfully so that the money [is spent properly]. This is one of those funds where we are excited about getting the money out in the community that needs it and the community members who need it."
More broadly, Stenger has promised to venture out to other states to convince potential businesses to move to St. Louis County. He said in his first 100 days in office, "the first thing we're going to do is identify industries that we want to bring to St. Louis County."
He said he already met with a hydroponic fish farming company that's interested in locating in St. Louis County – possibly in an area that's "disadvantaged and depressed."
"This business alone would bring in about 300 jobs ranging from $33,000 to about $140,000 for the top spots," Stenger said. "And it's that type of economic development [we need] – sometimes base hits, sometimes home runs. We'd certainly love to see the new jobs from Boeing – absolutely. And we need to see more of that. But it's also about thoughtful economic development in all areas of the county."
'Underlying issues': Rick Stream's plan to move forward
For his part, Stream said the key to combating north county's economic decline is dealing with the area's "underlying issues."
"We've got joblessness throughout our county, especially in north county," Stream said. "We've got schools that are not performing well, especially in north county. This has lead to hopelessness for a lot of people. And I think we need to address those problems as we move forward."
Stream is touting his alliances with some African-American political leaders and pointing to his record as chairman of the House Budget Committee to show that he can tackle big problems. He blames a "lack of leadership" for north county's decline.
"I have worked very hard in the legislature with members of both parties – especially in the African-American community," Stream said. "I have worked on budget issues to put in the budget funding for the schools in north county, for budget items, for programs in north county, for prisoner re-entry programs. I have restored funding over the governor's veto for programs in north county. I have worked on the education bill that would have protecting Normandy and Riverview Gardens School Districts. I carried that bill in the Missouri House and got it passed."
Stream said he would play an active role in trying to help struggling school districts. Not only would he use his connections in Jefferson City, but he promised to work with superintendents and other education officials personally.
On a broader level, Stream said that St. Louis County's "rules and regulations" are creating an unfavorable business climate. That's a similar refrain cited by other Republican candidates, including state Senate hopeful Jay Ashcroft.
Stream said that he wants "to create a climate in St. Louis County where businesses can grow."
"I don't think that's happening right now," Stream said. "We have to keep taxes low. We have to remove the unnecessary and burdensome rules and regulations that are stifling private sector job growth. We have to shorten the permitting process. Again, if we create a climate where businesses want to come into St. Louis County, it wants to grow and create jobs so that people can be hired and take care of their families, communities and schools – that's what we want."
Long road ahead
This type of rhetoric from Stenger and Stream may seem nice – especially during an election year. But it's clear the next county executive will have a tough task to revitalize north St. Louis County.
Wellston, for instance, is one of the state's poorest cities – with a per capita income of a little more than $10,000 a resident. Large-scale retail centers like the Jamestown Mall have failed there. And many residents were hit especially hard by the foreclosure crisis of the late 2000s.
Then there are the ongoing protests in Ferguson. Not only did they bring more attention to the economic difficulties in north St. Louis County, but they also had a tangible impact on business owners like Contelle Nickson-Clark, who owns Swiish Bar and Grill near Ferguson.
When Nickson-Clark spoke before St. Louis County Council in August, she told council members how the heavy police presence in Ferguson made it impossible for her to operate.
"We asked them to move the command center in the back of the building. My husband was almost detained because he tried to access the back of the building," she said. "It is absurd."
Denny Coleman, the president of the St. Louis Economic Development Partnership, said that big companies like Centene have stepped up after Brown's death to invest in Ferguson and north St. Louis County. By the end of the year, the region will see about $500 million worth of business investment announced for North County and probably close to 4,500 jobs throughout the next year to 18 months, according to Coleman.
But Coleman said young people in surrounding communities will not benefit from those expansion of jobs if they don't have basic skills to vie for them.
"These are young people who may have a high school diploma, but they are reading and doing math at maybe a seventh or eighth grade level," Coleman said. "Bringing a lot of jobs, no matter where they are, to a community and expecting these young people to be able to qualify for them is not going to work."
"It's like building a big candy store in the middle of the neighborhood where none of the kids can afford to buy anything," he added.
Coleman said federal, state, local and private stakeholders are going to have to work together to provide job training and life skills training to young people throughout north county. And he said big companies should follow the lead of companies like Express Scripts, a company he said has made a concerted effort to hire minorities and women.
But more than anything, Coleman said the next county executive will have to combat a negative perception of the region that's taken hold since Brown's death. He said it could be a moment of truth for St. Louis.
"There will be challenges associated with some of the negative publicity because certainly it's been broad and wide and mostly negative to date," Coleman said. "We have traditionally not had much of a image period. It hasn't been positive. It hasn't been negative. Now we've got a little bit of a negative image. And while some of us might wish that were just six blocks in Ferguson, that is not the case.
"And we're going to have to work on that at an appropriate time," he added. "But we've got a lot of other work to do prior to any image campaigns."