Politically Speaking: Rep. Webber on political courage, equal pay and corrosive capital culture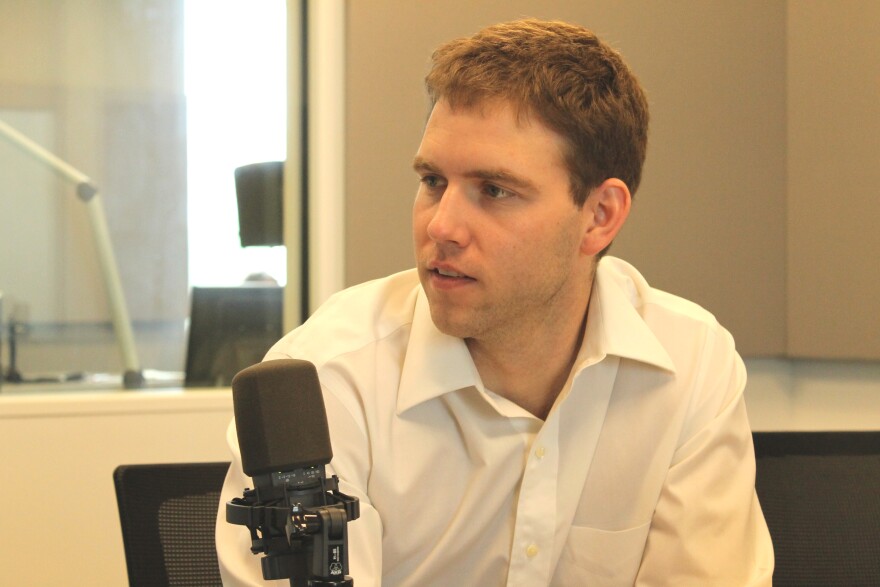 On this week's edition of the Politically Speaking podcast, St. Louis Public Radio's Jason Rosenbaum and Jo Mannies welcome state Rep. Stephen Webber to the show for the first time. Carrying on a tradition started by state Rep. Caleb Jones, R-Columbia, and state Sen. Mike Kehoe, R-Jefferson City, the Columbia Democrat drove from mid-Missouri to our headquarters at Grand Center to tape the show.
The Columbia Democrat first burst on the political scene in 2008 when he won a race for an open state House seat. At 24, Webber was one of the youngest people elected to the Missouri General Assembly in recent memory. He carried on a Boone County tradition of sorts by getting his law degree while serving in the Missouri House.
Webber is the son of two University of Missouri-Columbia academics – political science professor David Webber and business professor Barbara Schneider. As a youngster, Webber helped campaign for several Democratic luminaries before heading to the Gateway City to attend Saint Louis University. He enlisted in the Marines in the early 2000s, and spent two tours of duty in Iraq. He says fighting in a war he didn't agree with inspired his desire to run for office – and how he's maneuvered through the legislative process.
Among other things, Webber spent the past few legislative sessions sponsoring a bill that would add sexual orientation and gender identity to the state's non-discrimination laws. He's also handled legislation that would prompt the state's labor department to develop policies aimed at closing the gender pay gap.
Webber announced earlier this year he would seek a state Senate seat currently held by Sen. Kurt Schaefer, R-Columbia. (Schaefer isn't seeking re-election because of term limits; he's also running for state attorney general.)
The battle to succeed Schaefer, a Republican holding a Democratic-leaning seat, is expected to be one of the most competitive state legislative contests of the 2016 election cycle. It also could be a harbinger for Democratic fortunes in other races.
During the show, Webber said:
After running for office less than a year after his last firefight in Fallujah, he's found it difficult to observe what he sees as the lack of bravery among many fellow legislators, compared to the 18- and 19-year-olds who had fought with him in Iraq. "[They tell] me they can't vote that way," he said. "What do you mean you can't vote that way? I'm stunned by the lack of political courage people demonstrate."
There are countless studies showcasing the gender pay gap, which he calls "unfair to women" and "bad for families." Still, he notes that the General Assembly's GOP leadership reacted to his bill with skepticism.
Many women who work in the Missouri Capitol Building say it's "one of the most difficult environments they've worked in." He says former House Speaker John Diehl's resignation over his sexually-charged texts with a college intern highlights the problems with the Capitol's culture.
He says opposition to his bill to add sexual orientation and gender identity to the state's anti-discrimination laws is twofold. Some critics, he said, are legitimately concerned about the prospect of additional litigation. But others, he contended, want to discriminate against gay and lesbian Missourians and are using the litigation argument "as a shield."
Follow Jason Rosenbaum on Twitter: @jrosenbaum
Follow Jo Mannies on Twitter: @jmannies
Follow Stephen Webber on Twitter: @s_webber
Music: "Walking With a Ghost" by Tegan & Sara