Missouri Senate's top Republican stepping down to 'return to private life'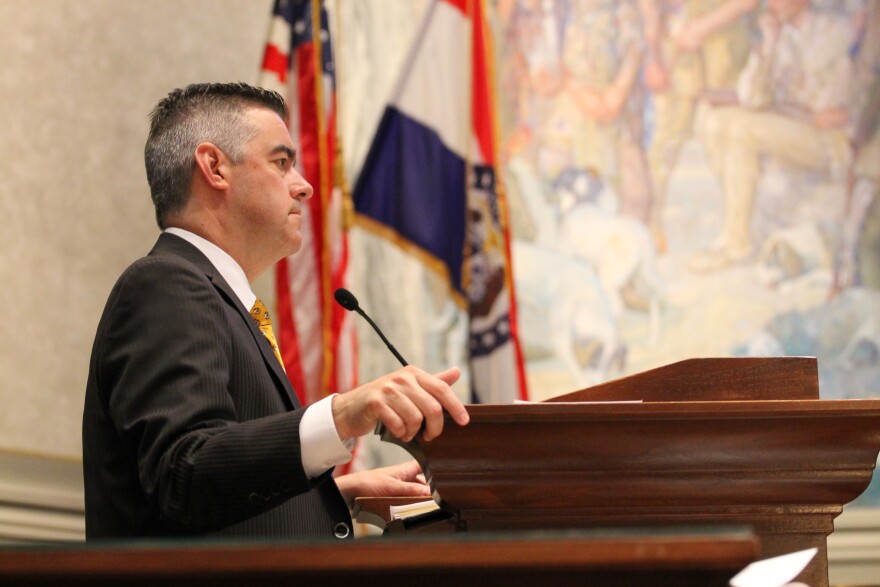 The top Republican in the Missouri Senate is stepping down.
Senate President Pro Tem Tom Dempsey announced on Friday he will resign from his St. Charles County-based Senate seat next Friday. In a lengthy statement, the Republican legislator cited a return to the private sector and a desire to be closer to his wife and three children.
"It is with mixed emotions that I announce that my time in the legislature has come to an end," Dempsey said in his statement. "I have been honored to serve. I have been blessed in more ways than I can count, and I leave owing a great debt of gratitude to my neighbors who have allowed me to serve. However, my family is my highest priority, and in the proud tradition of the 'citizen legislator' the framers of our Republic envisioned, I now return to private life."
Dempsey didn't specify what his new job would be, but he told the Associated Press that it likely wouldn't involve lobbying the Missouri General Assembly.
The move is the latest shakeup in leadership within the Missouri General Assembly. House Speaker John Diehl, R-Town and Country, resigned after his sexually suggestive text exchanges with an intern became public. And last week, Sen. Paul LeVota, D-Independence, announced his resignation after he was accused of sexually harassing interns. Two members of the Missouri House -- Republican Noel Torpey and Democrat Kevin McManus -- stepped down as well.
But Dempsey said through his statement that those scandals didn't have anything to do with his reasons for leaving.
"For the past 17 years, my family has allowed me to serve the people of St. Charles County in public office, first on the City Council, then in the Missouri House of Representatives, and now in the Missouri Senate," he said in his statement. "While holding this public trust has been one of the highest points of my life, it has come at a cost. It has been said that time is like money: it can only be spent once. I have spent a lot of it away from those I love.
"When I first packed my suitcase and headed off for Jefferson City in the winter of 2001, I said goodbye to two little girls ages eight and six," he added. "Our son Jack was a baby and doesn't remember a time when I wasn't away much of the winter and spring, serving in the legislature."
Changes in Jefferson City
Dempsey's resignation will have some short-term and long-term political consequences. Since he's resigning before veto session, Republicans will have one few member to override gubernatorial objections – including so-called "right to work" legislation.
But it could also mean that Senate Majority Leader Ron Richard, R-Joplin, will become the top GOPer in the Missouri Senate. If that happens, it will mark the first time in modern legislative history that somebody served as speaker of the Missouri House and president pro-tem of the Missouri Senate.
Richard has confirmed that he will seek to succeed Dempsey as president pro-tem.
"My priorities, since I've been elected (to office), have always been job creation and opportunities for people," Richard said. "Of course, we're going to have other issues with education and education funding, and what's going on in north St. Louis and St. Louis County."
Richard continued: "We've got utility issues that we to make sure that we're still competitive, and of course the big issue is transportation (and) how do we do that … so we've got a number of things unfinished, and we're gonna be discussing at caucus and getting ready for January."
It could also foreshadow a shift in tone and priorities. Richard was a key driver behind using the "previous question" motion get "right to work" through the Missouri Senate. Some Senate Democrats worried that decision was a preview of sorts for a more partisan Senate.
Democrats, meanwhile, brought the Senate to a grinding halt during the final week of the 2015 legislative session because Richard forced a vote on right-to-work. He doesn't know yet if the slow-down will continue into veto session.
"We'll work through it," Richard said. "I'm not worried about it."
As for Dempsey's departure, Richard said it was a bit of a surprise, but he praised him for being able to negotiate with members of both parties.
"We're going to be missing him, but we'll forge ahead," Richard said.
Once Dempsey resigns, it will be up to Gov. Jay Nixon to call a special election. It's possible that Nixon could leave the seat vacant until 2016, similarly to how he didn't call a special election last year for a vacated Jefferson County Senate seat. But it's unlikely he could do that without forgoing a special election for LeVota's seat, especially since the Independence Democrat is set to resign at a later date than Dempsey.
If Nixon does call a special election, it will be up to the party committees to pick nominees. Before he announced his resignation, three Republicans -- state Rep. Anne Zerr, R-St. Charles, state Rep. Mark Parkison, R-St. Charles, and businessman William Eigel -- were raising money for the seat.
While Dempsey won the 23rd District Senate seat in 2007, 2008, 2012 without much trouble, it's not out of the question that Democrats could mount a competitive skirmish for his seat – especially since more members of organized labor have moved to eastern St. Charles County.
Marshall Griffin contributed to this report.