Blunt moves to block National Labor Board decision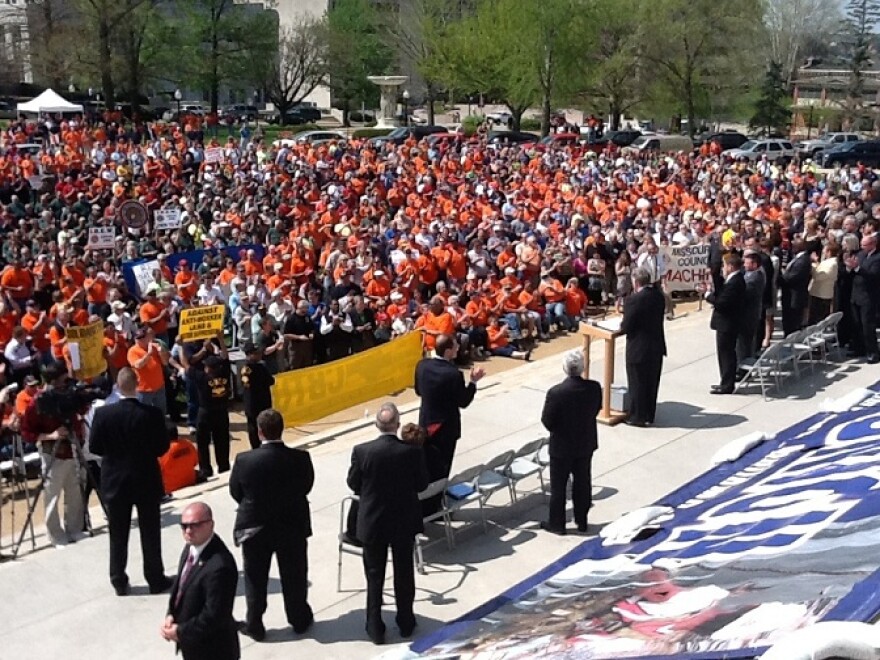 The National Labor Relations Board is reversing a 30-year standard in how it determines joint-employment, the situation in which employees of one company, usually under contract to work for another company, are determined to be employees of both companies for purposes of collective bargaining.
Determinations of joint-employment usually flow from a finding by the NLRB that both companies exert sufficient control over the terms and conditions of employment for the workers in question.
The decision is prompting cheers from labor unions and concern among business groups. U.S. Sen. Roy Blunt, R-Mo., chairman of the Senate Appropriations Subcommittee on Labor, Health and Human Services, and Education and Related Agencies, is moving to keep the board from implementing its decision by attempting to block federal funds used to do so.
"The NLRB ruling could do irreparable damage to the franchise model, which is overwhelmingly small business owners who hire local employees." Blunt credits the franchise model with helping people "rise up within the middle class" by giving individuals an opportunity to own a business and employ workers.
Last week, the NLRB ruled that waste and recycling company Browning Ferris is a joint-employer of workers, provided by staffing firm Leadpoint Business Services, who separate waste from conveyor belts full of recyclable materials at a California facility. In making its determination, the board did away with a 1984, decision that narrowed factors necessary to establish joint-employment.
The 1984, decision came at the hands of a majority Republican board in the mid-point of the Reagan administration. At the time, the board offered no comment or justification as to why it changed the standard that had been in place almost since the first days of the NLRB in the 1930s.
In its opinion, the current board, with its Democratic majority, said the 1984 board "imposed additional requirement for finding joint-employer status, which have no clear basis in … common law…" It also said that "these additional requirements - which serve to significantly and unjustifiably narrow the circumstances where a joint-employment relationship can be found" left the board's policy out of step with the growth in contingent employment relationships.
Saint Louis University School of Law professor Matt Bodie says the board looks at about 10 factors to define an employer - with the primary test being how much control a company has over workers.
"Do you basically have the ability to tell these workers what to do and do you set their terms and conditions of employment - meaning you tell them what they're going get for doing that work and you're telling them how to do their work."
Prior to 1984, the standard had long been that a company possessing the authority to set terms and conditions of employment, whether it used that control or not, was sufficient to determine joint-employment status. The '84 decision said that not only did a company have to possess that authority, it had to exercise that authority directly over the workers in question.
The board now says that a company need only possess the authority and even indirect use of that authority is sufficient to determine joint-employment. The board found that Browning Ferris exerted its control over the Leadpoint workers through specific instructions for discipline and work expectations relayed to Leadpoint's on-site managers. Thus, Browning Ferris met the test as a joint-employer to be included in collective bargaining.
Labor organizations see this reversal as being long overdue.
"You have to remember that all of these arrangements that are affected by the board's decision were set up by lawyers as a way to avoid responsibility for wages, for working conditions, for paying workers' compensation premiums," said Ross Eisenbrey, vice president of the Economic Policy Institute, a pro-labor organization in Washington, D.C. He added, "It's all an attempt by employers to reduce their labor costs and to make it harder for employees to get wage increases or to improve their working conditions." He told St. Louis Public Radio that the workers will be the ones who benefit from this decision.
While unions are celebrating the decision, business groups across the U.S. say it will actually hurt job growth. Dan Mehan, president and CEO of the Missouri Chamber of Commerce says the decision will work against employers and their employees: "They've just reversed 30 years of law that will crimp our ability to create jobs and maintain them into the future." Mehan says, companies need the flexibility provided by such contractual employment arrangements. "The number of full-time jobs as a percentage of our population is the lowest ever. We know from the way things have evolved that flexibility is very important in the workplace."
While the Browning Ferris case did not involve a franchise business, Blunt says he's concerned the decision may be the first step toward redefining employee relations between franchises and their national brands. "Everybody appears to believe that what this ruling does is really set the stage for some linkage that has not ever been there before between local employers and the person who happens to run the national advertising and establish either the menu or the rate structure" for a business.
Bodie, who spent several years working as a field attorney for the NLRB prior to becoming a professor at SLU, says Blunt and business leaders may have a legitimate reason to be concerned with the board's new standard on indirect control. "The big question is how indirect?" He says employee relationships at franchised businesses "will certainly have much more scrutiny placed upon them by the board and the board will look much more particularly about what exactly it is that the franchisor is asking of the franchisee."
Bodie says if the national brand company confines its control to the product, signage and other consumer related issues then he does not believe the board would find the national brand is a joint-employer. "However, if the franchisor has things to say, particularly about how employees have to act, how they have to dress, how they do their job, what they can be paid, what the benefits are that their entitled to…", then he says that's a far different question for the board to consider.