St. Louis native Cardinal Dolan returns home, discusses religion and politics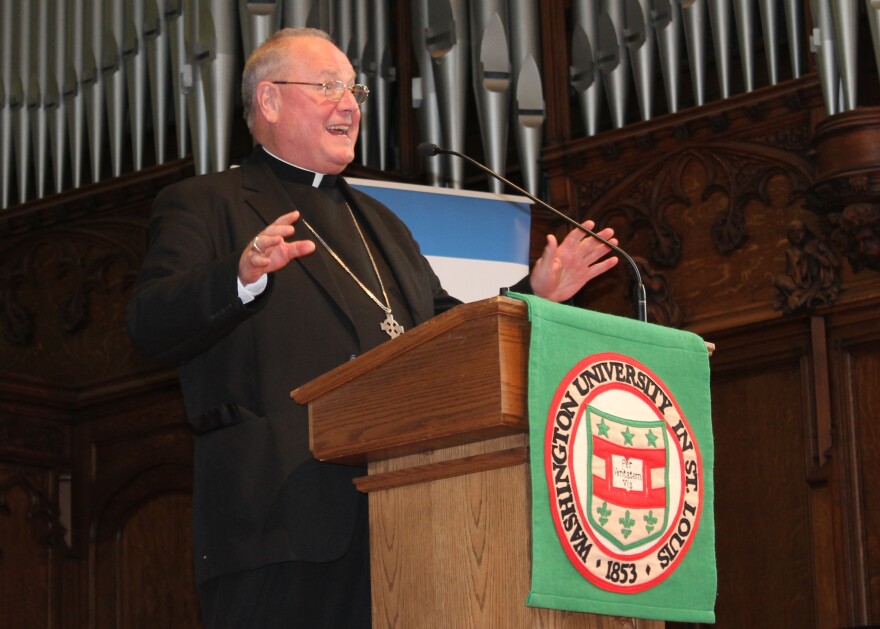 Cardinal Timothy Dolan, the Catholic Archbishop of New York, was back in his hometown of St. Louis Wednesday to give a lecture at Washington University's John C. Danforth Center on Religion and Politics.
Dolan, former head of the U.S. Conference of Catholic Bishops, spoke about religion and faith's role in American democracy. He said religion is "a necessary moderating influence on politics."
"Religion tempers politics by emphasizing the common good over partisan goals; by emphasizing the communal over the private, personal and autonomous self; it tempers politics by creating an atmosphere of respect, trust and civility," he said.
Lecture organizers said they had long hoped to get Dolan for their series, as he is one of the most important voices in the American Catholic Church. He also has extensive ties to the St. Louis area: he was born in St. Louis, lived in Ballwin, pastored in Richmond Heights, served as vice-rector at Kenrick-Glennon Seminary, and taught at St. Louis University.
"You can take the Cardinal out of St. Louis, but you can't take the St. Louis out of the Cardinal," said former U.S. Senator John Danforth of Missouri, for whom the lecture series was named, upon introducing Dolan.
In his lecture, Dolan argued that religion encourages those "eternal values" essential to a republican form of government.

"Religion - according to (popes) John Paul, Benedict and Francis - would speak to the principles upon which politics builds: truth, virtue, trust, the common good, the dignity of the human person, the sanctity of human life and the duty of government to protect those last two," he said.
Dolan drew on the histories of those three papacies to show how religion can influence culture alongside politics, even in a country with a separation of church and state. Because politics alone is not "a surefire cure-all for everything wrong with humanity," the Church is needed.
"The role of the Church is to touch the inside, to bring that to outside," he said.
Lecture attendee Monsignor Jack Schuler, director of mission integration for Catholic Charities of St. Louis, said Dolan's "fantastic historical mind" helped connect the popes' messages to contemporary politics.
"We need to be the conscience for civil governments and legislatures," he said. "We have something to contribute: as he said, soul, heart and mind."
Mary Grelle of Spanish Lake said she appreciated Dolan's emphasis on religion's ability to unify, rather than divide, in a time of political incivility.
"By coming back to St. Louis, he is reaching out and letting people know we are to listen to one another," she said. "We're so busy dialoguing, but we need to listen."
Dolan also took time to answer questions. One audience member asked him how the Church's turbulent history can influence politics today. He responded with anecdote about his Muslim neighbors lamenting radicalism in Islam. Dolan said because the Catholic Church learned its lessons and moved forward from its own history of crusades and pogroms, it can be a lesson for other faith traditions.
Answering a question about the trend of young adults identifying as religiously unaffiliated, Dolan also discussed how connecting young people with religion could help inspire more youth participation in politics.
For Washington University freshman William MacKay, it was a welcome message.
"It was truly inspiring," he said. "He managed to deliver profound messages, but more importantly, he did it in a personal way you don't see too often. It was a really wonderful experience, I'm glad I was able to be a part of it."