On the Trail, an occasional column by St. Louis Public Radio political reporter Jason Rosenbaum, takes an analytical look at politics and policy across Missouri.
On the Trail: St. Louis County's prescription database may catch on elsewhere
Don't look now, but St. Louis County Executive Steve Stenger and company may be trailblazers – at least when it comes to setting up a prescription drug monitoring program.
With the Missouri General Assembly unlikely to approve a statewide drug tracking program, Stenger and the St. Louis County Council gave their blessing to a county database last week. It's aimed at stopping someone from getting certain controlled substances at multiple pharmacies, which database supporters say is a big precursor to heroin abuse.
"I can't get into the particular jurisdictions just yet. I wouldn't want to jeopardize their strategies on getting bills passed," Stenger said after signing the drug monitoring program into law. "These are not, in some jurisdictions, the easiest bills to pass. So I wouldn't want to jeopardize that. But we have some large jurisdictions both near and far within the state of Missouri who are very interested in having their own database.
It became clear after St. Louis County's action that Missouri's large local jurisdictions are paying attention. St. Louis Mayor Francis Slay tweeted that "joining the county's prescription drug monitoring program or doing our own are both under discussion." A spokeswoman for St. Charles County Executive Steve Ehlmann said officials there have been paying attention to St. Louis County's efforts. And Jackson County Legislature Chairwoman Crystal Williams said she's in the very early stages of looking into the program.
"I've talked to a few of my colleagues. I've mentioned it to the executive," said Williams, referring to Jackson County Executive Frank White. "But our charter is not identical to St. Louis County's. And we need to look at where this would fall. I've not talked to our legal staff. There's a lot of work to be done. You know me, I'm not afraid of hard work."
This isn't typically how things go when St. Louis or St. Louis County tries to do something the Missouri General Assembly can't pass. The sequence usually plays out like this: A bill is introduced. Fierce debate ensues. Some compromise passes against all odds. And then, right when it seems like the city or county government is going to rise above the state's inaction, a lawsuit or the legislature blows the idea into pieces.
That's exactly what happened when St. Louis and St. Louis County approved a foreclosure mediation proposal, or when St. Louis (and Kansas City) attempted to raise its minimum wage.
But there are key differences with this particular situation. For one thing, charter counties like St. Louis County have wide latitude to regulate health. And it's hard to argue that a prescription drug database doesn't have a nexus with that authority.
The other variation is political: There was substantial state legislative opposition to setting up local foreclosure mediation programs and raising St. Louis' minimum wage. (In fact, the St. Louis and St. Louis County foreclosure mediation ordinances were invalidated by a bipartisan group of legislators.)
But the statewide database has enough bipartisan support to bring into question whether lawmakers could ever nullify a local program. That's one reason Williams is taking a close look at the idea.
"There are Republican legislators in Jefferson City who support this and who vocally support it. I mean, probably there's a larger group that support it than don't," Williams said. "And there are just some intractable senators that keep stomping their feet and saying they're not going to allow it to happen. So that does measure into my calculations. Because obviously, I just doubt that there's a will to overturn it."
Conservative clouds
Still, even if the legislature leaves local prescription drug programs alone, at least one opponent doesn't think St. Louis County is out of the legal woods.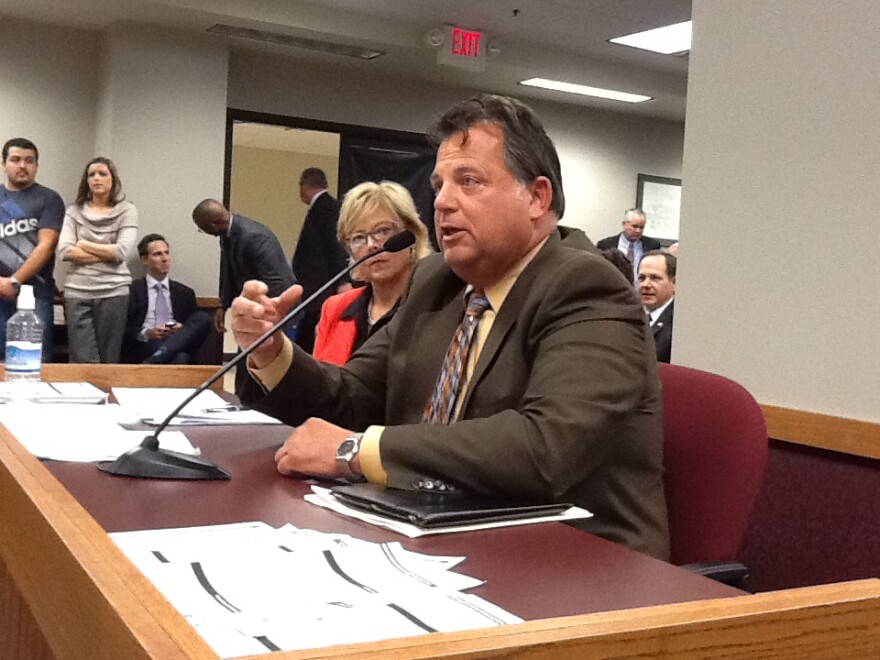 Carl Bearden heads United for Missouri, a conservative statewide activist group that opposes a prescription drug monitoring program. He said he wouldn't be surprised if somebody who used a St. Louis County pharmacy ultimately filed a lawsuit over the database.
"I think you'll start seeing the pharmacists starting to speak up out in the county," said Bearden, a former St. Charles County councilman and GOP state lawmaker. "They support the [prescription drug monitoring program] on the state level. But I think they have a great deal of concern about it being done piecemeal on the county level. So certainly, who's the first one who's going to get sued? It's not going to be necessarily the county. It will be the pharmacist who takes my information and puts it in this database. If I'm a person giving that pharmacist a prescription to fill and I know that pharmacist is doing that, I would sue the pharmacist."
Bearden went onto say "there is no statutory authority that would grant [a county] the power" to establish a database.
"And even though they're a charter county, they still have to have powers that are invested in them (through) the constitution (or) by statue," Bearden said. "So they can't just arbitrarily make up their own powers. And they're going to use and are using some sort of health ordinance approach, which is becoming more and more en vogue. But there's nothing in the statute that would authorize them to do this."
Councilman Sam Page, D-Creve Coeur, strongly doubts that the county database will face serious legal problems, and added he's heard no qualms from pharmacist or physician organizations. He also said that both St. Charles and Franklin counties set a precedent of sorts when they chose to regulate pseudoephedrine.
"I imagine that someone will try to look at this and pursue litigation," Page said. "I think when they talk to an attorney, they'll find that their position is extraordinarily weak. We feel strongly that our charter allow us to do this. I've had discussions with various state departments who would have jurisdiction over something like this. They all agree that we have the ability to do this. And the precedent's already been set, with St. Charles County and Franklin County."
Stenger concurred with Page's analysis. He said last week "we absolutely have jurisdiction to do this."
"And I think we would be successful if it's challenged," Stenger said. "We haven't really heard any word about challenge at this point. In other instances, we've heard about the challenges quite early."
For now, going the local route may be the only option. Page noted that legislative support for a statewide database has dropped in recent years. But while many of these opponents cite privacy concerns, Stenger doesn't think that will be an issue with St. Louis County.
"And the only individuals that have access to the data are pharmacists and physicians. And even law enforcement is required to have a lawful subpoena if they are to retrieve information from the database," Stenger said. "It's an extraordinarily secure database. And my administration will take every effort that it can to ensure the safety and preservation of the information that's contained in the database."
On the Trail, a weekly column, weaves together some of the intriguing threads from the world of Missouri politics.