Real estate agents: Home sales on the rise in Ferguson
Kathie Harnacker is house hunting in Ferguson.
She braved relentless rain on Sunday afternoon to tour a compact three-bedroom brick ranch on a tree-lined street in the Old Ferguson West neighborhood.
"This house is great,'' she said, while standing in the lush patio garden. "It looks well-maintained. It looks like a very nice neighborhood."
The home, built in 1952, is move-in ready, with its neutral décor and updated kitchen. It's listed at $112,000.
"If you were to put this house in Maryland Heights or Webster Groves you're easily looking at doubling the price on it," said Amy Beikirch-James of Pearce Neikirk and Partners, the Ferguson real estate company that hosted the open house.
Harnacker, who wants to sell her home in South St. Louis and downsize, said she's drawn to Ferguson by the affordable prices.
"They have the best deals on property right now, and the property values can only go up,'' she said. "The recent incidents in Ferguson certainly do affect my decision. I think that as time goes on there will be less of a negative impact. That would be my hope. That would be my expectation."
Zandra Carter and her 17-year-old daughter Janesha also stopped by to see the home. They live in the neighborhood, and Carter says she's always admired the house's landscaping. She's looking to buy property as an investment and wants to stay in the city.
"I love Ferguson,'' she said. "It's been home now for 11 years.''
Home sweet home prices
Home sales are rising again in Ferguson, after a steep decline during the months of turmoil that followed the shooting death of Michael Brown by police officer Darren Wilson in August 2014.
Real estate agents say the recovery is due in large part to the city's housing stock — good houses at low prices compared to the greater St. Louis market — and to the people who call Ferguson home.
"It's a great place to live,'' said Hubert Hoosman who owns Haywood Hoosman Realty with his wife Andreal Hoosman. Their office is located on South Florissant Road, just across the street from Victorian Plaza where the Ferguson Farmers Market — a source of civic pride — is held on Saturdays.
Hoosman said the social unrest has affected the housing market not only in Ferguson but in all of north St. Louis County. But it wasn't the fatal blow to the housing market that some had predicted.
"It was blown out of proportion,'' he said.
Andreal Hoosman said the worldwide media coverage of the protests missed a major part of the Ferguson story: the community spirit of its residents.
"They didn't embrace how this community stood together,'' she said.
Overall, the housing market in St. Louis city and county is continuing to rebound from the mortgage crisis of the late 2000s, said Sandy Hancock, president of St. Louis Realtors.
The median home price for the city and county combined was $189,900 in June, up 4 percent from last year. And that price has been steadily growing every month. It's a seller's market, Hancock noted, because of a record low inventory of homes on the market.
In Ferguson, 24 homes sold in June, and the median house price rose to $66,500. That was double the number of sales in June 2015, when 12 homes were sold and the median house price was $39,200.
Hancock said that buyers are attracted to Ferguson's affordable and diverse housing stock: historic century homes, bungalows and ranches in established neighborhoods shaded by tall oak trees.
"I think when buyers see numbers and they see facts, they can make a good decision,'' she said. "They can compare values in other communities. People are moving there.''
Hancock credits the residents.
"They're working hard for their community,'' Hancock said. "They're addressing things that need to be addressed. But also it's just a good stable environment. And the fact that the outside world sees it another way, well, we know the truth.''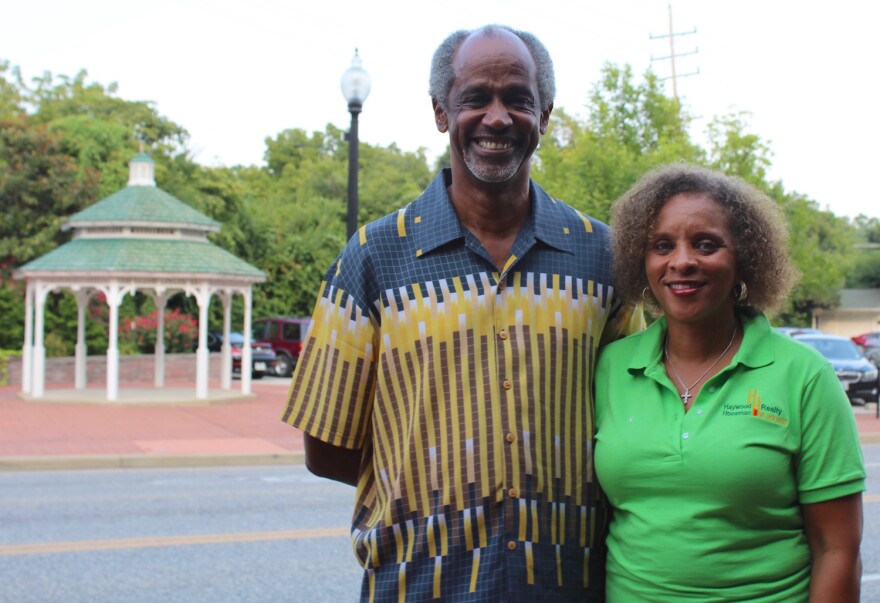 "We were tested"
The Hoosmans chose to locate their office in Ferguson in 2013. They work throughout the St. Louis and Kansas City markets, and also in the Illinois counties of St. Clair and Madison County.
"The day that we came by here and identified this location it was on a Saturday, and they had the farmers market across the street,'' Andreal Hoosman said. "I fell in love with the location.''
Pearce Neikirk also urges prospective home buyers to stop by the farmers market or to attend a summer concert or the annual Streetfest in September. He opened his office on South Florissant in 2011.
Neikirk, who grew up in Ferguson, says he's still upset by the state and government's response in the wake of Michael Brown's death, but his faith in Ferguson's residents has never wavered.
"I think about all the things we've been through, but it's also something that I find some real strength in,'' he said. "We were tested in a way that I don't think any other small community in the United States has been tested."
Neikirk said his sales in Ferguson flat-lined during the months of unrest, but there wasn't widespread discounting of house prices. Homeowners who had planned to sell waited until the following spring to list their homes under more normal sales conditions.
"We did not see the signs going up all over town like so many prognosticators were saying,'' he said. "I honestly felt like many of the news organizations were looking for blood in the water. They needed to see the pain.''
Neikirk said that Ferguson residents have a long history of working together to improve diversity and race relations.
"I think Ferguson's not only going to survive, it's going to thrive,'' Neikirk said. "And I stake my future on that. I don't plan on moving."
Who's buying houses in Ferguson?
Ferguson offers small town living in an urban environment. For commuters, it's a short drive to interstates 70 and 270, the real estate agents say.
Shannon Howard said she's recently sold homes in Ferguson to young couples and families who are hopeful that Ferguson will continue to make progress.
"I've had a number of people who specifically bought houses because they wanted to be part of the solution moving forward. Very social justice-minded people,'' she said. "I've seen a diverse array of people coming in and people who are excited to be there.''
Howard said the recovery of home sales has been quicker in the northern end of town than in the neighborhoods where protests were active. She has also seen a growth in investor activity — out-of-town buyers who are converting smaller homes to rental property.
Howard, who specializes in selling vintage homes, lived in a Victorian house in Ferguson for 15 years and was active in the community until she moved in December 2014. She was bothered by national stories that characterized Ferguson as having a distinct historic area where everyone was wealthier and white.
"That has definitely not been my experience in Ferguson. It is a melting pot,'' she said. "Our neighborhood was very diverse.''
She said she had already been planning to sell her historic house and downsize into a smaller home, but the protests speeded up her decision. She lived near the police department where protests went on nightly.
"It was like living in a pressure cooker,'' she said. "We had constant helicopters overhead. Media just everywhere. Our streets were blocked off. We had protests that went on until 1 o'clock in the morning. It became an extremely stressful place to live.''
Howard remains conflicted, but says she isn't waving the "doom and gloom flag."
"Are there challenges? Absolutely. Is a lot of it perception rather than reality? Absolutely. I still see positives,'' she said. "But it will take time."
Neikirk says that interested homebuyers have done their homework on ZIP code 63135 before they pick up the phone.
"Those people who are not interested in Ferguson just pass us by. We don't even know we're being passed by,'' he said. "But the ones who do call, in many cases, will want to know the proximity of the home to where the disturbances were.''
"The proof is in the pudding"
Realtor Atefa Young, who has lived in Ferguson for 40 years, said that people were buying homes in Ferguson even during the protests because they knew they were getting a good value for their money.
"Actually I was happy to see the demonstrations last as long as they did because typically when something happens the first time you mention it, it's just pushed aside. So you have to keep repeating it,'' she said. "These people were demonstrating because of an injustice.''
In the aftermath of Michael Brown's death, a demographic statistic stood out: The population of Ferguson is nearly two-thirds black and one-third white, a racial makeup that was not reflected in the makeup of the city government or in the staffing of its police department, which was 95 percent white.
Two years later, that is changing, Young said, but she cautions that it will take time.
"We've got a new police chief. We've got a new judge, city manager, practically a whole new council and, I think the council is doing a good job, so far. They've engaged with the community,'' she said. "I've received emails about events in Ferguson that I've never received before. So the lines of communication are open."
Young served on the task force to set up a civilian review board to provide oversight of the police department. She encourages residents to get involved.
"People seem to have come to the understanding that if I want change to happen you have to be a part of it,'' she said. "I can't sit back and ridicule you for what I think you should do when you're doing what you think you should do.''
Andreal Hoosman said a positive has been the increased involvement and investment in the community by the University of Missouri - St. Louis and corporations, such as Centene. She pointed to new businesses moving into empty storefronts next to her realty office.
"The rebuilding of the infrastructure is huge,'' she said.
Hubert Hoosman said that time will tell.
"I think the proof is yet in the pudding,'' he said. "The Department of Justice report put a lot of demands upon the government of Ferguson. They're going to have budget issues. They've got to make some hard decisions that could impact fire protection. It could affect our policing. If those things are not met it will impact insurance and taxes, revenue base.''
The real estate market is doing well in Ferguson, but he also noted the number of sales to investors.
"When you shift from a stable residential to a larger rental community then you have problems in the long run,'' he said. "It hasn't been the doom and gloom that was projected. And I'm not using a racist term but a general term — white flight — we are seeing some signs of that. It may be gradually not becoming the diverse community that it had been. Hopefully, it's becoming a more wholesome, civil, people-oriented community that it should have been."
Real estate agent Terry Gannon, who's been selling north county properties for 35 years, said Ferguson's homes have always been a good deal for buyers -- and that has not changed.
"If you are interested in big historic Victorian houses, but you can't afford Webster or Kirkwood, where are you going to go? Ferguson? Normandy? Florissant? You get as nice a house but not at the price you pay in other municipalities," she said.
She believes the city is moving forward.
"Two years later, I would like to see the term 'Ferguson effect' mean you can go through a tragedy, and you can take that bad thing and turn it for good,'' Gannon said. "I think there's a spirit in the community that was there before, but now it's more enhanced."