St. Louis aldermen give final approval to donation limits for city offices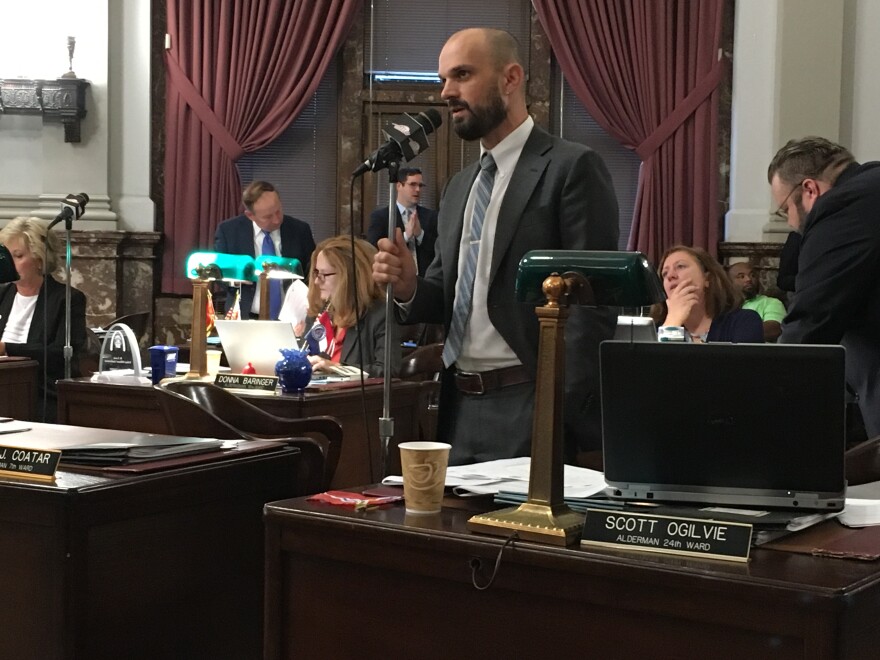 Updated on October 7: The St. Louis Board of Aldermen gave final approval to campaign donation limits for city-based offices.
The Board backed legislation that would place a $10,000 cap on donations to city offices. It would take effect next April after the city's municipal election cycle.
The bill now goes to St. Louis Mayor Francis Slay's desk.
Original story: Alderman Scott Ogilvie first proposed curbing donations in 2013. That bill ended up stalling in committee.
But Ogilvie, D-24th Ward, said there's a bit more urgency to act because a proposed constitutional amendment could limit state-based contributions. If Missourians approve that measure in November, donors could still provide unlimited amounts of money for candidates in county and municipal contests.
"I think money in Missouri elections is totally out of control," Ogilvie said. "Voters want to see that changed. And this is a step in that direction. Hopefully, voters in November will help re-establish contribution limits across the state."
While Ogilvie's bill received an affirmative voice vote, some aldermen expressed skepticism about whether the measure would be effective at keeping money out of city politics.
Some city lawmakers, like Alderman Stephen Conway, D-8th Ward, questioned whether the $10,000 was too high. He said he recalls very few instances where aldermanic candidates received five-figure donations.
"The way I look at this is, this is the rich people's bill," said Conway in an exchange with Ogilvie. "Because only rich people have $10,000. Two-hundred and fifty dollars is where we should be at, alderman. Whatever you conceded or gave yourself away, you gave away to the rich people."
Others wondered if the $10,000 could be easily circumvented with political action committees, which aren't constricted in Ogilvie's legislation.
"This is feel good legislation. We'll all feel warm and fuzzy," said Alderman Antonio French, D-21st Ward. "But the money is still going to get where those folks intended. And it's not really at this level. It's not at the aldermanic level. But the big citywide races, there are still interested parties. And I don't think this is going to limit them from getting the money where they want to."
For his part, Ogilvie said the $10,000 limit is a high threshold. He said he's hoping to revisit the limits if voters approve (and courts uphold) the donation limit amendment.
"The constitutional amendment we're going to vote on in November sets limits at $2,600," Ogilvie said. "Hopefully that will pass in November and we can come back here and amend this bill down to $2,600 so that there's consistency across the board. And the proliferation of PACs and independent expenditures are a huge problem in Missouri. They're a huge problem nationally. And the whole political system is in desperate need of reform in that area. But as far as I know, locally there's not much I can do about that."