On the Trail, an occasional column by St. Louis Public Radio political reporter Jason Rosenbaum, takes an analytical look at politics and policy across Missouri.
On the Trail: Looking ahead at Missouri's post-election storylines
I know what you're thinking. You just saw a headline that contains the word "post-election" in it and are curling into a ball. You're wagging your extended finger at this bespectacled reporter, preparing to declare "enough!"
As exhausted as you are, politics has a lot in common with Semisonic lyrics: "Every new beginning comes with some other's beginning's end." That's the type of sentiment that will soon take hold in Missouri, as political types look past this year's wild cycle and gaze forward to 2017 and 2018.
The truth of the matter is that two years is an eternity in politics, making it somewhat perilous to predict the national or statewide environment two years hence. But even though there's roughly 715 days until Missourians go to the polls again for mid-term elections, it's not too early to chart out the post-election storylines that could seep out in the open in the coming months.
Who will run for the U.S. Senate?
This could be the most impactful query in the months ahead. With U.S. Sen. Claire McCaskill priming to run for a third term in office, there's plenty of Republicans itching to take on the Missouri Democrat.
It's highly possible that members of the Missouri House delegation, like U.S. Reps. Ann Wagner, Sam Graves, or Vicky Hartzler, could run for the GOP nomination. That in turn would set off potentially crowded and spirited GOP congressional primaries.
But it's also not out of the question that somebody outside the Washington political establishment emerges as McCaskill's challenger – especially if the fortunes of the GOP Congress and President-elect Donald Trump sour in the coming months. Under that scenario, one of Missouri's newly-elected statewide officials or leaders within the Missouri General Assembly could rise to the top. Or it could be a Republican that's not currently in elected office right now.
While McCaskill herself is declaring herself the underdog after this month's Democratic bloodbath, it would be unwise to write her off. Along with U.S. Sen. Roy Blunt, R-Missouri, McCaskill is widely seen as one of Missouri's politics most shrewd political minds.
And while McCaskill won't have the benefit of bolstered Democratic turnout that usually comes out in a presidential election year, it should be noted that she first won election to the Senate in 2006 during a mid-term election cycle. (With a couple of notable exceptions, the president's party typically loses congressional seats in mid-term elections.)
Can Galloway win election to the auditor's office?
When Gov. Jay Nixon appointed Nicole Galloway to the state auditor's office, he wanted to provide a launching pad to a new generation of Democratic statewide officials. But Nixon's philosophical decision will be put to the test in a big way when Galloway runs to be elected as auditor in her own right.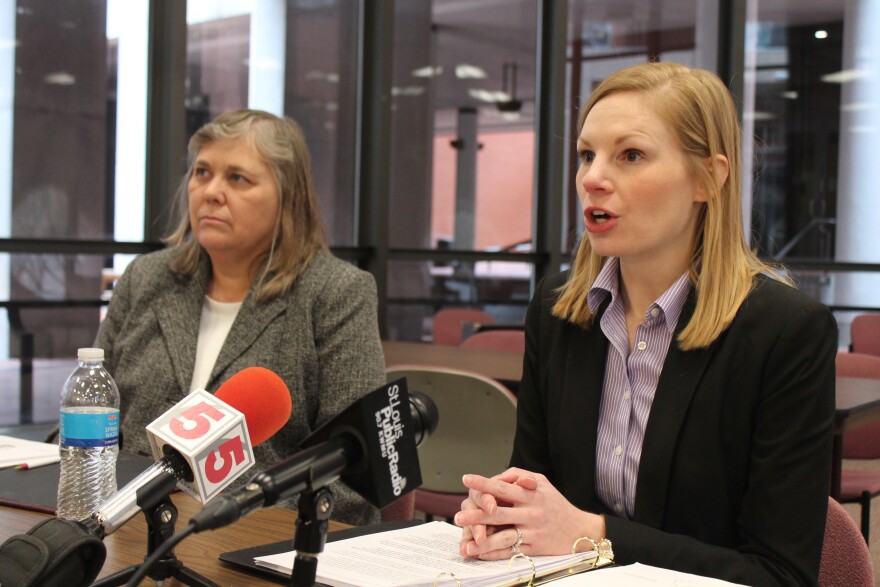 The stakes are high for Missouri Democrats, who got completely wiped out on a statewide level earlier this month. Galloway could be a natural candidate for governor in 2020, since the state auditor's office has been a springboard to bigger and better things.
But before even considering that possibility, Galloway will likely have to fend off a strong Republican challenger in 2018. And there are plenty of possible candidates in local and state government that could try to oust Galloway.
Since there's so much urgency to keep the auditor's office in Democratic hands, it wouldn't be surprising if Galloway took on a higher profile in the coming months – or if there was a unified effort to make sure she's well-funded for the fight ahead.
Will the St. Louis region be ground zero for competitive state Senate races again?
Unlike 2016, 2014 was an election cycle that was decidedly sleepy. The biggest evidence of this was how the most competitive state-based races were two open Senate seats in St. Louis and Jefferson Counties. (Incumbent Auditor Tom Schweich didn't draw a Democratic opponent, which made that cycle's only statewide a foregone conclusion.)
But there's no guarantee that Sens. Jill Schupp or Paul Wieland's re-election bids will be as expensive or competitive as their 2014 races. For one thing, an incumbent state senator hasn't lost re-election since 2012. Both lawmakers will likely have substantial financial advantages over opponents, even if recently-passed donation limits survive a court challenge.
Other factors could be geographic in nature: Schupp's St. Louis County-based district leans Democratic. And while Jefferson County historically tilts toward Democrats, the county has taken a sharp red turn in the last four election cycles – which could help Wieland.
Who will start jockeying for open state Senate seats?
The vast majority of Missouri's state Senate seats are strongly tilted toward a particular political party. That means that winning a primary in does districts is tantamount to election.
So it would not be surprising to see members of the Missouri House or local elected officials making some noise about moving up to the General Assembly's upper chamber. There will open seats that encompass central Missouri, the Kansas City suburbs, north St. Louis County, south central Missouri, northeast Missouri, Springfield, Joplin and St. Joseph.
This may be a storyline that takes a while to develop, but don't be surprised if it seeps into legislative proceedings – especially if multiple House members are prepared to run against each other.
Will somebody step up to challenge St. Louis County Executive Steve Stenger?
When January 1, 2017, rolls around, Stenger will be in an eerily familiar position.
When he was a member of the St. Louis County Council, Stenger was the head of a five-person legislative coalition that pushed back against aspects of then-St. Louis County Executive Charlie Dooley's agenda. And when Dooley effectively lost control of the Council, it led to some decidedly hostile clashes during meetings.
Stenger, of course, ousted Dooley from office and started his term as county executive with strong bloc of support on the council. But with the election of Democrat Rochelle Walton Gray and Republican Ernie Trakas to the Council, Stenger will enter 2017 in basically the same position as Dooley in the last years of his term.
If Stenger struggles with the new legislative reality, it could prompt speculation about whether Stenger himself will face an intraparty battle in 2018. On the other hand, Stenger has amassed more than $1.1 million in his campaign account. And since recently-passed campaign donation limits don't affect county offices, Stenger can build upon that war chest in the months ahead.
Even if Stenger avoids a significant Democratic challenge, it's not out of the question that Republicans may once again field a solid opponent – especially since the GOP almost won the county executive's race in 2014.
Could the results of the St. Louis elections produce a domino effect?
Before diving into the belly of the beast that is the 2018 election cycle, St. Louis residents will have to slog through a historic mayoral election.
As of now, more than a half dozen candidates have stepped up to run to replace St. Louis Mayor Francis Slay. And depending on the outcome, the result of that race could produce vacancies in citywide, state legislative or aldermanic offices.
So it's not out of the realm of possibility that a member of the legislature or a behind-the-scenes player could try to fill the void if those aforementioned positions become vacant. (That's already happening in the 21st Ward, where Alderman Antonio French will have to give up his seat to run for mayor.)
If St. Louis Treasurer Tishaura Jones becomes mayor, state law stipulates that she will be able to select her successor. And if Board of Aldermen President Lewis Reed prevails, then (assuming he wins re-election next year), Alderman Joe Roddy, D-17th Ward, would take Reed's spot.
On the Trail, a weekly column, weaves together some of the intriguing threads from the world of Missouri politics.