On the Trail, an occasional column by St. Louis Public Radio political reporter Jason Rosenbaum, takes an analytical look at politics and policy across Missouri.
On the Trail: Webber aims to lead Missouri Democrats out of political oblivion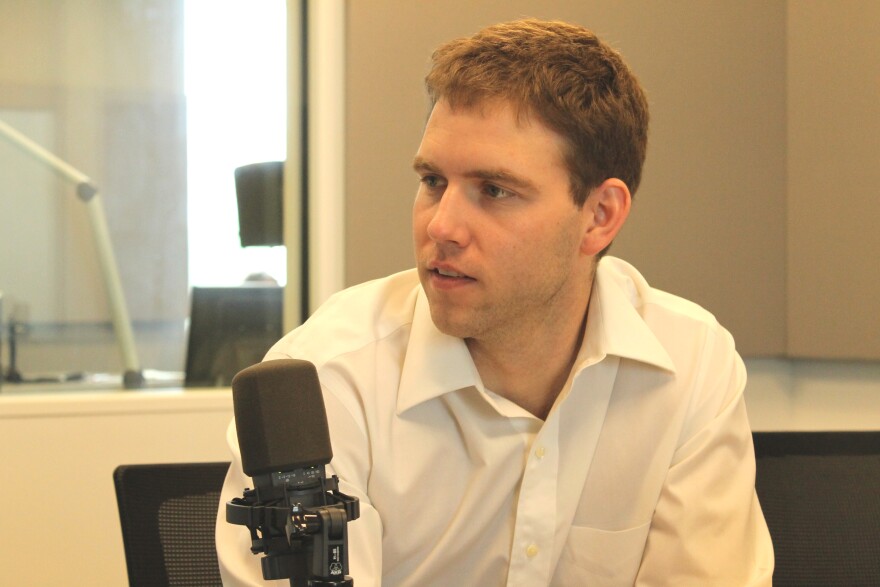 You could say that state Rep. Stephen Webber is used to getting questions about how his age parlays with his ability to succeed in politics.
While working at the Columbia Daily Tribune in 2008, I was the first reporter to call Webber when he announced his candidacy for a Columbia-based state House seat. He was 24 when he jumped into the race, the youngest possible age someone could be to run for the Missouri House.
Since I'd seen other 20-something candidates run for Columbia-based offices and lose badly, I was a bit skeptical that Webber could break the trend. It was this backdrop that prompted me, a clueless 23-year-old reporter, to ask Webber "are you really serious about this?"
And as it turned out, Webber was quite serious about getting to Jefferson City. He scooped up top-flight endorsements, raised tens of thousands of dollars and easily beat his Democratic opponent. He went on to serve four terms in the Missouri House before narrowly losing a state Senate race earlier this year.
But Webber isn't fading quietly into the political night. He was elected Saturday as chairman of the Missouri Democratic Party. And the 33-year-old attorney and Marine Corps veteran's youth is getting notice once again, as he became the first Millennial to lead a major political party in Missouri. In fact, Webber, vice chairwoman Genevieve Williams, secretary Clem Smith and treasurer Lauren Arthur are all under 40 years old.
(It should be noted that most of the Republican statewide ticket, including Gov.-elect Eric Greitens, are Generation Xers. And incoming Attorney General Josh Hawley was born on Dec. 31, 1979, making him an almost-Millennial.)
All four of the new officers ran for office at a time when Democrats are at a low point of sorts in the legislature and in statewide offices. And Webber is motivated to change that course.
"When your party loses a presidential election or you lose a governor's race, you've got to figure out what sort of changes you can make and things you can do better," Webber said. "And part of having a young, aggressive leadership team is that we want to change the way the Missouri Democratic Party works. We want to do a better job making inroads with younger generations. But we also want to do a better job making inroads with really everywhere."
While I thankfully refrained from asking Webber if he was serious about taking on this job, I did talk to him about his priorities and focuses for his two-year term as chairman. Questions and answers below were edited for clarity and length.
Rosenbaum: A lot of Democrats are looking at the map from last month and just seeing how poorly the party did in outstate Missouri. If the Republicans hadn't done as well as they did in Cooper County and you had held down the margins more, you probably would have won your race.
I know a lot of Democrats are frustrated with their inability to make headway even in traditionally Democratic parts of outstate Missouri. Is improving the party's standing there going to be one of your priorities?
Webber: There's been a debate in the Democratic Party on whether we should focus on winning back rural voters or turning out votes in the cities. And the answer is we need to move forward in every direction.
We don't have a governor. We have a Republican president. We've got superminorities in both legislative bodies here in Missouri. So we need to push forward on all fronts.
Cydney Mayfield was elected chair of the rural caucus. She's from Cooper County. She's somebody I've worked with in the past. And absolutely a priority is showing up in rural areas, listening to rural Democratic voices, and making sure we field more candidates just across the board in 2018.
Indeed, 2018 is going to be a significant election cycle for your party. State Auditor Nicole Galloway could face a tough Republican opponent. U.S. Sen. Claire McCaskill will be up for re-election. Beyond the grassroots and state legislative focuses, is making sure Galloway and McCaskill have robust support going to be a major focus for the party?
Yes, re-electing Claire McCaskill is the number one Democratic priority in 2018. And we do that by establishing a strong party all across the state. No one part of the state can be counted on to pull all their weight and no part of the state can be ignored. We've got to make advances everywhere.
In 2018, there's a lot of opportunity. As you said, both of the statewide elections are seats currently held by Democrats. There's a lot of open House and Senate seats, because it's been eight years since that Republican wave in 2010. And also, Republicans control everything in government now. Everything at the federal level. Everything at the state level. And they have no one to point fingers at. We're going to hold them accountable for the policies they pursue. And we're going to make sure that people have a really clear choice in 2018.
It's interesting that you mention that, because it brings to mind what happened throughout the mid-2000s. That's when Republicans captured most of Missouri's statewide offices and had decent-sized majorities in the legislature. While they passed a lot of bills, they also generated a lot of controversy – and that allowed Democrats to regroup and win statewide offices in 2008. Is it possible that the fact that Republicans control everything presents opportunities for Democrats?
Donald Trump made a lot of promises to people. And they're promises that I don't know if he has any intention of fulfilling. But we are going to hold him accountable.
I think it does open up a lot of opportunities for Democrats in 2018. And it's been interesting to go over the history of Missouri politics. … In 1988, U.S. Sen. John Danforth won with nearly 68 percent of the popular vote against Jay Nixon. And people said Nixon's career was over and that Democrats were in trouble. And then came 1992. Democrats swept almost everything. And in 2008, Democrats had everything that year except lieutenant governor. And now Republicans have everything except state auditor and a U.S. Senate.
So it goes back and forth. And it'll go back and forth again. Our job is to make sure that Democrats win sooner rather than later.
Are you going to be doing this job full time? And would you receive a salary?
A: There are absolutely discussions about making this full-time. Nothing's been formally decided. So we'll have to do that under the bylaws. A lot of people believe there needs to be change in energy throughout the entire Democratic Party. And a full-time chair would be able to dedicate more time to turning this vision in reality. So that's going to be something that's decided in the next couple of months. But it's not formalized right now.
Whose decision is it to hire all the paid staff? Is that your decision? Is that the decision of the executive board?
It's a combination. Some of them are purely at the pleasure of the chair. And some of them need to be confirmed by the executive committee.
Really, everything in the operation of the party is something that we're going to be going over the next month. We elect the executive committee in January. And so we'll have a plan in place for everything by then.
Are you swearing off ever running for anything again? Is this the last political thing you're going to do? Or do you still have any desires to run for something in the future?
Well, I'm 33. And I hope to have another 50 years left. So I'm not swearing off anything for that 50 years.
My only goal right now is to give everything I have to the Democratic Party – to rebuild over the next two years. And I don't have any other goals other than giving the Democratic Party all of my energy. I hope to do a good job. And then we'll just see where life takes me.
On the Trail, a weekly column, weaves together some of the intriguing threads from the world of Missouri politics.