This is where you can find information from our newsroom and reliable community sources on reaction to the police-involved fatal shooting of Michael Brown.
On the Trail: Election season just getting warmed up in St. Louis, county
St. Louis' March primaries are in the books. But don't exhale quite yet: April's municipal contests throughout the St. Louis region are only 22 days away.
Granted, these are typically low-turnout affairs that don't attract as much attention as, say, a presidential election, but they're often critical for taxation decisions. Plus, April elections can serve as pivotal showdowns for deciding the elected leadership of St. Louis County's multitude of municipalities.
We'll be going into greater depth in the coming weeks. But for now, here's a preview of the big issues on the April 4 ballot:
Final answer: St. Louis closes books on mayoral, aldermanic elections
St. Louis is such a Democratic stronghold that its primary elections typically matter the most.
That assumption will likely come to pass, as Democratic mayoral nominee Lyda Krewson will be heavily favored to defeat Republican Andrew Jones, as well as a spate of minor-party and independent candidates.
Assuming there are no more surprises ahead, the 28th Ward alderman will then have to focus on building her government – and dealing with a Board of Aldermen with lots of new members. The turnover at the Board could mean that Krewson may have less legislative support than when Slay was in office.
Most aldermanic races also were settled last week, with one exception. Democrat Tom Oldenburg and Republican Abigail Niebling are vying to serve out an unexpired aldermanic term in the 16th Ward — where more people voted for Donald Trump than anywhere else in the city. It remains to be seen whether a Republican can actually beat a Democrat in this ward.
Can MLS fans meet their ... goal?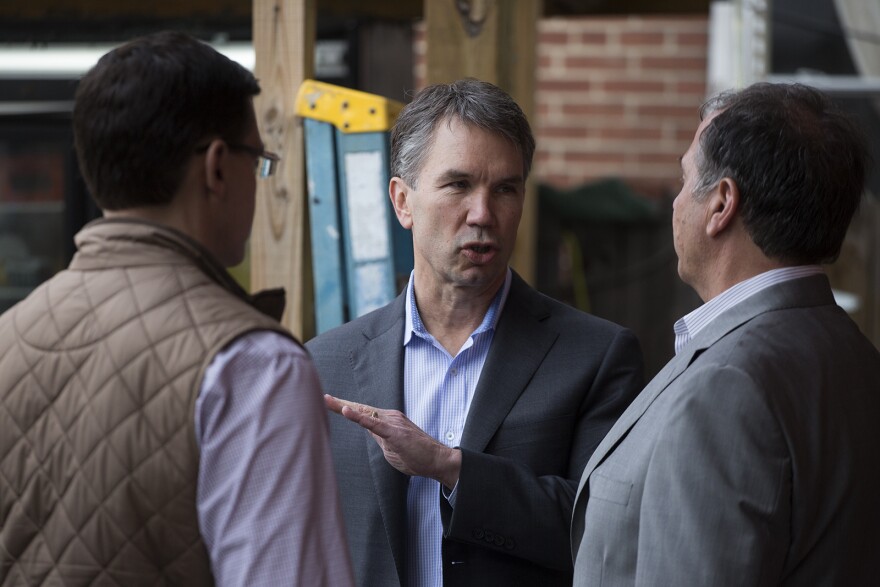 For the most part, candidates will take a backseat to ballot issues in St. Louis, specifically two tax propositions. One would impose a one-half cent sales tax for MetroLink expansion and community development programs. The other would direct an increase in the use tax to help build a professional soccer stadium.
Both propositions must pass for public money to go to the stadium. If not, St. Louis may fall behind 11 other cities angling to nab a Major League Soccer expansion franchise. That may be why the group trying to bring a team here, SC STL, is preparing to spend big on advertising; already, it gave $200,000 to a committee called AspireSTL.
Still, there's no guarantee the propositions will pass: St. Louis already has high sales taxes, especially in places with community improvement districts or transportation development districts. Soccer stadium detractors say the use tax money is better suited for affordable housing programs, not a sports facility.
Recorder of deeds hangs in the balance
St. Louis voters will also decide whether to merge the recorder of deeds office with the assessors' office. It's been pitched as a way to pay for police body cameras, though some of the city's elected officials dispute that enough money will be saved by the merger to make that happen.
Since the proposal is a charter amendment, it will need 60 percent of the vote to pass. Retired financier Rex Sinquefield provided funds to get this measure on the ballot — and could provide even more money to get it passed.
But there's a big barrier: Recorder of Deeds Sharon Carpenter has strong political ties to southwest St. Louis. Several wards in that part of town, including the 12th, 16th, 23rd wards, had voter turnout that exceeded the 27 percent of registered voters that came out last Tuesday. If her political allies can get the word out against the proposal, it may be dead on arrival.
For her part, Krewson said during a February mayoral forum that she's opposed to the office merger. Jones, her Republican rivals, is also against the move.
"Although I think both of those are good subjects to really seriously consider, they're not related and they shouldn't be in the same question," Krewson said.
Public safety tax up for vote in the county
St. Louis County voters will decide whether to approve a one-half cent sales tax for law enforcement agencies.
The majority of the proceeds, estimated at $80 million a year, will go toward the county police department. Roughly $46 million will be used for hiring more police officers, purchasing body cameras and placing dashboard cameras in police vehicles.
The rest of the money from the tax increase, about $34 million, will be split up among the county's municipal police departments, based on a population-based formula.
Both St. Louis County Executive Steve Stenger and St. Louis County Police Chief Jon Belmar have spoken out for the tax. But the plan has stoked some opposition among a few Republican municipal leaders. The proposition also could serve as a barometer of Stenger's political potency a year before he'll face re-election for the first time.
Ferguson mayor put to the test
Ferguson Mayor James Knowles III won re-election without opposition in April 2014. Months later, one of his city's police officers shot and killed Michael Brown.
To put it mildly, Knowles' second term was tumultuous — and featured some seismic developments for the city's immediate future, especially with the city entering into a consent decree with the federal Department of Justice to make major changes to its police department and government.
Knowles faces Councilwoman Ella James in his push for a third and final term. Even though Ferguson's mayor doesn't hold a lot of direct power (most is held by the city manager), it's not out of the question that the Knowles-Jones matchup could receive national attention – similar to the media crush that followed the city's 2015 municipal election.
In addition to Ferguson, 11 other municipalities in the county have contested mayor's races – including larger municipalities like Chesterfield and Jennings and small ones like Green Park and Oakland. But many mayoral and city council races feature candidates running unopposed, which is likely to be reflected in the turnout numbers.
On the Trail, a weekly column, weaves together some of the intriguing threads from the world of Missouri politics.
Follow Jason on Twitter: @jrosenbaum