Second day of protests over Stockley verdict fan out to county, Delmar Loop
Updated at 11:25 p.m. with new details from evening protests — A second full day of outrage over former St. Louis police officer Jason Stockley's acquittal in the 2011 fatal shooting of Anthony Lamar Smith took protesters to a St. Louis County mall, downtown St. Louis and a mass rally Saturday night in the Delmar Loop.
The peaceful gatherings, during which people expressed their dismay with a criminal justice system that they say is unjust, came after a judge said Friday that Stockley was not guilty of first-degree murder.
"I'm honestly pissed off about everything right now," said Miguel Valerio, a 32-year-old postdoctoral student and professor of Latin American literature and culture at Washington University in St. Louis. "It keeps happening. People protest, but nothing changes."
State and city officials and law enforcement provided updates on Friday's protests that started downtown and migrated later to the Central West End. Thirty-three people were arrested, 11 officers were injured, and the mayor's house was damaged.
"We have no reports of any protesters injured," said St. Louis Interim Police Chief Larry O'Toole. "We have no reports of any citizens injured."
Mayor Lyda Krewson said she wasn't home late Friday when rocks and paint were thrown at her house, but members of her family were. She noted that some events had been canceled this weekend because of security concerns, but she acknowledged that "the issues being protested are real impediments to the success of our city."
Saturday evening's protests took over the Delmar Loop, with the crowd at its height stretching from sidewalk to sidewalk, three or four blocks deep. People carried signs and chanted, "No justice, no profit," referencing the organizers' plan for an "economic shutdown." Others pounded drums and danced as the procession halted, and organizers told everyone to sit down to block the intersection of Skinker and Delmar.
St. Louis resident Chelsey Carter, 25, said wealth disparity is a major issue because people who live in the area and have $200,000 incomes don't feel like they are affected when black lives are taken by police.
"I think, moreover, being near Wash U is important — to remind Washington University that they're complicit in this, and that they need to also stand up for black lives mattering," she said.
A small group of protesters lingered after official organizers sent everyone home at 9:30 p.m. A couple of those who stayed walked up to officers' shields and yelled. Police moved on the group after a window at the Starbucks was broken and at least one person was arrested, a livestream video showed. After that, things became more tense, with police telling people to leave immediately or "be subject to arrest or chemical munitions."
Protesters also started throwing things at officers, and tore the top of trash cans off, using them to smash the windows of a few businesses, including Salt and Smoke and an art gallery. Then, people began running east down Delmar away from officers, who were telling people to move. Several arrests were seen being made, and the situation quieted down.
Mall protest
At midday, more than 200 people gathered at West County Center mall in Des Peres, shouting "Black Lives Matter" and "It is our duty to fight for our freedom." Mall security closed the entrances.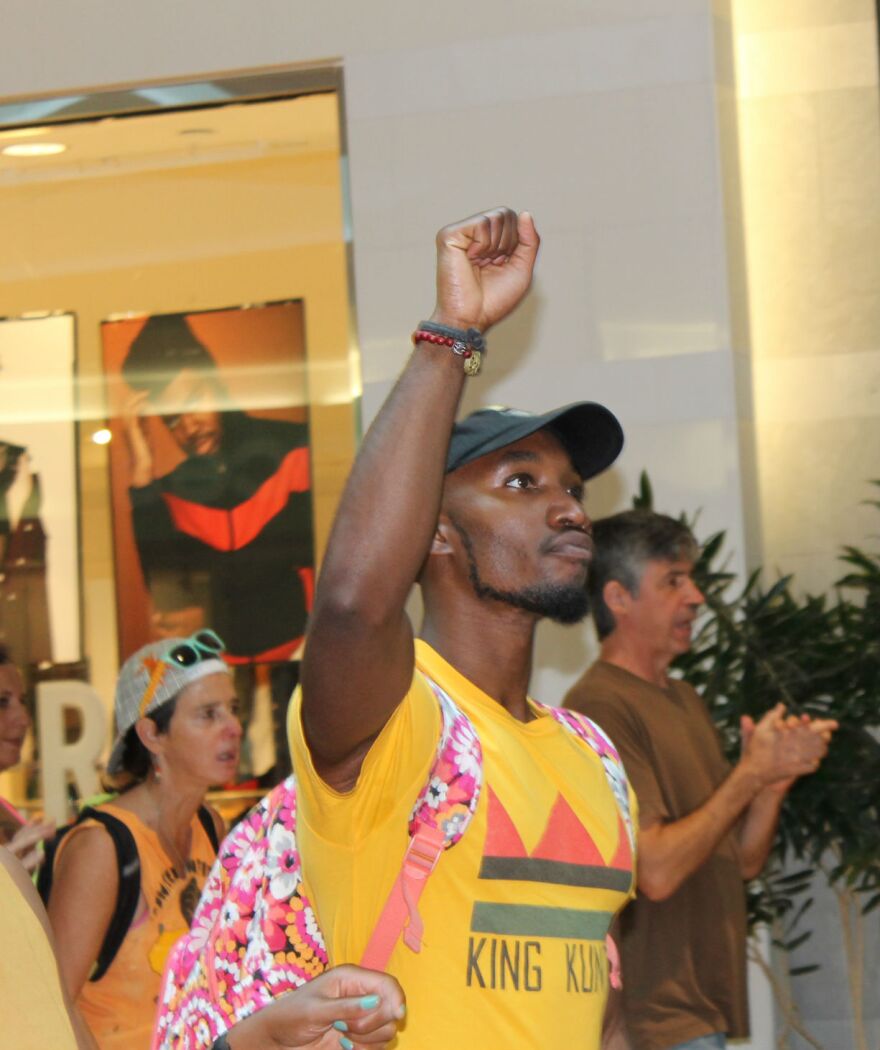 Activist Amir Brandy said going to the mall, a center of commerce, would send an important message.
"Economically, we've been excluded. There's only two things that this system understands: money and an eye for an eye, tooth for a tooth. The second, we're not engaged in, so we have to affect the system economically," Brandy said.
"Let's talk about the ex-felon who can't find a place to stay, who's excluded from certain jobs. He's taxed without representation. You don't have anybody who'll speak up for him. And if he comes into contact with a Jason Stockley or a Darren Wilson, and they say he had a gun, most of you will agree he had a gun," he said. "And he have to fight — if he's still living — his life. This is what we're dealing with. This is our reality, and we're tired of it. Stop killing us."
Wilson is the former Ferguson police officer who shot and killed Michael Brown in 2014, sparking weeks of protest.
In the parking garage outside the mall, activist Tory Russell promised continued protests in the days to come.
"We going to disrupt, the same thing we said two weeks ago. We're going to disrupt the whole city," Russell said. "The message right now is, 'Stop killing us.'"
In the park
Before the mall protest, some people met in Heman Park in University City. Ali Cluck of St. Louis was there to make it clear behind whom she stands.
"I've got a lot of racist family, and that bothers me," she said.
Cluck, who is white, said she didn't join protesters Friday because she couldn't get off work.
"But today I decided to skip and come do this, because it felt like something that mattered instead of making money from white people," said Cluck, 24. "And also, I'm a white person and no one seems to listen to people of color, and also white people, unless they're in charge."
Also there was Aleidra Allen, a St. Louis resident who grew up in Louisville, Kentucky. She wanted to make sure that after hearing the verdict others in the region don't "keep going on with business as usual."
"It's important that we physically demonstrate and show that we're upset, show that we're not going to stand for this because — if we don't — clearly, they'll just keep on doing it," the 28-year-old said. "We're here just to let them know that you're not going to keep killing black people. You can't keep killing black people with no consequences."
Allen, who later joined protesters at the mall, said that the protests seemed larger than some she saw in Ferguson. The judge's ruling in the Stockley case again stirred people to speak out.
"I'm not sure that was because of the area — Central West End is a little more convenient for white people compared to Ferguson, maybe," she said.
Earlier Saturday, people representing numerous Christian denominations staged a silent protest outside the Civil Courts Building on Tucker Boulevard in downtown St. Louis. Some had tape over their mouths with the written words "love," "peace" and "repent."
"I know that people are at a place where they want to stay the course and stay in the fight," said the Rev. Jonathan Tremaine Thomas, a pastor at Destiny Church in Town & Country. "The issue is there isn't a lot of clarity as to what protesting in the street can accomplish. Honestly, people are tired.
"People are losing hope," he said. "They're going, 'We've marched in the streets. We've had a civil rights movement. We've elected a black president. We've had a women's suffrage movement. We've had all these rights movements, and then these things still happen.'"
The cleanup and official response
Some Central West End businesses were cleaning up from Friday night's protests, during which vandals broke a number of windows, including at Golden Grocer Natural Foods.
Employee Mary Rotter said there was no damage inside the store.
"I think a few people who are rioting doesn't negate the people gathering here to protest," Rotter said. "Protesting is important. Destructive tendencies like this and hurting small businesses really doesn't further the cause, unfortunately. Especially a small business such as this that has been helping all communities across St. Louis for over 40 years."
At the Schlafly branch of the St. Louis Public Library, Felicia Styer placed scores of sticky notes on plywood that covered broken windows. She wrote messages such as "Black Lives Matter" and "Your Lives Matter" on them.
"I wanted to amplify the voice of the community," Styer said. "And those are a lot of the chants that we're hearing at the protests. Those are statements that I believe in, personally."
Missouri Gov. Eric Greitens spent part of the afternoon greeting people at Coffee Cartel at Euclid and Maryland avenues. He told St. Louis Public Radio that he recognizes "people are in pain" and that "people are hurt as a result of this verdict."
"But they were out there with discipline and dignity in their protest," Greitens said. "And then, you had some people who engaged in acts of violence and disrupted those protests. And we've also been very clear: If people are out there to protest peacefully, we're there to protect them. And I think you saw that. Our law enforcement officers going out and proactively reaching out to people. They're letting them know that we're going to protect them."
Greitens added that he and law enforcement officers sent a "very clear" message that "if you riot, we're going to cuff you.''
"We're not going to allow people to assault our law enforcement officers, we're going to arrest them," he said. "The fact is violence and vandalism is not protest. Violence and vandalism is a crime. And we told people, 'If you throw bricks, if you throw bottles – we're going to throw you in jail.'"
But police officers' actions late Friday, and the reports of violence, frustrated Allen, who said it tarnished the efforts of all who peacefully gathered to dissent.
"We were literally telling people, 'Go home!' That's not what this movement's about,'' Allen said. "We're not trying to vandalize things. I don't know how many times we have to prove that. And, yes, there were some people — a minority of people — who were vandalizing property.
"But it's just so unfortunate that that's now the narrative, you know. That's what the media will push, is that, you know, there's all this violence, when the fact of the matter [is] it wasn't that much violence. It wasn't all this violence all day, and also, just to be honest, if you all would convict officers for killing unarmed people — specifically, black people, people of color — we wouldn't be out here anyway."
Follow Camille, Jason, Eli and Durrie on Twitter: @cmpcamille; @jrosenbaum; @StoriesByEli; @durrieb