Both parties target Jefferson County as key to November elections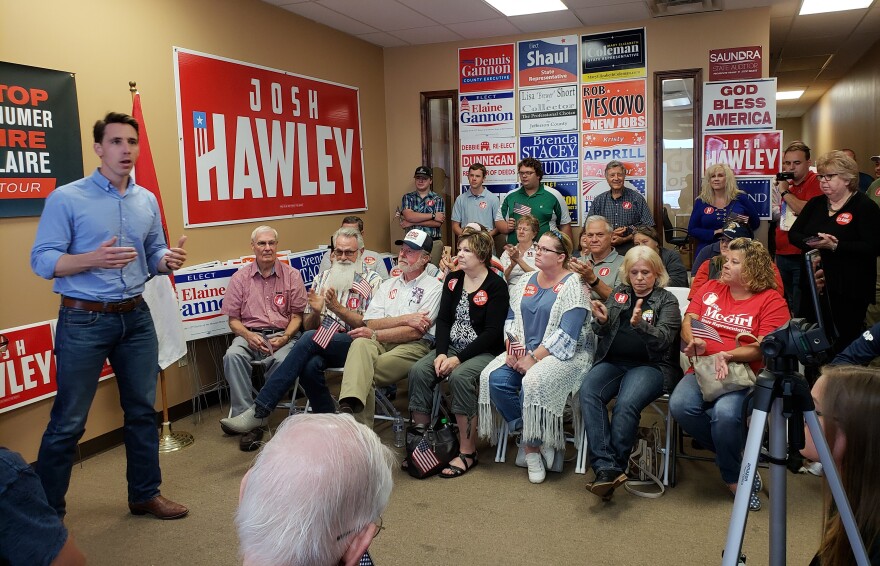 Missouri Republicans gathered this weekend in Jefferson County to celebrate their statewide success in reaching 1 million potential voters, either in person or by phone.
And there's at least one reason why the GOP is holding the event in Jefferson County:
"It's pretty fair to say that so goes Jefferson County, so goes Missouri,'' said Whitney Smith, Missouri communications director for the Republican National Committee.
"And however Missouri goes, that's how the rest of the country is going to go. So I think Jefferson County is hugely important."
Jefferson County has become a key battleground in Missouri's nationally watched U.S. Senate contest between Democratic incumbent Claire McCaskill and her Republican rival, Missouri Attorney General Josh Hawley.
Nestled south of St. Louis County, Jefferson County – a mix of rural farmers, blue-collar workers and St. Louis suburbanites – has been a political barometer for at least two decades.
As a rule, the statewide candidate who wins over Jefferson County and its 150,000 registered voters on election night also carries the state.
That may help explain why both state parties, with national help, have set up energetic operations in Jefferson County as part of their statewide campaigns.
Recent elections reflect county's political shift
McCaskill bested her GOP rivals in Jefferson County in 2006 and 2012 as part of her successful bid for the U.S. Senate. And she says the county is an important target in this year's re-election effort.
But her Republican opponent this time around is confident of his chances. "It's a crucial county, it's one we intend to win, and intend to win by a good margin," Hawley said.
He points to the changing politics in Jefferson County, which mirror the downward shift in Missouri Democrats' fortunes statewide.
Jefferson County's local and legislative posts used to be held by Democrats. Most have moved to the GOP over the past decade.
Republicans also note Jefferson County's dramatic shift in presidential preferences. In 2008, Democrat Barack Obama narrowly carried the county. In 2016, almost 65 percent of Jefferson County's voters favored Republican Donald Trump.
State Sen. Paul Wieland, a Republican from Imperial, says his party's strength in Jefferson County is so great that many of the county's elected judges on this year's ballots switched their affiliations from Democrat to Republican.
Jefferson County Executive Ken Waller, a Republican who is running for county clerk in November, ties that shift to his party's stance on the social issues. Most Jefferson County voters, he said, are "pro-life, pro-gun."
Longtime county Republican activist Janet Engelbach says many voters are telling her that their top issues this time around are "more jobs, less regulations and 'leave me alone.' "
Democrats believe they're regaining support
A large bloc of Jefferson County voters also are pro-union. So are top Republicans like Waller and Wieland, which Waller believes has helped their party hold off any Democratic resurgence.
But state Democratic Party Chairman Stephen Webber believes that the political winds in Jefferson County once again favor his party, in part because rank-and-file union workers are returning to the Democratic fold.
While conceding many of those union workers voted for Trump in 2016, Webber said that Republican leaders in Washington and Jefferson City haven't shown much gratitude.
"They have gone after workers' health care, they've gone after workers' protections on the job," he said.
As proof, Webber notes that almost 80 percent of Jefferson County voters in August voted against Proposition A, which would have reinstated a right-to-work law that Republican leaders got passed by the General Assembly in early 2017.
McCaskill says Hawley's record shows he's not an economic friend to Jefferson County voters. And she plans to emphasize that message in the coming weeks.
"It's very important that everybody in Jefferson County know that nobody supported 'right to work' more than Josh Hawley,'' McCaskill said. "Josh Hawley absolutely has a very, very big record against workers. He is against the minimum wage, for 'right to work for less.' He actually filed a lawsuit to scale back overtime."
Will social issues sway JeffCo voters?
State Democrats also are encouraged by their party's special-election victory last winter in a Jefferson County state House race. Democrat Mike Revis flipped the 97th District seat that had been in GOP hands, after the incumbent resigned. Revis faces Republican Mary Elizabeth Coleman in November.
But Revis is a social conservative Democrat, opposing abortion and favoring gun-rights. Fellow Democratic state Senate candidate Robert Butler holds similar views, as he tries to oust Republican Wieland, who is seeking a second term.
Revis and Butler have gotten a mixed reception from more progressive Democrats, although Webber is emphasizing the state party's support.
Butler embraces the Democratic Party's pro-union views, and supports improving access to healthcare. But he says that when he goes door-to-door, he still finds that guns and abortion remain top issues for many Jefferson County voters.
McCaskill supports reproductive rights, and her allies point to her 14-point victory in Jefferson County in 2012 as evidence that her stance hasn't hurt her with voters there.
But Hawley disagrees, and has been promoting his opposition to abortion, and his support for gun rights, in his appeal for Jefferson County support.
Jefferson County resident Shelby Seise believes Hawley's strong ties to President Donald Trump may help him more: "Josh Hawley supports our president 100 percent."
Republicans and Democrats do agree on one point: If the U.S. Senate contest is close on Nov. 6, Jefferson County could cast the deciding votes.
Follow Jo Mannies on Twitter: @jmannies