St. Charles County Elections Officials Won't Force Voters Or Judges To Wear Masks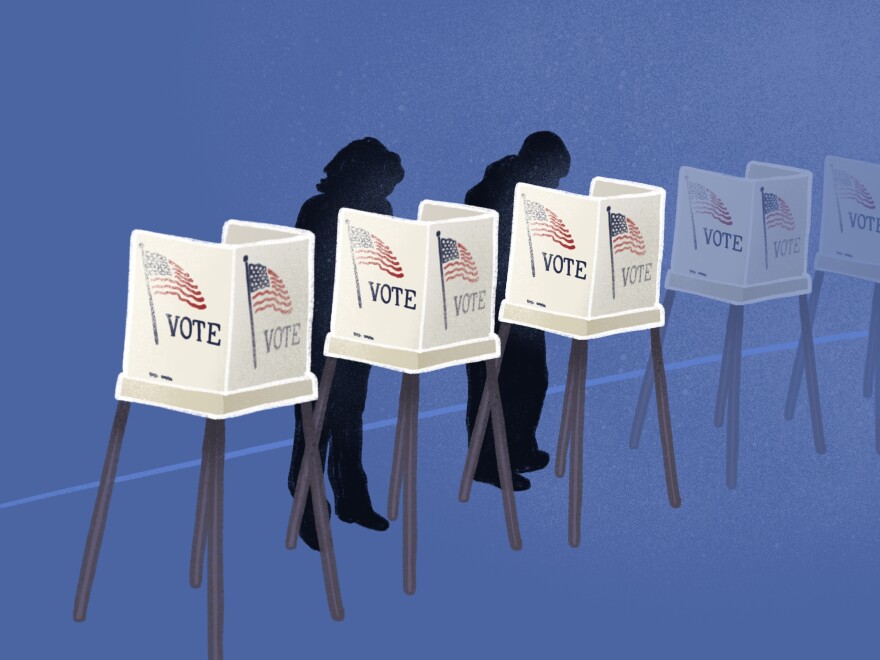 St. Charles County elections officials will not require voters this November to wear masks at the polls — and also aren't forcing election judges to have face coverings on throughout Election Day.
It's a move that's different from some other places in the St. Louis region and a policy that St. Charles County Elections Director Kurt Bahr says will likely not please everyone who wants to be an elections judge.
On Wednesday, Bahr's office sent out a memo about masks to people who signed up to be election judges. The memo, obtained by St. Louis Public Radio, was responding to "the numerous complaints St. Charles County received about election judges and supervisors not wearing face masks."
Among other things, the memo stated that no voter "can be forced to wear a mask" — but that extra masks will be on hand if someone requests one. It also said judges are required to have a mask ready to wear but don't have to keep it on the entire time they're working the polls.
"When a voter says something to you about not wearing a face mask or not wearing it correctly. Please put it on properly," the memo states. "You may act surprised that you don't have a face mask on properly and then apologize as you put the mask on. Wear your mask correctly until the voter leaves the polling place. Please do this every time a voter says something to you."
The memo goes on to say that this "changes nothing for those of you who are refusing to work if everyone isn't being forced to wear a face mask all day long." It concludes that "we realize that some of you can't for medical or personal reasons wear a face mask at all. If this new rule is not going to work for you, please change your availability to not available."
In an interview, Bahr said that the memo was "approved by me before it was sent, and this does come from me as the director."
For one thing, Bahr said he's not requiring voters to wear masks because St. Charles County does not have a mask mandate. He went on to say, "I will not disenfranchise a voter if they choose not to wear a mask."
"It goes hand-in-hand because I don't have the authority to mandate masks in polling places," he said. "I'm not going to take away someone's right to vote simply because they're not wearing a mask."
Bahr said some election judges have told his office that wearing a mask would be detrimental to their health. Before Wednesday, Bahr said judges were allowed to not wear masks at all if they had some sort of medical excuse. He said that while those judges aren't mandated to wear masks all day long, they must "keep masks with them and wear them if voters ask them."
"It is difficult to breathe in a mask for 14 hours straight," Bahr said. "And it's unreasonable to assume that our election judges, many of whom are older themselves, will be able to go 14 hours in a mask without being able to take it off from time to time. And my fear is I'll get voters complaining if the judge takes a mask off, and they're not helping a voter or it's a slow time, and then someone sees them not wearing a mask and they get upset that they're not wearing a mask."
Bahr said the goal of the verbiage about how judges should react when they're asked to wear a mask "was not meant to deceive."
"The goal there was to communicate how to gracefully put the mask on and do so promptly," Bahr said. "We put that in the instruction that they have to do so immediately during the time of that voter being there. But instead of confronting the voter and saying 'Hey, I don't have to wear a mask,' they say, 'I apologize for not having it on, let me put it on.'"
Other counties differ
Amid the COVID-19 pandemic, the Centers for Disease Control and Prevention has recommended people wear masks around those that do not live in the same household — and when a person can't be six feet away from someone else.
While Missouri does not have a statewide mask mandate, St. Louis and St. Louis County do. Republican St. Louis Board of Elections Director Gary Stoff said Wednesday that both voters and judges are required to wear masks when they're at the polls.
And Nicholle Spencer, a public information coordinator for the St. Louis County Board of Elections, said, "all voters and election judges will be required to wear masks while they are inside of the polling locations."
"Safety coordinators will be stationed at the entrance of each polling location to provide a mask to anyone who doesn't have one," Spencer said.
Jefferson County Clerk Ken Waller said that there's no mask mandate in his county, so voters can't be required to wear masks at the polls. He said he's going to be sending out a letter to election judges asking them to wear masks.
Bahr said some judges have told his office they will not work this election because there's not a mask mandate. And he said that others have said they won't work the polls because they refuse to wear masks.
"This is an issue that cuts both ways and that has strong opinions," Bahr said. "I don't think it's necessarily a partisan issue. But it's definitely something that everybody has a strong opinion on. And we were trying to recognize that really we're offending everybody. We weren't creating a full mask mandate, and that wasn't addressing the legitimate concerns of some. But we are asking people to wear masks, and that's going to upset some of our judges."
Follow Jason on Twitter: @jrosenbaum