Doug Burris Looks To Bring Stability To St. Louis County Jail
In his 18 years as the chief federal probation officer for the Eastern District of Missouri, Doug Burris focused on individuals who were back in their communities after being behind bars.
In his new role as acting director of the St. Louis County Department of Justice Services, Burris' attention is now on inmates at the county jail in Clayton. It's a facility facing intense scrutiny after a series of inmate deaths, a former director accused of harassment and favoritism, and general concerns about workplace culture.
But Burris did not hesitate when County Executive Sam Page asked him to step into the leadership role. He's been on the job now for about three weeks — a committee of the County Council will consider his nomination on Thursday.
"I noticed that the problems were extensive, but so were the abilities to fix things," he told St. Louis Public Radio's Rachel Lippmann in a recent interview. "And I was confident that with a team and working with the advisory group [the Justice Services Advisory Board] that we could make this a benchmark agency and really make a difference in the community."
The following transcript has been edited for length and clarity.
Rachel Lippmann: What have you come to understand about the problems at the jail, and what are the biggest ones you'll be focusing on first?
Doug Burris: The staff want to make change, but they haven't had much involvement in the changes that have been made. I think it's imperative that I make sure they have the ability to be heard. I'm meeting with as much staff as I can, and seeking out as much information as I can from them to help make our agency better.
Lippmann: Why is having staff input so important?
Burris: They are the ones doing a frankly thankless job every day, and I think they can come up with some of the best solutions, since they're involved with those responsibilities daily. I may have some good ideas, but I feel the best ideas come from the bottom up, not the top down.
Lippmann: When you talk to staff, what are the key things you're hearing? What are their priorities, and how do they align with yours?
Burris: I think they're wanting clear direction on where we're going, and they also want to be heard when there are difficulties.
Frankly, the major problem right now is staffing and scheduling, and we're working to correct that immediately. But again, the majority of the staff seemed really open to change.
Lippmann: When you say staffing and scheduling, do you mean the problems that exist in most jail systems of not being able to find enough people to work, or does it go beyond that?
Burris: I think it's multiple things. We do need to continue to hire people. But as some changes were made in the past, staffing wasn't adjusted. So we just have to get up to speed and make sure that the staff are supported and are safe, just like the residents here.
Lippmann: Give me an example of a change that was made where staffing wasn't adjusted to accommodate the change.
Burris: I think holding off on hiring was the biggest one. And then there was a setup where people were told, literally an hour before they were scheduled to leave, 'Guess what? You're on overtime and you're going to have to stay.' We have to get beyond that.
Lippmann: The jail has had four directors since 2018. Has that instability contributed to the issues we've seen?
Burris: That's an excellent question, and I truly don't know the answer for that. I know where we are right now, and that we have to fix the problems here and make this a better agency. I'm not sure what led to all of this, but I can tell you that the staff do want to have a job they enjoy doing, and we're going to make sure we get there.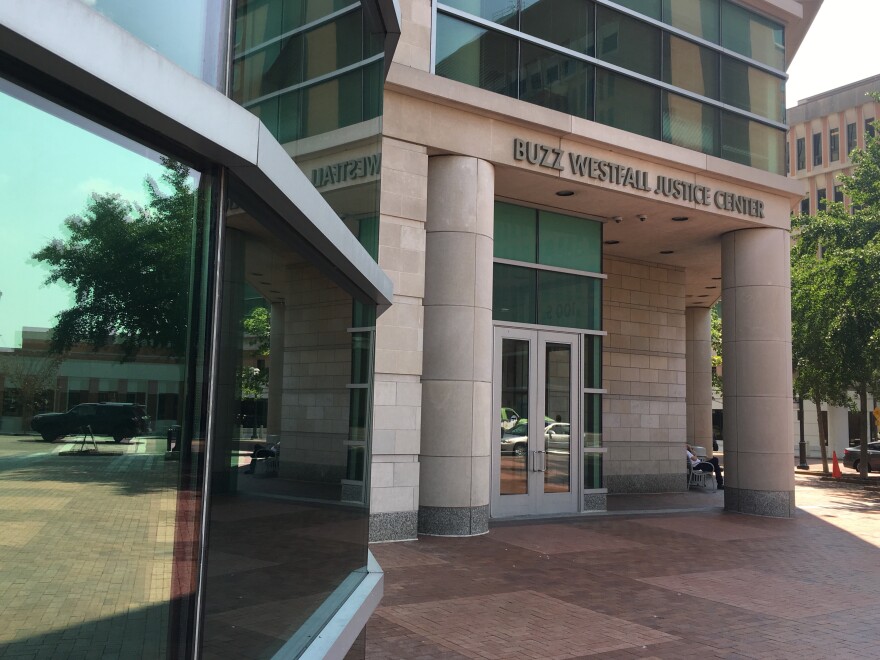 Lippmann: There's been a lot made of the culture at the St. Louis County jail. What are you learning about that?
Burris: I've experienced that the staff feel they haven't had an opportunity to be heard, so they're taking other measures to be heard. They're going to find that I am going to constantly seek out their opinions and advice, and they will have the ability to make a difference in the way they perform their work.
Lippmann: Page restarted the Justice Services Advisory Board, but they have said they feel sidelined in conversations about the jail. What will be their role in a Doug Burris Department of Justice Services?
Burris: I am so pleased with the membership of the Justice Services Advisory Board because they come from a very eclectic background, and I'm convinced that they're going to be able to help direct me in what I need to do here. They're going to have an active role, and I look forward to it.
Lippmann: How will the ongoing investigations into the jail shape how you will run the Department of Justice Services?
Burris: I think the ongoing investigations, and the outcomes and the reports from those, are critical for us to learn what we need to fix, and they almost can't come quick enough for me so we can start moving in the right direction.
Lippmann: Are the investigations going deep enough? Would you have wanted to help set the scope?
Burris: I believe that the investigations are set up to help us bring forth some success with the agency. We haven't seen the results yet, but we will adjust if we need to afterward.
Lippmann: How would you define success after one year on the job?
Burris: I'm one of the few people who runs an agency where I want to lower my budget. I want to implement programming to make people more successful as they get ready to leave the jail. We're already designing a program where we can teach resume and interview skills. We're going to partner with the community more. We're going to have employees who have a voice at their job. And we're going to do all that so we can to stop the revolving door for the people who are residents here.
Lippmann: Are you willing to stand up to Page if necessary to advocate for the staff and the agency?
Burris: I've never had an issue explaining where I stand previously with any boss. However, I do have to say with Dr. Page, I think our goals are perfectly aligned. He wants an agency that is effective, is a benchmark and can make this community safer. And I think by working with him, the advisory board, community partners and the employees here, we will get there.
Follow Rachel on Twitter: @rlippmann