Ameren to build coal ash landfill in Missouri River floodplain? No way, say Franklin County residents.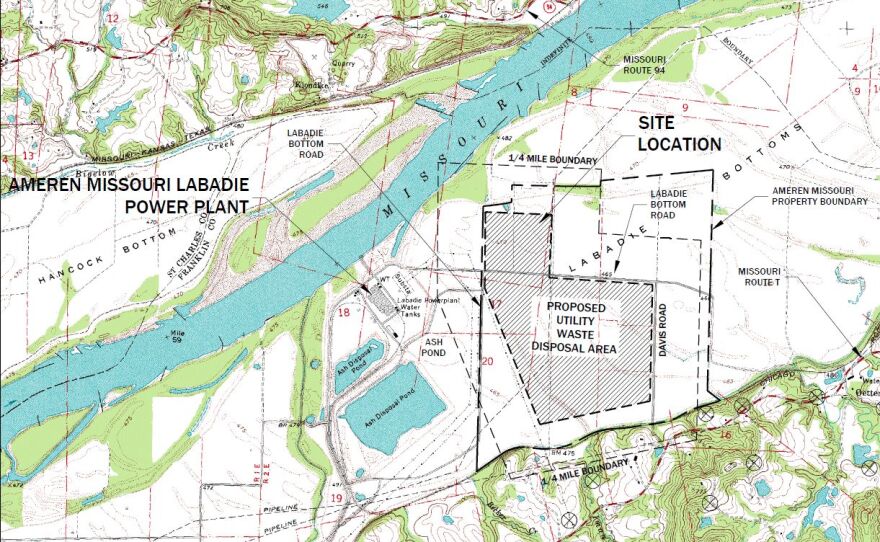 This diagram is an excerpt of "figure 1" from Ameren's "Detailed Site Investigation", showing the location of the company's proposed coal ash landfill near Labadie, Missouri.
Ameren Missouri
A Google satellite view of the coal-fired power plant in Labadie, Mo. In this view you can see the section of land (as denoted in the previous image) where Ameren would like to build the coal-ash landfill.
(Google Satellite image)
Ameren operates a coal-fired power plant in Labadie, Mo., about 35 miles west of St. Louis, and wants to build a 400-acre landfill near the plant to store coal waste.
Some Franklin County residents are definitely not happy about a possible landfill in the Missouri River floodplain and the effects it might have on drinking water.
Tonight they will once again be voicing their opposition to proposed regulations that would allow Ameren to go ahead with their plan.
County resident Patricia Schuba says mercury, lead and other contaminants from coal ash can seep into groundwater and contaminate drinking water supplies.
"We know these landfills can leach heavy metal contaminants, and we know that in the state of Missouri we're not even monitoring and reporting that information," Schuba said.
And what does Ameren say about that? They say they've got it handled.
Ameren's Mike Menne says there will be a double liner under the landfill to protect groundwater and a levee around it to keep floodwaters out.
"All the concerns that people have been raising with regard to contaminants that might be in the ash or the fact that this facility is in a floodplain, all of those concerns have been considered in the design of this facility," Menne said.
Ameren currently recycles about 60 percent of the coal waste generated by the Labadie plant and stores the rest on site in two open ponds.