Beetle to make Missouri comeback tomorrow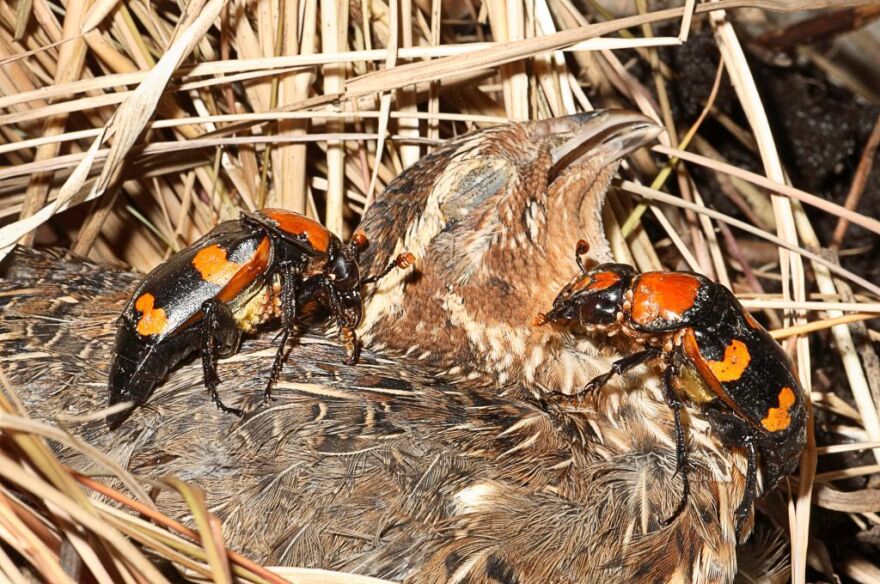 An endangered beetle will be making its Missouri comeback on Tuesday.
That's when about 250 American burying beetles will be reintroduced in the Wah'Kon-Tah prairie, about 60 miles northwest of Springfield.
It's a joint effort of the Nature Conservancy, the U.S. Fish and Wildlife Service, the Missouri Department of Conservation, and the St. Louis Zoo.
It's been 40 years since a confirmed sighting of the insect in Missouri, and the director of the zoo's Center for American Burying Beetle Conservation, Bob Merz, says he hopes it will get reestablished in the state.
"If it does, that's great, and we learn something. If it doesn't, we also learn something as well," Merz said. "We can compare our site here, in our state, to other sites where the reintroduction has occurred, and to sites where you find the beetle still, and try to piece together the puzzle on why the beetle is no longer here in our state, and most of the states where it used to live."
To reintroduce the insects, Merz says teams of conservation professionals and volunteers will cut plugs about 10 inches deep out of the soil, then dig a small side chamber in each hole.
"We'll put a dead quail in that side chamber, and then we'll put a pair of burying beetles that we've already matched up back at the ranch," Merz said. "And we'll put them in there with the dead quail, and then we replace the plug. And we do that about 128 times."
He says the hope is the beetles will mate and use the quail to feed their young.
The Zoo will do follow-up surveys to track how the beetles are doing. More reintroductions are planned over the next five years.
The American burying beetle used to be common across 35 states. Today, it's down to about seven small populations. It hasn't been found in Missouri since 1972. The reason for the beetle's decline isn't known, but theories include light pollution and habitat loss.