Massive pro-union rally at Mo. Capitol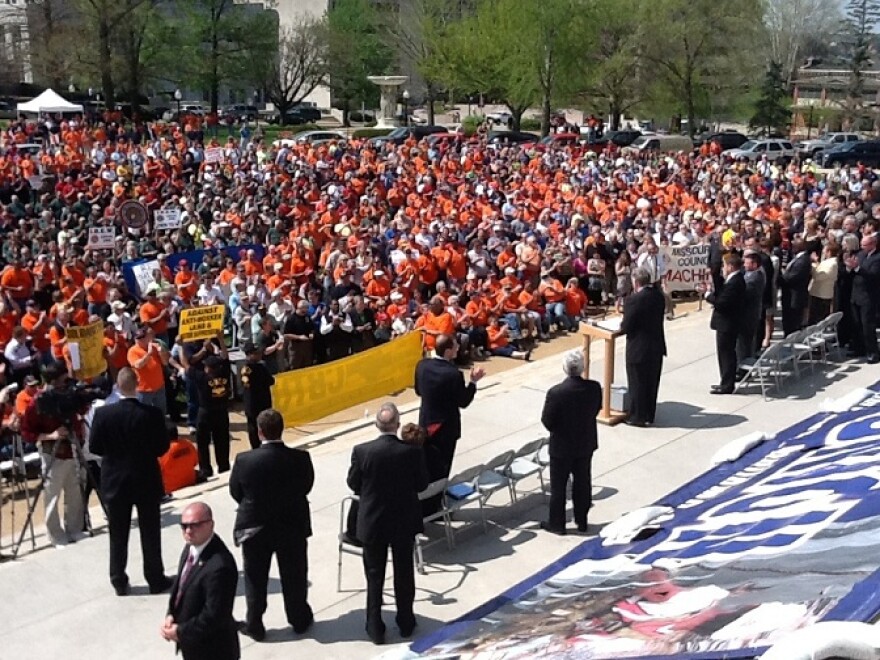 Well over a thousand labor union members rallied outside the State Capitol Tuesday against various bills in the General Assembly they say is anti-worker.
In particular, they oppose legislation that would suspend the prevailing wage law in tornado-ravaged Joplin and other parts of Missouri declared to be federal disaster areas. Governor Jay Nixon (D) spoke at the rally, accusing Republican lawmakers and their backers of attacking working people in Missouri.
"There are folks who, quite frankly, want to make us into Wisconsin or Ohio or Indiana," Nixon said. The mention of those states triggered a chorus of boo's. Nixon then added: "They are not shy about it, and it doesn't seem like y'all are, either, okay?" The crowd cheered.
Missouri Senate leaders, meanwhile, are planning to bring up the prevailing wage bill for floor debate Wednesday.
The pro-union rally was one of three rallies that drew thousands of people to Jefferson City on Tuesday – the other two voiced opposition to the 2010 federal health care law and to President Obama's contraception mandate.