Ed Martin On Failed Campaigns, Fundraising And The Future Of The Mo. GOP
In a narrow victory on Saturday, Ed Martin edged out incumbent David Cole to become the new Missouri GOP Chairman.
Many speculate David Cole was ousted because of the GOP's poor performance in statewide races, where the party lost five out of the six races, in spite of Republican Mitt Romney carrying the state by over 10 points. But it's worth noting that Martin chaired the Missouri GOP's Victory 2012 Campaign, which resulted in only one victory for the party.
"We found ourselves at a disadvantage because we were vastly outspent by tens of millions of dollars total," Martin said.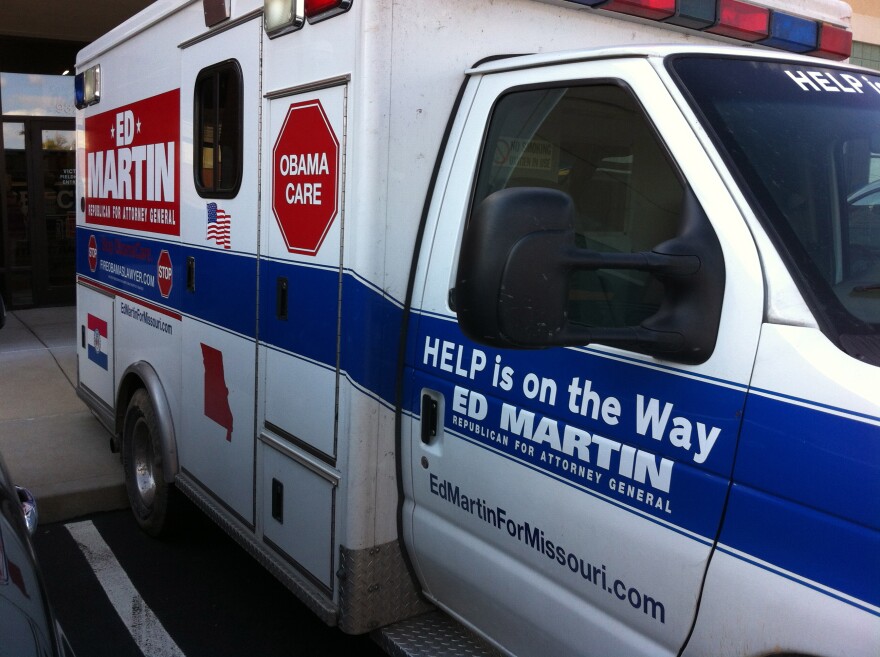 A large part of the chairman's job is to fundraise for the party, but Martin did not outline specific changes he will make in his new role.
"I'm not an expert on how he (Cole) did his job," Martin said. "I just know the skills that I bring to my position. The Republican vision is one that unites people around opportunity and freedom, and we should keep trying to do that."
Martin is a St. Louis politician who narrowly lost a bid to oust Democrat Russ Carnahan in 2010.
In 2012, Martin originally planned to run against Senator Claire McCaskill, but dropped out when the primary field became too crowded with Sarah Steelman and Todd Akin. He later ran for the newly formed 2nd Congressional district, but switched races yet again when Ann Wagner seemed too formidable.
He eventually ran against Attorney General Chris Koster, but came up short by 15 points.
The Missouri Democratic Party wasted little time before jumping on Martin's new position. In a statement, Missouri Democratic Party chair Mike Sanders called Martin "extreme."
"Missourians won't soon forget Ed Martin's highly controversial and ethically challenged past, and it's significant that someone with such an extreme history will now be the voice of Missouri Republicans."
Sanders is referring to a controversy that took place Martin was Governor Matt Blunt's chief of staff and ordered emails to either be deleted or destroyed. A lawyer claimed to have been fired after warning that such actions violates state law.
Martin denied any wrongdoing, but the state settled the suit with the whistleblower for $500,000.
The controversy has not seemed to have damaged Martin, who overcame Cole in spite of his opponent being endorsed by statehouse leadership, Lieutenant Governor Peter Kinder, Representative Ann Wagner, Senator Roy Blunt and others.
Follow Chris McDaniel on Twitter: @csmcdaniel
See more stories on issues and elections from St. Louis Public Radio, the St. Louis Beacon and Nine Network of Public Media at BeyondNovember.org.