St. Louisans hope Catholic bishops address racism, clergy sex abuse during meeting
As Catholic bishops from across the country gather in St. Louis this week for their annual Spring General Assembly meeting, many local Catholics are hoping church leaders discuss an array of issues.
The U.S. Conference of Catholic Bishops' official agenda includes discussions on the state of the American family and marriage, ahead of an expected U.S. Supreme Court ruling on same-sex marriage.
While in St. Louis, the bishops also will receive an update ahead of Pope Francis' visit in September to Philadelphia, as well as discuss the Pope's upcoming encyclical on the environment and ecology.
The church leaders are also expected to talk about immigration reform, work on their quadrennial statement on political responsibility to be released ahead of the next general election, hear about ongoing work in Haiti, and learn of new digital resources available to bishops and diocese.
But many local Catholics and other St. Louisans have their own ideas about what the bishops might or should explore:
Race and racism
Bishops need to have a serious discussion on the issues of racism within the Catholic Church. I stress the word Catholic Church because I am a Catholic and have been a Catholic all my life. The racism issue, however, is not unique to my church religion. It is sad but true that too many church authorities seem to consider the numbers attending church service on Sunday and the amount of money dropped in the altar basket to be more important than how racism is tearing us apart. Too many bishops are not stressing to the pastors of the churches the importance of opening up these conversations on racism to their congregations because of fear of the consequences, loss of parishioners, impact of their popularity as a pastor, etc.
-Dorothy Dempsey, a retired District Manager for World Book Childcraft International, Inc. from St. Louis, who identifies as Catholic
Racism...how to confront it. What the Church will do to reduce poverty and social inequity. A call to action by all the faithful and all parishes. Christ emphasized a "preferential option for the poor, the displaced, the lonely, the outsider." He emphasized service as a path to holiness...to being God-like.
-James Moore, a management consultant from Chesterfield who identifies as Catholic
Maybe the particular angle into (the past year's unrest in the St. Louis area) would be again with the lens of the family...it becomes very apparent when we're confronted with the difficulties that come with poverty, racism and economic disparity, how the family is faring in the middle of all those socioeconomic challenges. That might be a particular lens the bishops might use to focus on recent developments in the St. Louis area.
-Father Chris Collins, professor of theology at Saint Louis University
The clergy sex abuse scandal and reaction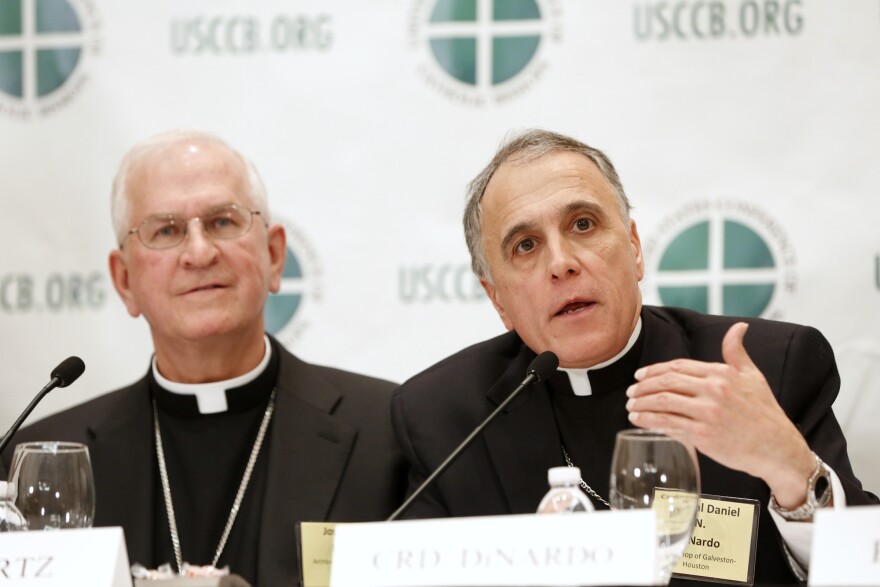 Love to hear them 'fess up about child abuse.
-David Ressner, a wealth advisor from Brentwood who identifies as atheist
I'd like to see them ask for forgiveness for the harm they've done to the weakest among us. I'd like to see them go get the lost sheep, and before their congregation and God, ask humbly for forgiveness and guidance. It would be the first time in history that the institution would act as the individual members are asked to act...If we really had faith, we would lose our inner-Pharisee and stop worrying about finances and lawyers and settlements and DO THE RIGHT THING. Love one another. If all the money spent covering up and settling the sex abuse scandals would have been spent on treating the victims, our Church would be 1) whole, 2) true, 3) a source of healing for all kinds of traumas...The good priests, who are spread very thin, do a lot of really good work. They are the majority and we are lucky to have them. When you protect the bad guys, you make it hard for these guys, too. Too many of us by now, know at least one victim who has really suffered because we didn't have faith that doing the right thing was the right thing to do. Now people are distrustful, jokes are lobbed at all priests, and many people have left.
-Susan Broun, retired banker from St. Louis, identifies as Catholic
This is prevalent in our culture that adults who are sick prey upon children; this is not just a priestly question. So as the church wrestles with it, to face and deal with it, there's two sides. There's the brokenness on the part of the child who has been violated whose healing must be sought. There's also the brokenness of the man involved, the priest. What do you do with them? Do you put them away in a cave? These are human beings, they are terribly wounded, they have done terrible things. Just as with the prison system, we have our prison system full of people who are wounded, that does nothing to...help people. It is just punitive. That's not enough for a community built on mercy and care, it's not enough. We need in some way to love and care for them, just as we would a leper...or we are not living by what we say we believe. So I'm hoping to hear from them some honest care and pastoral concern for all of these wounded ones. This is not just the victims, this is the priests themselves are victims.
-Sister Carla Mae Streeter, professor emeritus at St. Louis' Aquinas Institute of Theology
The Survivors Network of those Abuse by Priests said in a statement that bishops are "'backsliding' on their pledge to quickly oust" accused priests, and have released a list of names of priests they say have abused children but are still on the job. The organization also asks bishops to better train parishioners on how to respond to reports of child sex abuse by clergy.
Controversial issues within the Church
The so called pro-life issue is important, but the lack of interest of many Catholics in issues helping the needy makes the believers only anti-abortion, not truly pro-life. I want proof the Bishops want to help all in need as Christ taught. It is literally a matter of life and death. Without health care, adequate income, good education, healthy environment, etc., true Christianity does not exist.
-Martin Walsh, retired from the insurance industry from Glendale, identifies as Catholic
Love to hear them say they're going to butt out of politics and issues like abortion. Religion belongs in the church and home, not in the public sphere.
-again, David Ressner
I suspect that they know very well that there's the question of the divorced who have not been reconciled with the community. There's the question of contraceptive use, that is a very strong tension point within the Catholic community, both on the side of those who feel that it should not be used and others who say that it's absolutely necessary today because of family circumstances. So there has to be a great deal of listening and open honest questioning. There's also the homosexual-heterosexual question, same-sex marriage. This is part of the culture in which the Catholic community lives, so the bishops, of course, need to be looking at this. We do not live in a telephone booth; we do not live in a closed system.
-again, Sister Carla Mae Streeter
Leadership-community relations
I would like to know that when the bishops meet that their discussion and conservation is prayerful and deeply rooted in seeking the truth of who they are and whose they are. God has given them a calling to serve. The church is their platform. They must use that platform in seeking the truth and doing the right thing no matter what the consequences.
-again, Dorothy Dempsey
I hope there's a good deal of pastoral sensitivity to what people are struggling with, especially their questions, that it's not just talking down to the people, but really listening to them, and then giving a very loving and very sensitive type of guidance.
-again, Sister Carla Mae Streeter
As a young person, the organization of religion seemed to be hypocritical to me. Christ's words were pretty easy and clear - Love God above all else and love your neighbor as yourself. All the rules seemed to obfuscate this very simple message. As I got older, I hated the institution for covering up the sex abuse scandal, bashing nuns and condemning others. As I got even older and wiser, and met some very good Catholics with real belief I came back and see that change from within must start. Hating the church and bashing it won't reform it — it will kill it. That would be a tragedy. We are the Church of St. Peter (Conservative Traditionalist) and St Paul (Sinner and Reformer). Both sides are necessary for wholeness and growth.
-again, Susan Broun
This report contains information, observations and sources gathered with the help of our Public Insight Network. Click here to tell us what you hope to hear from the bishops' discussions. To learn more about the network and how you can become a source, please click here.