Slay throws his support behind compromise minimum wage proposal
Mayor Francis Slay is throwing his support behind a compromise proposal to raise the city's minimum wage.
The measure unveiled Thursday is an effort to break a political logjam and pass the legislation in what appears to be a narrow window of time.
"When I started this campaign, I promised that we would listen to all sides, we would do our homework, and we would come up with a proposal that was fair to workers without putting their jobs or our economy in jeopardy," Slay said in a statement. "We think this new proposal accomplishes that."
The proposal first unveiled about a month ago boosted the minimum wage for most workers in the city to $10 an hour upon the mayor's signature and would have topped out at $15 in 2020. The original proposal also called for the minimum wage to be adjusted by the rate of inflation every year after that, though it could never go lower than $15. Small businesses making less than $500,000 a year in sales or employing fewer that 15 people were exempt.
The compromise proposal would immediately boost the minimum wage to $7.95, with a top rate of $11 an hour by 2020. The wage would still be adjusted for inflation, and those small businesses would still be exempt. The new proposal also exempts certain in-home service workers, and nursing homes, assisted living or residential care centers paid for by Medicaid or Medicare. Hospitals and child care centers that receive funding through certain government programs would also not have to comply with the minimum wage law, and students who work less than 20 hours a week during the school year could be paid at 90 percent of the minimum wage.
Political logjam
Slay unveiled his proposal to a room full of union members and activists with the ShowMe 15 movement. Those same individuals packed a hearing room about two weeks later, where supporters hammered home the widespread and long-term benefits of lifting individuals out of poverty.
Opponents began to make their voices heard as well. The vote was delayed several times. Alderman Shane Cohn, the sponsor, offered to extend the timetable to $15 by four years, to 2024. Alderman Joe Vaccaro, who took the chair of the Ways and Means committee after Alderman Steve Conway stepped aside because of a conflict of interest, suggested an increase to $10.10.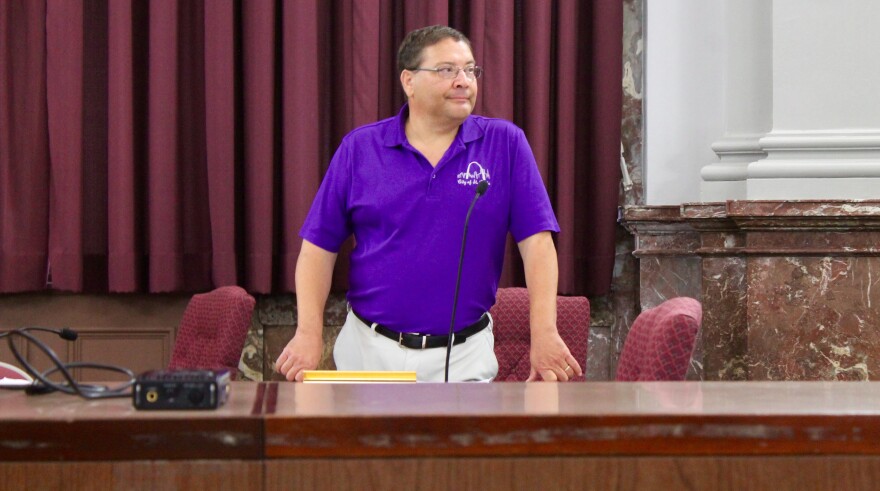 But there was still a lot of skepticism. Toward the end of June, Steve Stenger, the Democratic St. Louis County executive, announced that he was not considering a parallel wage hike in the county. Later that week, Vaccaro, the temporary chair of the Ways and Means committee, caught everyone by surprise when he announced he would not schedule additional committee hearings. Without a viable compromise, the measure was dead.
A path to revival
With the Board of Aldermen scheduled to go on their summer break after session on Friday, it will take a bit of legislative maneuvering to send this measure to Mayor Slay in time to avoid a murky legal environment that could exist after July 14.
Cohn, the sponsor, must first force the measure from committee using what's known as a discharge motion. That requires a majority vote of the members present, so the number of votes needed will depend on how many are in attendance on Friday. A successful discharge motion means aldermen may then begin to debate the measure and offer their own amendments. The initial approval step known as perfection also requires just a majority of those present.
If aldermen make no changes to the measure, they can attempt to send it to Mayor Slay tomorrow, a vote that requires 15 ayes regardless of who shows up. Any amendments mean the final vote would take an extra session day, requiring what's known as a resumed meeting.
Cohn, the sponsor, said he was confident he had the votes to push the measure to the floor.
Follow Rachel Lippmann on Twitter: @rlippmann