As funding bill waits in the wings, stadium backers make case to NFL owners
With several big developments swirling in the background, members of the St. Louis Board of Aldermen are set to examine a plan funding the city's portion of a roughly $1 billion riverfront stadium.
The Board's Ways and Means Committee will convene Thursday morning to consider Alderman Tammika Hubbard and Jack Coatar's stadium funding legislation. It comes as St. Louis Rams owner Stan Kroenke is angling to build a new stadium in Inglewood, Calif., which has prompted many to assume the Rams could be headed back to the Los Angeles area.
(Click here to read more about the stadium bill, which, among other things, effectively dedicates city general revenue dollars and about two-thirds of event-related taxes to pay for the facility.)
"It's not going to be easy," Coatar said earlier this week. "And that's why we're going to spend a lot of time trying to explain this deal to people and make them comfortable with the numbers. And hopefully get a lot of input from the public – hopefully more pro than con – in support of the deal. But I certainly understand the political realities we're facing in the Ways and Means Committee, and many others do as well. This is not going to be an easy vote to make it out of committee."
Few expect the legislation to get a completely friendly reception, considering most members of the Ways and Means Committee have expressed skepticism about the stadium project. Some question publicly funding stadiums, while others are perturbed that the funding plan isn't being put up for a public vote.
"No one wants to see the Rams leave -- I mean, I'm a fan," said Alderman Chris Carter, a 27th Ward Democrat who serves on the Ways and Means Committee. "But at what cost is it too much? I just think right now, if we would have went to the people, I would have supported it either way. We haven't. We are forcing it down the people's throats."
Ways and Means Committee chairman Steve Conway, D-8th Ward, announced another hearing for public input on Saturday within the potential stadium's footprint. If the bill makes it out of committee, it will need 15 votes to make to St. Louis Mayor Francis Slay's desk.
Making the case
The committee hearing comes as some big-time stadium backers – including Gov. Jay Nixon and the two-person task force of Dave Peacock and Bob Blitz – presented the stadium plan in New York to a group of NFL owners. Their stadium pitch is important, since owners ultimately have the final say in whether a team relocates or not.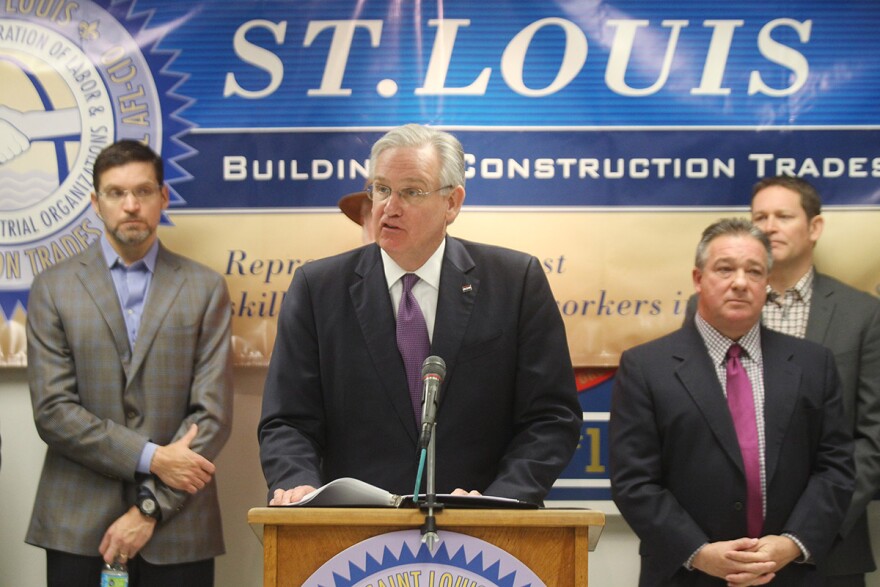 After the meeting commenced, Peacock and Blitz released statements striking an optimistic tone. Blitz said in a statement that his key takeaway was how "the commitment and professionalism of everyone affiliated with this effort is paying off." And Peacock added: "I doubt our presentation could have gone much better."
"The owners and league officials in the meeting were generous with their time and thoughts on our stadium proposal, and for that we are extremely appreciative," Peacock said in his statement. "As anticipated, we were asked a lot of good questions, and there is no question we had the right team in the room to respond on behalf of St. Louis."
It's worth noting that NFL executive Eric Grubman told Sports Business Journal reporter Daniel Kaplan that the St. Louis proposal is "not currently sufficient to secure NFL approval."  Grubman told reporters in St. Louis last month that any stadium proposal had to be "fully financed," which hasn't happened yet since the Board of Aldermen hasn't voted to approve its funding plan.
In any case, the biggest hurdle to Kroenke's relocation efforts may arise from the San Diego Chargers and the Oakland Raiders. Those two teams are considering building a joint stadium in Carson, Calif., and they tapped Disney CEO Bob Iger to help push forward with that effort.
To relocate, a team must get the approval of three-fourths of the NFL's owners. And that group is highly unlikely to approve three teams moving to Los Angeles, which likely makes the Chargers-Raiders venture such a big threat to Kroenke's plans.
Meanwhile, the Los Angeles Times reported that Kroenke's largely privately funded Inglewood stadium is facing scrutiny from the Federal Aviation Administration. The paper detailed how a stadium where this one is to be and with its design could be a "hazard" to air navigation.
Still, the article noted that the FAA's report effectively provides guidance to revamp aspects of the Inglewood stadium project. Developers, the paper reported, are planning to break ground on the facility in December – even though NFL owners don't plan a vote until early next year.