Health care takes center stage in 2nd District Democratic contest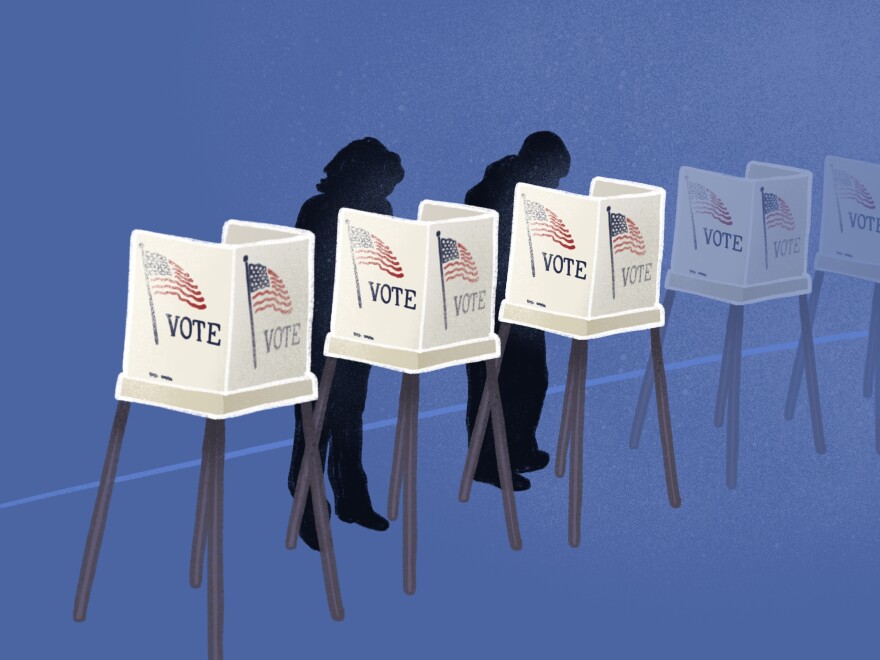 The St. Louis area's 2nd Congressional District, which spans from Jefferson County to St. Charles, has been in Republican hands for more than 20 years.
But a crowd of progressive Democrats are banking that a majority of the district's voters are ready to choose an alternative to Republican incumbent Ann Wagner, who's held the congressional seat since 2013.
"People are ready for change, they are ready for clarity, they are ready for courage, and they are ready for boldness," said Mark Osmack.
Osmack is a military veteran who's one of the five Democratic candidates competing on the Aug. 7 primary ballot. The victor will take on Wagner in November.
Another Democrat, Cort VanOstran, a lawyer, also is embracing a progressive message.
"Our willingness to be a champion on progressive issues is why we've been endorsed by NARAL and the Teamsters," he said.
VanOstran has launched the contest's first TV ad, which is a full-throated endorsement of the Affordable Care Act, which is former President Barack Obama's signature achievement – and a prime target of President Donald Trump.
VanOstran's ad echoes his chief campaign message, which centers on his mother's losing battle with breast cancer. She had a lot of medical support, he said, because she was able to purchase insurance through the Affordable Care Act's online marketplace.
VanOstran says Wagner's opposition to the ACA — also known as Obamacare — helped convince him to run. He has raised the most money among the Democrats, with his last campaign report showing him with $541,000 in the bank. That compares to just under $50,000 for Osmack.
Osmack also is focusing on health care.
"I do think the one way, and the best way to implement health care for all is through Medicare for all," he said. "Health care has been the number-one thing that people have brought up throughout this district. The affordability of it, but also the accessibility of it."
In addition toVanOstran and Osmack, the other Democratic candidates are: John Messmer, Robert Hazel and Bill Haas.
Haas is a St. Louis School Board member who doesn't live in the 2nd congressional district. But he won the Democratic nomination anyway in 2008.
Haas also has run for Congress in the 1st District, where he lives. But because the 1st is primarily Democratic, Haas said he prefers to run in the 2nd District so he can challenge a Republican.
Haas is focusing on education.
"What issue could be more important for the country than our children reading?" he said. "They deserve a fair chance at life. They can't have it without that reading piece."
Haas has been holding some town halls. He is primarily using his own money for the race. His latest report showed that Haas had lent more than $100,000 to his campaign.
Messmer is a political science professor and says he's appeared at dozens of political events. His big issues are health care and campaign finance reform. Messmer lists a 15-point plan on his website.
Hazel has not been actively campaigning.
Osmack's other issues include his call for the U.S. to withdraw its remaining troops in Iraq and Afghanistan.
Osmack and VanOstran both support a higher minimum wage, protecting women's reproductive rights and improving public education.
Wagner running ads early
Wagner already has begun spending some of the $3.4 million that she's bankrolled for her re-election bid, even though she does not appear to have a serious primary challenge. Republican primary opponent Noga Sachs hasn't campaigned much.
Wagner's TV ads are notable because she ran no ads at all in 2014 or 2016. Her campaign said she simply wants to highlight some of her key issues and achievements, such as her battle against sex trafficking and her conservative values.
Follow Jo on Twitter: @jmannies
Editor's note: This story has been updated with information about John Messmer. An earlier version incorrectly reported he was not actively campaigning.