Demolitions increase in frequency as St. Louis tries to combat vacant buildings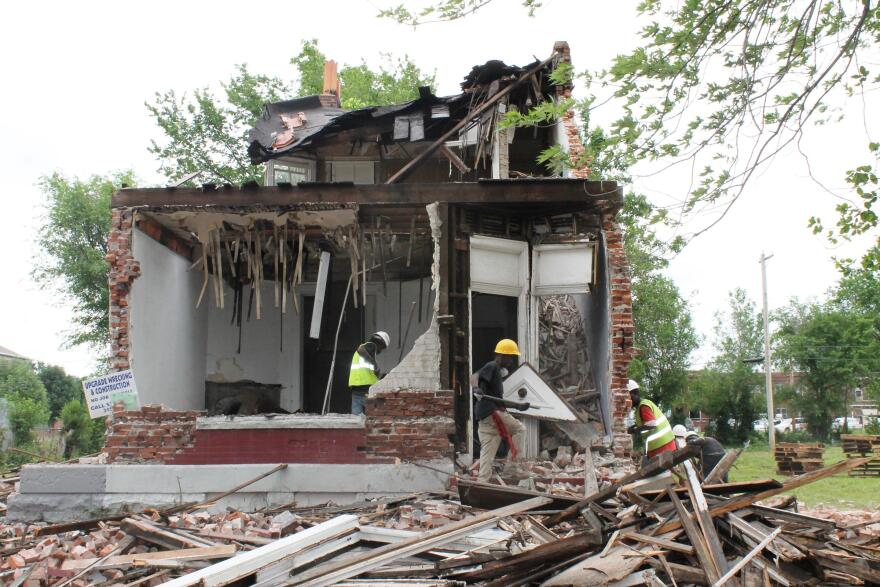 The City of St. Louis plans to knock down nearly three times as many vacant buildings this fiscal year than it did the year before.
It's part of an effort pushed by Mayor Lyda Krewson to lower the number of vacant properties by dedicating more money to demolitions and using data to identify properties that most urgently need to come down.
So far, the city's demolition tracker reports more than 100 demolitions completed between July and October. That's almost as many as the city completed in its entire previous fiscal year, which ended June 30. Almost 180 demolitions are in progress and another 100 properties are listed for demolition, according to the tracker.
"It's a big drain on the city's overall budget and on the residents and the neighbors that surround these vacant buildings," said chief resilience officer Patrick Brown, who advises the mayor's office on how to decrease vacancies. "So we really do need to get a handle on it."
With money budgeted from the city's building division, Brown estimates the city could tear down around 360 total by July 2019. A partnership with Metropolitan Sewer District will fund another 30 demolitions every month, on average, he said.
New methods, new funds
In past years, the city selected which buildings would be demolished based on input from aldermen — an approach Brown characterized as "scattershot."
Now, the city uses data to identify vacant properties that receive the most complaints. They also consider fire and police calls, how many times the city has had to board up a property, reports of drug activity and other problems.
The city also is emphasizing demolishing groups of buildings, rather than tearing down one while leaving others that continue to cause problems for residents.
Another new tactic for the city is deconstruction. This alternative to traditional demolition prioritizes reselling brick and lumber from historic buildings and minimizes the amount of material dumped in landfills.
The building division's demolition and board-up program received a funding boost from fiscal year 2018 to 2019, according to city budgets. Brown said about $900,000 of the program's total budget went toward demolitions last year. This year, demolition will receive almost triple that commitment, he said.
The MSD partnership also dedicates $13.5 million over five years to demolitions in the Bissell Watershed, which covers a large swath of St. Louis along the Mississippi River.
Brown said other partnerships through the Neighborhood Vacancy Initiative — which includes the St. Louis Association of Community Organizations, Legal Services of Eastern Missouri and other local groups — are crucial to dealing with vacancies.
Vacancies are "getting better"
Brown said that so far this year, the city's landbank, the Land Reutilization Authority, has received fewer buildings than in past years. He said that likely means the number of vacant buildings is "getting better," either because fewer vacancies are being created or because others are buying the properties at the tax sale before they are passed to the LRA.
But for Tracey Edwards, the demolition process isn't happening quickly enough. She lives down the street from two vacant buildings in the St. Louis Place neighborhood, and she said the buildings pose a threat to the safety of her neighbrohood.
"Like I tell my kids, don't walk near it. There's no taping off of the building. It's about ready to crumble down. It's a matter of seconds or days or hours," she said.
Brown said that he understands residents' frustration, and said the city is working to demolish buildings as quickly as possible. The city has taken steps to make the demolition process more transparent for residents, like placing a large orange sticker that includes information and warnings on buildings scheduled for demolition. The city also devoted a website to vacancy information, including a map of scheduled demolitions.
People concerned about a vacant building next to them can make a complaint online or call the Citizen Service Bureau.
Follow Kae on Twitter: @kmaepetrin