Dooley And Stenger Defend Attack Ads On 'St. Louis On The Air'
St. Louis County Executive Charlie Dooley and his chief Democratic rival, Councilman Steve Stenger, agree on two things: Each says his attack ads are accurate and the other guy's are not.
The two defended their accusations during separate, back-to-back appearances today with host Don Marsh on St. Louis Public Radio's "St. Louis On the Air." The sparring over ads reflected another common consensus: Their Aug. 5 primary contest will get even nastier.
The two ads in question attempt to link Stenger to sex trafficking and Dooley to FBI investigations.
Dooley told Marsh that it was fair to fault Stenger's performance as a defense lawyer representing the leader of prostitution ring in a 2000 trial because of Stenger's published comment about a victim, in which he asserted that she "chose that type of life."
"I'm talking about him making the victim a victim for a second time,'' Dooley said.
Stenger maintains that his words were taken out of context and he was simply doing his job as a public defender.
Meanwhile, Stenger defends his own ad that cites three FBI investigations in various county operations and asserts that Dooley should take some of the blame. The ad implies that Dooley may be among the targets, although Dooley has cited FBI statements that he's not.
Retorted Stenger: "I don't know that it's clear that the county executive is not a subject'' of the FBI probes.
Experience is a help – or a hindrance
Dooley and Stenger were each grilled by Marsh for about 25 minutes apiece. Both frequently stuck to their chief campaign themes.
"I have the experience. He doesn't,'' said Dooley, who has been county executive almost 11 years. This year's re-election bid marks Dooley's fourth appearance on the ballot since he first became county executive following the 2003 death of incumbent George "Buzz'' Westfall, a fellow Democrat.
"Ten years is enough,'' said Stenger, who has been an irritant to Dooley for much of Stenger's six years in office as a councilman from south county.
Dooley asserted that Stenger "stands for nothing." Stenger said that the county now is "lacking in engaged leadership."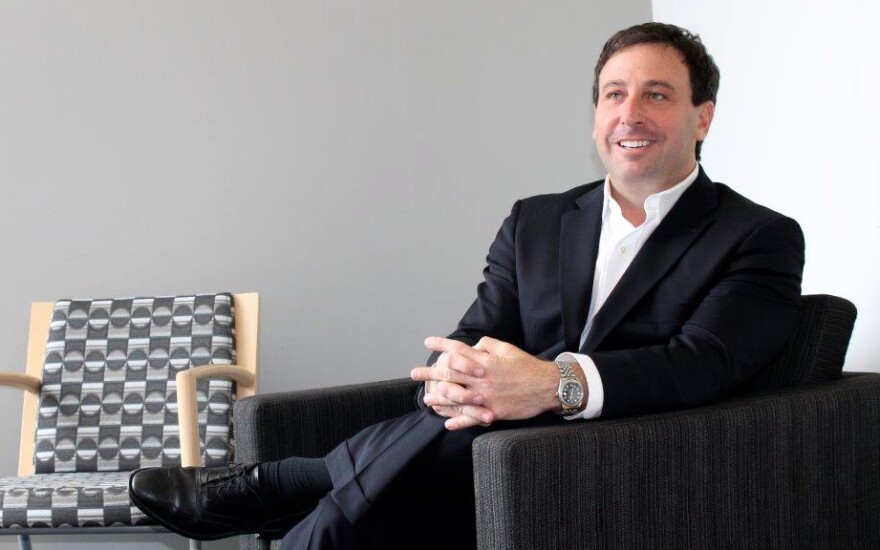 On issues, their chief disagreement revolved around the Dooley administration's proposal in 2011 to cut funding for the county parks and lay off several hundred workers.
Dooley says his aim was to press the council to find alternative ways to fund the county's massive parks system, which he said had been draining money from general revenue. Stenger says that Dooley was using the parks to force through a county income tax increase to pay for cost overruns in the construction of the new juvenile justice center.
In the end, the council rejected the cuts and Dooley's administration came up with another proposal. Dooley said the county's park system is now fully funded thanks to the 2012 passage of Proposition P, a regional sales tax for regional parks and improvements of the Gateway Arch grounds.
On other issues, the two often agreed:
City-county merger: Dooley and Stenger both said they're waiting for the 2015 completion of reports on the fiscal impact of the city of St. Louis re-entering St. Louis. Both noted that voters in the city and the county would have to approve any such proposal.
Transportation sales tax: Both Democrats support Amendment 7 on the Aug. 5 ballot, which would set up a three-fourth cent sales tax to pay for highway and bridge improvements around the state. Stenger added that he'd prefer a different plan but supported the jobs and infrastructure spending that Amendment 7 would produce.
Pro-gun ballot proposal: Both men oppose the passage of Amendment 5, which seeks to expand gun rights in the Missouri Constitution. Dooley and Stenger said the amendment isn't needed. Dooley noted that Missouri voters had approved in 1999 a ban on concealed weapons, only to see that ban overturned by the Missouri General Assembly several years later.
Jobs and business: Dooley and Stenger both emphasized their commitments to encourage the growth of business and jobs. Dooley said that he has put the county on the right track, citing improvements of Highway 40 and various major business expansions. Stenger contended that more can be done, and promised to be more aggressive in courting businesses.
Listen to "St. Louis on the Air":

072314bweb.mp3
"St. Louis on the Air" interview with Steve Stenger.
Read our live chat:
During the show Wednesday, we invited you to join in our live chat, hosted by our Jason Rosenbaum and Kelsey Proud. An archive of the chat is here:
Reporters Jo Mannies and Jason Rosenbaum have been covering the county executive race. These are among the reports they have filed:
Candidate Profile: Stenger Says St. Louis County Needs His Skills As CPA And Lawyer
Candidate Profile: Dooley's Experience Is Central In Re-election Bid
Next week, Marsh will talk with the candidates in the Republican primary, House Budget Chairman Rick Stream of Kirkwood and Green Park Alderman Tony Pousosa.
St. Louis on the Air provides discussion about issues and concerns facing the St. Louis area. The show is produced by Mary Edwards and Alex Heuer. It is hosted by veteran journalist Don Marsh.
Inform our coverage
This report contains information gathered with the help of our Public Insight Network. To learn more about the network and how you can become a source, please click here. To see questions PIN sources offered for the candidates, click here.