'Step Inside' Vincent Van Gogh's World In Exhibit Opening At The Galleria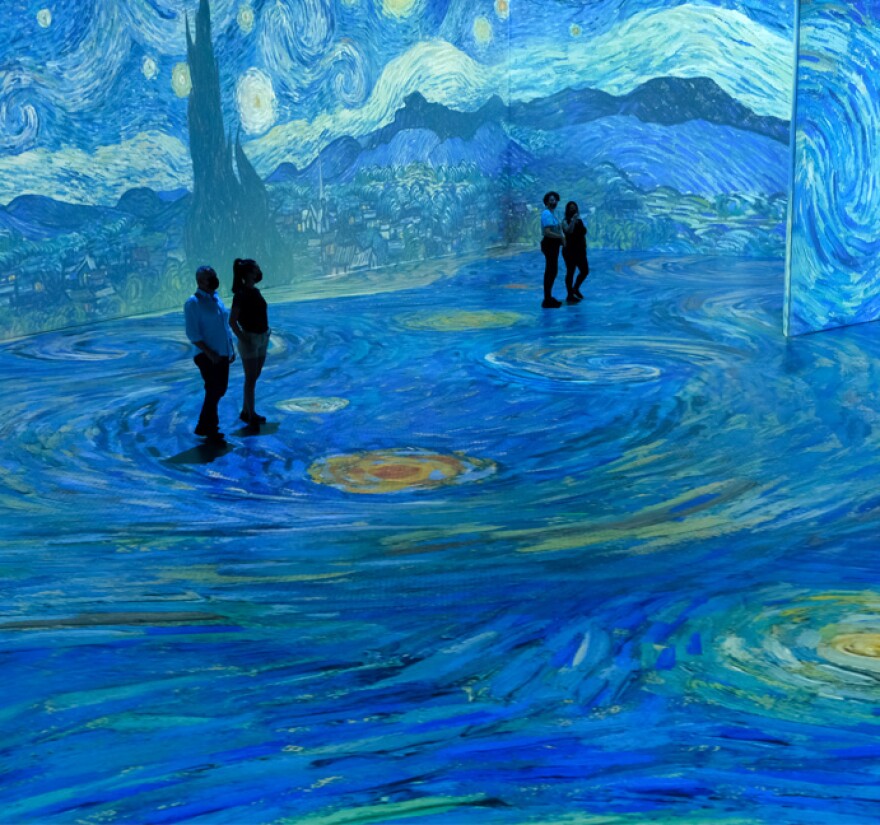 For nearly a year and a half, creators across the world have found workarounds in order to connect with art-hungry audiences in an era of social distancing. And that shift has been happening for so long that some projects designed for pandemic conditions are now coming to life.
That includes "Beyond Van Gogh: The Immersive Experience." Instead of a creative and necessary adaptation, this vast project was made specifically for the pandemic world. Enfolding visitors in a wide-ranging, walk-through reimagination of Vincent Van Gogh's work and world, the audiovisual spectacle has sold out in all sorts of cities. It opens this fall at the St. Louis Galleria.
Montreal-based designer Mathieu St-Arnaud told St. Louis on the Air that he and his team at Normal Studio want to give audiences an experience that isn't possible in a museum: what St-Arnaud describes as "actually step[ping] inside Van Gogh's famous paintings."
"There's something about seeing an original, but you cannot touch it, let alone step inside," St-Arnaud explained on Monday's show. "So we wanted to create a different perspective, a new way to see his immense body of work."
"Beyond Van Gogh" is one of nearly a half-dozen different productions across the world right now drawing viewers into works by the Dutch painter. This one includes more than 300 iconic artworks "freed from their frames," in the words of the event's website, as well as a musical score featuring a modern Vivaldi remix, Miles Davis and more.
"Immediately [when] you think about Vincent [and] you see the paintings, you imagine classical music … Debussy … but we felt it was something expected," St-Arnaud said. "And we felt that Vincent's work is so relevant today; it really drove us in the whole process. So we started playing with the idea [of], 'OK, let's take music we like,' [and] everybody pitched in music tracks. And we would listen to them looking at the visuals."
Creative Director Of 'Beyond Van Gogh' Talks Inspiration, Process — And Anticipation
Listen as host Sarah Fenske talks with Montreal-based designer Mathieu St-Arnaud.
Music with lyrics created too many messages and conflict. But then they put a Davis track over visuals of "Starry Night Over the Rhône."
"The room went silent, and everybody had shivers," recalled St-Arnaud. "We did not immediately understand what was going on, but afterwards we understood that the emotion that Miles was trying to convey and the emotion that Vincent tried to convey were on the same level. So it was actually amplifying the emotion we were feeling, a bit like a film score [that] does the same thing."
St-Arnaud described the experience of the show as a personal journey.
"He truly painted emotion on the canvas — how he saw the world. And he tried to find beauty wherever it was, all around him," he said of the post-impressionist. "And we still connect to that today when we see these paintings. There's a soothing effect. And we felt like he felt or what he tried to depict and put on the canvas."
Related Event
What: Beyond Van Gogh: The Immersive Experience
When: October 16 through November 21, 2021
Where: Starry Night Pavilion at St. Louis Galleria (1155 Galleria, St. Louis, MO 63117)
Tickets are required and available for purchase as of this writing at vangoghstlouis.com.
"St. Louis on the Air" brings you the stories of St. Louis and the people who live, work and create in our region. The show is hosted by Sarah Fenske and produced by Alex Heuer, Emily Woodbury, Evie Hemphill and Lara Hamdan. The audio engineer is Aaron Doerr.