Obituary: Don Wolff, prominent defense attorney known for sharing his love of jazz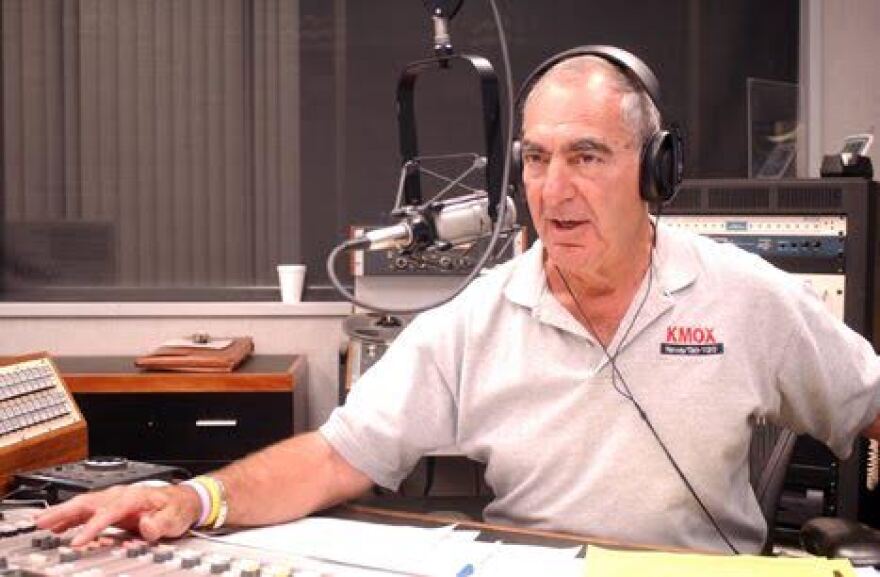 Don Wolff, a noted defense attorney and long-time jazz enthusiast died Friday, Nov. 20, of leukemia at Barnes-Jewish Hospital. On Oct. 2, 2012, Terry Perkins wrote a profile of Mr. Wolff for the St. Louis Beacon, talking to him about his signature phrase: "I'm Don Wolff … and I love jazz" and where it came from. Wolff talks about jazz, when he was awarded the Jazz Hero Award in April 2015.
Original article - As the annual Old Webster Jazz and Blues Festival wound down to its concluding performances on the outdoor stages on Gore and Allen Avenues in Webster Groves, a person — and a voice — familiar to jazz fans in St. Louis introduced the last few acts from the stages. He began each introduction with a phrase that he's been identified with since he was first heard on radio station KXOK back in 1987.
Over 25 years, Don Wolff has been a constant advocate for the musical style he fell in love with growing up in University City. He continued to play jazz over the airwaves on a succession of stations — WSIE, KMOX and KFUO - up until 2010.
And although Wolff can no longer be heard on the radio airwaves, he's still playing jazz on his Internet radio program, "I Love Jazz," where his weekly programs are available 24/7. In addition, Wolff's weekly broadcasts can be accessed through his website, www.donwolff.com, where you'll also find an extensive inventory of more than 200 interviews he's done over the years with jazz artists.
In addition, since late 2007, Wolff has hosted the "I Love Jazz" television show on HEC-TV, documenting the St. Louis jazz scene as well as focusing occasionally on touring musicians.
Wolff's dedication to jazz is even more remarkable because his primary profession since the 1960s has been as a lawyer — and a very distinguished one at that. He's also found time to work with a variety of charitable and nonprofit organizations — serving as the president of Big Brothers/Big Sisters for a time and on the boards of several others.
Wolff just celebrated his 77th birthday, and despite battles with leukemia and cancer in recent years, he still possesses enough energy and stamina to put a younger person to shame.
Visitation will be 2 p.m. Monday at United Hebrew Congregation, 13788 Conway Rd.
Over lunch, he talked about his first exposure to jazz, his consuming hobby of collecting jazz records, and how he ended up with a second career as a host for jazz programs on radio and TV.
The natural first question for Wolff was why he loves jazz so much. He smiled and thought for a minute.
"It's not an easy question to answer," he says. "When I was a kid, I lived with my family in an apartment at Clara and Delmar. I sold the "Star-Times" newspaper on the corner, which used to come out in between the morning Globe and the afternoon Post-Dispatch. And when I was selling papers, I first heard jazz music at a club called the Barrel, which was owned by a friend of my family. I'd hear Ralph Sutton and Ed McCall. What was interesting to me was seeing white and black musicians playing together.
"Another answer. My mom listened to Benny Goodman and Duke Ellington, so that's what I listened to growing up. But in high school, the music changed to Elvis Presley 'n' rock and roll. That's what my friends were listening to. But I was listening to jazz on the radio – to Spider Burke and Leo Cheers."
Wolff's eventual second career as a radio broadcaster actually manifested itself way back in high school.
"When I was in high school, I used to do my own imaginary radio show in my room," Wolff remembers. "I'd play records and talk between them. And I'd tape record it and listen back and try to make myself sound like a professional DJ."
Law, Army and always jazz
Wolff's career path led him to the University of Missouri, and eventually to a law degree. But his love for jazz continued. While in the Army after law school, he began to turn into an avid collector of the music.
"When I went to Europe in the Army in the early 1960s, I tried to see as many jazz concerts as I could," he says. "I remember seeing Ella Fitzgerald and Duke Ellington when they were on tour together. I bought a German record player, and I was constantly buying records at the BB (Base Exchange) for 99 cents. And I also bought a tape recorder. The Armed Forces Radio network played a lot of jazz, so I would tape shows and listen to them. That was definitely the start of my collecting bug!"
Wolff returned from his Army service with a bride, Heidi, and they began a family while he worked to build his law practice — moving from being an assistant prosecuting attorney in the late 1960s to starting his own practice as a criminal defense attorney. As Wolff's legal reputation began to grow, so did his record collecting habit — especially after he began listening to jazz broadcaster Charlie Menees.
"When I came home from Europe after my discharge from the Army, I was married and soon we had three kids," says Wolff. "I couldn't afford to go out. So I stayed home and listened to Charlie Menees on KMOX radio. He was on every Saturday night with a show called 'Jazz Under the Arch.' I got addicted. First to the big band music he played, and then I began to really enjoy jazz versions of standards."
Menees also taught classes on jazz on a regular basis at the University of Missouri-St. Louis and other locations, and soon Wolff began to attend. The two men struck up a lasting friendship.
"Having heard Charlie and really enjoying his knowledge about jazz, I decided I wanted to take some of the classes he offered," Wolff says. "My aunt had actually taken the first class he offered, and I signed up for his second class. Afterward, I helped him carry out his equipment and records.
"I got to know him and I joined the 'Charlie Menees Record Club.' We would meet once a month, and everyone would bring in records. That's when I decided I was going to seriously start to collect jazz recordings. I started by collecting all the albums I could by Ben Webster, then moved on to Duke Ellington and Benny Goodman. Before I knew it, I was gathering a record collection that was actually rivaling Charlie's."
KXOK
Soon, Wolff's love for collecting jazz records coincided with another early love — radio and broadcasting. In the early 1980s, he was playing in a benefit golf tournament, and a member of his foursome was the new owner of KXOK radio.
"I remember they had just gotten the rights to broadcast the St. Louis Blues hockey games," remembers Wolff. "They were trying to model the station after KMOX. So they also wanted to do a jazz show. They asked me if I knew anyone who would be a good host for a jazz show. I told them honestly that I thought the perfect person would be myself.
"I told them what have you got to lose? Give me a try, and if it doesn't work, I won't have any issues with you finding someone else. And thankfully, they loved the show."
Wolff was soon doing a successful talk show on the station about law issues as well. However, in 1989, KXOK went to an all talk format, and the station wanted to cancel Wolff's jazz show — but keep the law show. After a year, Wolff found a new station for his jazz show, during the Saturday afternoon time slot on WSIE-FM, based at Southern Illinois University Edwardsville.
KMOX
When Charlie Menees passed away in early 1993, Bob Hamilton, an announcer at KMOX, recommended that Wolff apply to fill the Saturday evening slot on the station's schedule with his own jazz show. Wolff was hired, and was on the station for years with his "I Love Jazz" show.
The run came to an end in 2008 when KMOX — no longer under the leadership of Bob Hyland — decided to replace Wolff with a show featuring classic rock and pop.
Wolff started broadcasting on KFUO on Friday nights, but after the station was sold in 2010, Wolff found himself without a radio for the first time in many years.
That was a bump in the road as he quickly moved into other media – specifically television and the Internet. Wolff's "I Love Jazz" show on HEC-TV has now logged 19 hour-long episodes and counting.
"I love doing the TV show," explains Wolff. "It's another way to document the great jazz music performed by St. Louis musicians. Unfortunately, the great jazz radio stations are all gone. Now it's about websites and Internet radio, But I love it. For me, it's the same as radio. I do miss the personal relationship with listeners who were able to call in when I was on the air. But the positive thing is that I now have listeners all over the world, 24/7. In addition, I can do the show from anywhere. I am not tech savvy, but I have a 'computer geek' who thankfully makes it all work for me."
Records to Harris-Stowe
These days, Wolff has retired from law practice, although he still serves as a consultant at a St. Louis firm. He also spends increasing amounts of his time in Florida, and perseveres through treatments that have helped him alleviate issues with a rare form of bone cancer.
He has started donating much of his massive collection of jazz recordings and videos to Harris-Stowe State University, a process he sees as a way to make the great music he has spent most of his life collecting as accessible to the public as possible.
As we talk over lunch, it's clear Wolff enjoys telling tales of his lengthy love affair with jazz — a relationship that has changed over the decades as the music itself has changed.
"I am afraid that jazz today is not my jazz of yesteryear," Wolff says. "Maybe that's always the case. Jazz is always evolving. It's a music that's all about interpretation and improvisation, so maybe that's just the way it is. For the most part, young musicians want to play their music – not the music of Duke Ellington.
"But I'm a lover of big band music and the Great American Songbook and standards. Irving Berlin. Cole Porter. So when I put a show together, I program what I want to hear. And I believe people love melody and harmony. So to me, it's a fine line on all my shows to be informative, educational and entertaining all at the same time — but that's my goal."
Circle of influence
Don Wolff's love of jazz has enriched the St. Louis music scene, and has had an impact that extends far beyond our immediate area — thanks to the range of his radio broadcasts on KMOX and the reach of the Internet.
Here are some thoughts on Don Wolff's contributions to the St. Louis jazz scene — from two people who have experienced jazz from the inside: Dan Warner, former owner of Webster Records, and Richard McDonnell, founder and owner of the St. Louis-based recording label MAXJAZZ.

Dan Warner: "I first met Don when he would come over to my parent's house in the early '70s and listen and talk about jazz music with my father, Will Warner and friends like Bob Roberts and "Cactus" Charlie Menees. They had a jazz listening club and would share new finds and talk about favorite musicians/recordings. Through this, they all built large record collections. Don and the club had a thirsty passion for jazz.
In 1986, I bought Webster Records, which specialized in jazz. My dad, Don Wolff and Charlie Menees guided me in the discovery of jazz records and many suggestions for stocking the store. Don provided me with countless hours of conversation and guidance on the history of jazz and communicated his love of jazz. He really took a personal interest in seeing the store thrive.
Don's "I Love Jazz" show on KMOX was filled with exuberance and the history of "America's only original art form." He had us on his radio show often to talk about music and what was new in the store. His show reached almost 40 states, and we could always tell what Don had played the night before when we came in the next day because of requests on our 800 phone number. Don's theme song, "Song of Songs" by the Soprano Summit, was one of our all-time best sellers.
As long as I have known Don, he has always had a passion for jazz, diversity and the less fortunate. He is an extremely generous man who has given us so much through his dedication to many causes and his love of Jazz!"
Richard McDonnell: Don Wolff states it very clearly: "I LOVE JAZZ!"… and he does. He has devoted his incredible energy and creativity to living his passion – and to sharing it generously with many others. He is known throughout the jazz community as a champion of the art and as the "go to" person for making something happen. He has vision and grit – characteristics that are both important in moving the art forward.
Barbara Rose (of Just Jazz and Jazz at the Bistro fame) introduced me to Don in the late 1990s. I was awed, of course, because his name was already well known to me, primarily because of his Saturday night jazz program on KMOX. I was in the beginning stages of organizing MAXJAZZ. I recall that Don offered to be of service to the label, without charge, and that offer was a tremendous boost to our beginning efforts. Don interviewed a number of our artists on his radio program, and he served as MC on a number of occasions when our artists appeared at Jazz at the Bistro.
The St. Louis jazz community and the wider jazz community are very fortunate to have an advocate like Don Wolff with us, and his indomitable spirit inspires us!
This article originally appeared in the St. Louis Beacon.