Unlikely tale: Meet the rescued huskies who practice for sled dog races on the Katy Trail
It's just after sunup on the Katy Trail in Weldon Spring, and musher Richie Camden is unloading his dog sledding equipment on the trailhead parking lot.
As he carries leads and adjusts harnesses, 11 blue-eyed Siberian huskies and one brown-eyed Gordon setter watch his every move through the truck windows.
Impatiently.
Nanook begins the whining. Jared the setter joins in with an excited bark. Soon, there's a whole chorus of howls, ranging from baritone to soprano, echoing through the morning quiet.
Camden's sled dog team — the Breakaway Siberians — wants to go NOW.
"They go absolutely crazy when they start hearing the equipment getting unloaded,'' said Camden, 32, a professional dog trainer from Hillsboro. Dominic Rekart, 13, is helping him arrange all of the rigging.
"That's Nanook howling right now,'' Camden said. "They don't bark too much. They mostly howl and they have a little cry, too, that they do when they start getting excited. We have one borrowed dog, Jared, he's a Gordon setter — he's my boss's dog — and he barks.''
In the late fall and winter, hikers and bicyclists on the Katy Trail in St. Charles County might catch a glimpse of this unlikely sight: A sled dog team practicing for races on a trail without snow.
Camden says that people they meet along the trail are usually surprised to see them.
"We'll stop and take pictures and talk to them about the dogs,'' he said. "Everyone's been super, super nice."
"We've never won a race"
On this frosty but snowless Saturday, Camden and Dominic will each take a six-dog team out on the trail. Instead of sleds, they'll ride on wheeled carts, chariot-style.
Dominic smiled big as he talked about learning to be a musher. His Siberian, Nanook, is training to be a lead dog.
"It's just amazing,'' Dominic said. "You'd just never think you would ever do this in Missouri. It just amazes you how these dogs can do what they do."
They'll run 20 bumpy miles today, practicing for sled dog competitions in Michigan and Minnesota this winter that they don't have a chance of winning. Camden's goal is more basic: He'd just like his team to finish the races, which range in distance from 12 miles to 90 miles.
"No, we've never won a race before. There's been a few that we haven't finished in last place,'' Camden said, smiling.
The odds are always against these underdogs from Missouri.
First, there's that lack of snow. Dog sled races in northern states are run on snow, something these Siberians rarely experience. And, although Siberians are descended from dogs that were bred for pulling sleds, they've been replaced on competitive teams with more powerful breeds.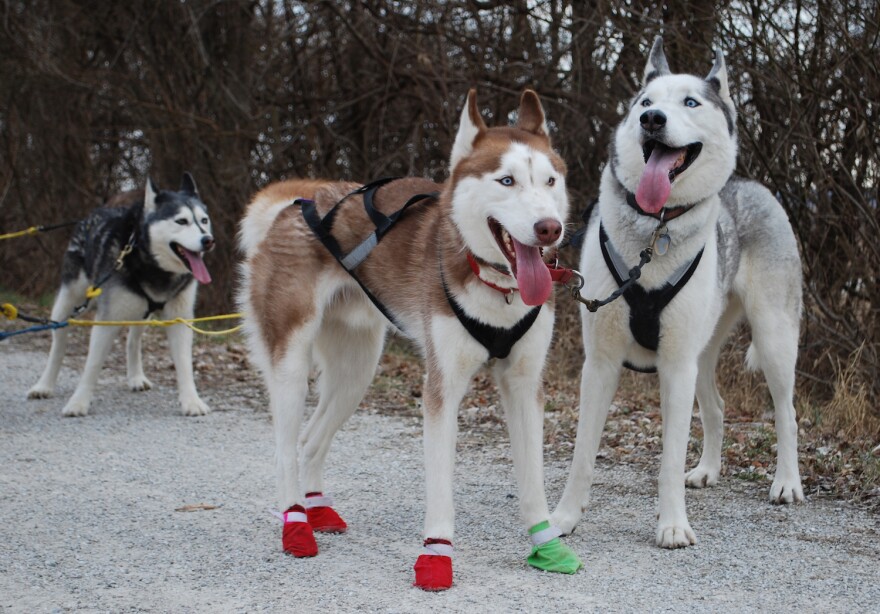 "Siberian huskies aren't really used for racing anymore. A lot of them do Alaskan huskies. They have the longer legs. They're faster. They're crazy, powerful. They blow us out of the water. It's not even close,'' Camden said. "But we're just trying to provide a good home for the dogs and give them proper exercise so they can have a balanced, happy life.''
In Camden's mind, the Breakaway Siberians are already winners. He and his wife, Leah, have adopted most of them from rescue groups in the Midwest. If a dog doesn't have a name, Camden picks one out — usually, the name of a professional hockey star.
"We don't adopt dogs that we think would adjust to a regular family life,'' he said. "If they're really well-behaved, we usually won't adopt those. We look for the ones who have behavior problems. They're destructive in the house. They dig out of their fence and run away. We try to find the naughtier ones that would have a hard time adjusting to a regular lifestyle.''
They often come with sad tales.
There's Kaiya, whose owner surrendered her because she killed the neighbor's chickens.
Backes spent years tied to a tree.
Cookie was in a foster home for more than a year.
Now, they all pull together.
Learning, the Siberian way
According to rescue organizations, Siberian huskies are high-energy dogs that can be challenging to train, making them one of the breeds that are most frequently surrendered to shelters by their owners.
"They're very beautiful dogs,'' Camden said. "And that's one of the biggest problems. They're so soft and fluffy. They have the pretty blue eyes. The pointy ears. And people see the pretty face, and they don't see the little troublemaker that lives inside of them."
Camden learned that the hard way when he got his first Siberian, Koivu, about eight years ago.
"I wanted an active dog, but I didn't realize how much of a troublemaker Koivu was going to be. He destroyed our apartment. He dug through linoleum floors and carpeting and broke out of his cages and chewed outlet wires. He had a nose to find trouble. If there was something to get into, he did,'' Camden said.
He would take Koivu on long runs. Sometimes, he wore rollerblades. On one of their rollerblading adventures, a runaway Siberian husky found them. To get both dogs back to his car, Camden tied them together and had them pull him. He said that was his inspiration for starting a sled dog team — of rescue Siberians.
One of the rescue groups the Camdens have worked with is Adopt A Husky in the Chicago area. Adoption coordinator Mary Beth Kolb said the Camdens provide a haven — and a purpose — for Siberians who are unlikely to be adopted as family pets.
"They see the diamond in the rough with these rescue dogs,'' Kolb said. "They might see a dog that has been given up because it is so high energy and crazy and doesn't have a lot of training. And they don't go, 'Oh, gosh, we don't want that one.' They say, 'Wow. That dog just needs an outlet.' It's worked for them. Look at how happy and healthy their team is.''
Kolb encourages Siberian owners to involve their dogs in active sports.
Urban mushing, using carts or roller blades, is growing in popularity. Members of the Gateway Sled Dog Club in St. Louis have dogs of many breeds and hold public demonstrations of the sport.
Camden said he's aware that some people have a negative opinion of sled dog races, and he understands their concerns.
He notes that veterinarians attend competitions to ensure that the dogs are well cared for and healthy. And Siberian huskies were bred to pull sleds, so it comes as second nature to them.
"The huskies just need an outlet for their energy. What I tell people who don't understand the sport is that we're taking a dog out for a walk. We're just taking multiple dogs out at the same time. The reason we have the cart is so we're able to stop them,'' he said.
There's no yelling "Mush!" like in the movies. When it's time to go, Camden releases the brake on the cart, and the dogs take it from there.
In fall and winter, Camden spends hours with his team on the Katy Trail.
"Being out here with them and seeing how excited they get and just ready to go all the time, all the time. It makes for a lot of fun,'' he said.
This is the fifth season that the Breakaway Siberians have entered mid-distance sled dog races. Their training schedule is flexible and guided by the weather. They run only in cool temperatures, often at night or in the morning before the sun rises. Training stops in spring and summer — there's no running in St. Louis heat and humidity — before resuming again in October.
"In the beginning, we run about 5 miles every couple of days,'' he said. "And then we start upping our mileage as they are conditioned. At the peak of the season we're doing 30 to 40 miles per run when we go out training.''
Camden said he's learned a lot since his first race five years ago, and he's gotten a lot of support from friends, family and other dog owners. Diamond Pet Foods, a Missouri company, agreed to sponsor the team this season.
"When we first started, it was just me and Leah,'' Camden said. "Eventually, people started hearing about us, and we've been able to grow. It was even difficult for us to adopt dogs in the beginning. They weren't always convinced we were the best pet owners, even with me being a dog trainer. Now, they call us. 'Hey, we have this dog here that would make a great sled dog. Do you have any spots available?' And it's hard. Because, financially, we can only take in so many, and right now we're at our limit.''
Adopting dogs means making a commitment to care for them throughout their lifetimes, even when they get too old to race, Camden said.
The Camdens now have 13 Siberians and one Pomeranian living with them. He works as a trainer and doggie day care supervisor at Murphy Animal Hospital in High Ridge and takes some of the Siberians with him to work.
"All of the dogs live in our house — all 14 of them, even little Bebe the Pomeranian,'' he said. "It's surprisingly very normal — or at least it is for us.''
Follow Mary Leonard on Twitter: @MaryDLeonard