Arch Resumes Trams To The Top, With Coronavirus Precautions In Place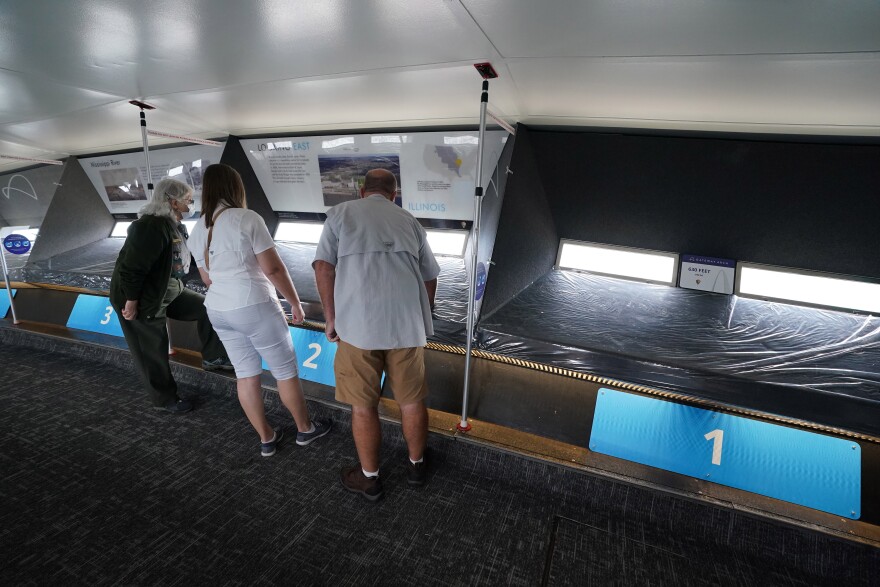 The top of the Gateway Arch is now open for visitors after nearly half a year of being closed due to the coronavirus.
The tram rides to the observation deck resumed Sept. 1. New safety rules and a drastically reduced capacity will keep visitors and staff safe, park officials said.
Arch grounds and the museum beneath have been open for months, but visitors have been disappointed that they weren't able to take the tram ride to the top, said Pam Sanfilipo, the chief of museum services and interpretation at the Gateway Arch National Park. "People were so excited to be the first ones to the top since we closed in March!"
The National Parks Service and Bi-State Development, which operates the arch tram services, have made several changes to keep people from spreading and catching the coronavirus during visits.
Officials have greatly reduced capacity inside the top of the 630-foot monument as well as the tram cars that visitors ride to get there. Ten people are allowed at the top at a time and can only stay on the observation deck for 10 minutes.
Visitors will also be limited to riding in the tram cars with their own group of visitors. That means "if you come by yourself, you're going to get a car by yourself," Sanfilipo said. Each group will have four personal windows to look from, separated from others by plastic partitions.
The trip to the top will be a dramatically different experience for those accustomed to the crowded conditions waiting in line and peering out the windows at the top. The observation deck can hold up to 480 people per hour during a busy summer weekend, Sanfilippo said.
The observation deck is the main draw of the Arch, Sanfilippo said.
"Eighty percent of the visitors who are coming are anxious to have that experience, and that's typical of what we would have on a regular day," she said.
The museum and visitor's center beneath the Arch has been open with 25 percent capacity restriction since mid June. Visitors are required to wear masks or a face covering.
Park employees haven't had problems with too many people attempting to schedule reservations on the same day. Still, they're encouraging everyone who wants to take a tram ride to schedule in advance on the Arch's website.
Follow Sarah on Twitter: @petit_smudge